Dolce Lighting — The Grand Opening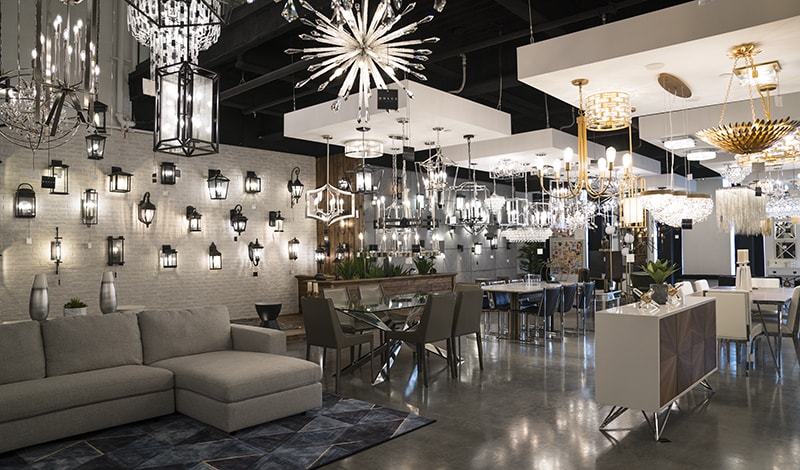 Brightening the city of Toronto one home at a time, Dolce Lighting is the one-stop shop buyers have been looking for, with lighting, art, furniture and home automation.
You never want to stare directly into the light, unless it's from the all-new Dolce Lighting. With its grand opening of the new location in Toronto, Dolce Lighting has lit up the industry in a way others have not.
"We first entered the lighting industry with our electrical company. We have extensive knowledge and experience in this industry and we wanted to share that with our customers," says John Pirillo, founder of Dolce Lighting. "Choosing lighting can be a lengthy process for consumers. We wanted to take care of that completely and provide the extra service that is required for the customer to have a seamless experience."
With ample experience in the world of lights and design, John and the experienced staff at Dolce Lighting pride themselves as being the industry professionals in both artistic ability and customer service for home installations. Visitors can see this from the ambience of the modernized and welcoming showroom, to the know-how of the on-site staff. Many years of previous experience enhance the work of Dolce Lighting.
"It gives us an advantage that other people don't have. We can service you a lot quicker. You come in, you buy your fixture. We come there and install it," he says.
The company is also keen to say that with its expertise and attention to clients' needs, Dolce Lighting is paving the way for neighbouring businesses, not only in the lighting business, but also in furniture offerings and artistic pieces.
"We feel that lighting impacts everything — your furniture, your artwork, picking the right spotlight above your artwork. So, we show that. We have the space and the means to do so," says John.
The company has incorporated furniture and art options, too, as it assists clients in determining how much light they will need in a space, whether it be for a living area, bedroom, bathroom or outdoor space. This allows customers to implement design direction into planning with on-site measurements and colours.
"I feel like [lighting is] jewelry to the home. It feels like something's missing without it."
In addition to offering multiple design options, Dolce Lighting says that at the business's core is its customers' satisfaction, along with the quality of work and staying ahead of the game in home design. Dolce Lighting offers white-glove service to showcase its attention to each client who walks through the door.
"Service. It's basically, service and the trendiest pieces. We are always trying to be ahead of other companies and to service the end user as best as possible, creating that comfortable experience and that luxury experience," says John. "Our staff is well- trained to guide you in the right direction. A lot of clients, we notice, come in here and they feel like they need guidance. We'll guide them in the right direction and make them feel comfortable."
John says that Dolce Lighting also shines when it comes to client needs and will be there every step of the way, from a quick installation to the blueprints of a new structure. The company is also merging together the art of appliances with technology through home automation. This includes automatic temperature changes, mood settings with lighting fixtures and music, along with other at-home capabilities.
It's "the distance we'll go to service a client when it comes to product knowledge and installation" that sets Dolce Lighting apart from its competition, says John. "We do home automation. We help design layouts. So, we give the full package. If you're building a home, we can help you from the beginning to the end — right down from on paper to the finished product."
Dolce Lighting's premises took a few months to construct, but it has recently opened its doors in Toronto, in an area that was a bit dim with business buildings. John and his team of seasoned professionals sought a prime location to set up base camp and have landed at 6260 Hwy. 7 West, Woodbridge, Ont.
"We felt that we needed something in this location. There's nothing really close to us," says John. "There are other businesses, but not as close. The building is really attractive. [It has] a lot of exposure, and just geographically [it] made sense."
Visit the website to learn more about Dolce Lighting and its design options.
6260 Hwy. 7 West, Unit 14, Woodbridge, Ont.
905-850-7978