Stateview Homes: Delivering The 'Good Build' Through Quality And Service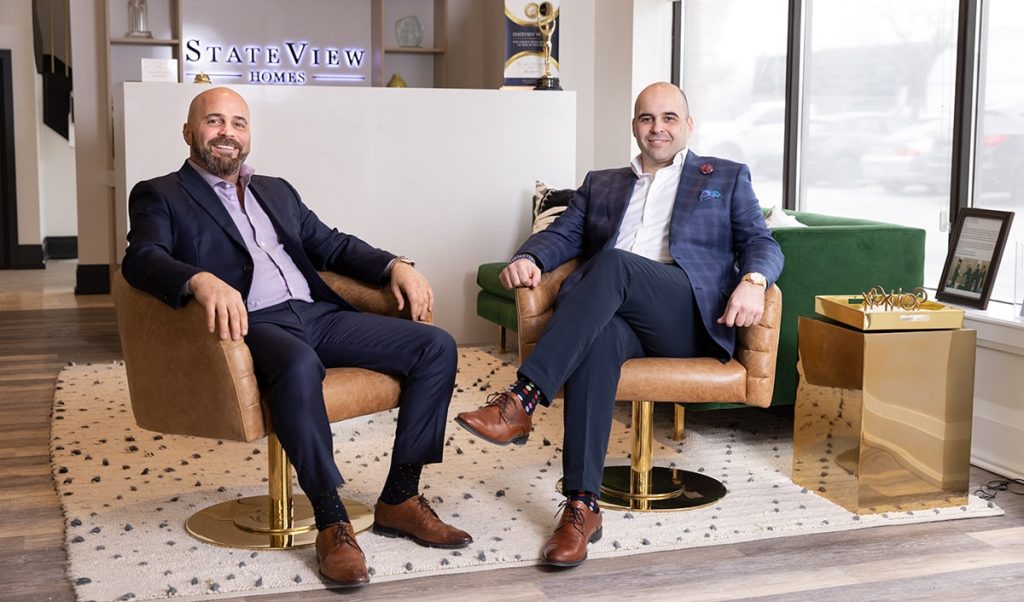 With the core values of integrity, commitment, accountability, responsibility and experience, StateView Homes has quickly become one of the most respected builders in the York Region.
Service and quality have been on full display as never before these past two years. From our homes, we've all had time to fully evaluate which companies truly excel at these key attributes. Whether it was delivering food or a product or the convenience of online ordering, the gap in service and quality was clearly and often quickly evident. Some companies had it and thrived, while some others did not and were exposed.
Award-winning homebuilder StateView Homes has been thriving since its founding in 2010, not only because of its superior customer service and the recognized quality of its product, but for its innate ability to craft distinctive niche communities that answer each homeowner's individuality, design preferences and lifestyle aspirations.
Brothers Carlo and Dino Taurasi brought their combined 35+ years of homebuilding experience together and founded StateView 12 years ago because, in company president Dino's words, "We just felt that, between the two of us, we could build homes just as good if not better than the builders we were working for."
The success of the company — widely recognized as being among the most respected builders in York Region, north of Toronto, one of Canada's fastest growing municipalities — has been built upon key core values that live within every aspect of the company.
"Our team is guided by the principles of performing with integrity, commitment, accountability, responsibility and experience," says CEO and president Carlo Taurasi. "These are the foundations that make up our iCare Service Program, and we ensure these principles are carried out throughout our business, from upper management through to our trades and site workers."
StateView is probably best known for respecting homeowners' individual design preferences and lifestyle choices, so that each home they build is not only of the highest quality in craftmanship, but also in finishes. They install luxury appointments as standard finishes, whereas other builders would consider them upgrades.
"When we are designing our homes, we take the approach that we would be designing these homes for us, for our families," says Carlo. "We also have our own in-house architects, so when our homeowners meet with their décor consultants, if they want structural changes, we have a team on hand who can facilitate that. Oftentimes, it's like our homeowners are getting a completely custom home."
StateView Homes is made up of three corporate divisions: LuxView Fine Homes, its custom-home division, which provides customers with the highest level of personal attention that exceeds every expectation; Taura Developments, where StateView develops the lands they wish to build upon; and Taura Properties, its commercial rental division.
As its notoriety grows, StateView has begun to expand in the Region and beyond, with BEA in Barrie, Ont., its first venture outside of the Greater Toronto Area (GTA) and where they sold 218 townhomes in just under two months, as well as MiNU Towns, its third project in Markham, Ont., since 2019.
"When We Are Designing Our Homes, We Take The Approach That We Would Be Designing These Homes For Us, For Our Families"
This year, it is launching the Tesoro Collection, an exclusive community of just 12 single homes on a private cul-de-sac in Kleinburg, Ont., one of Canada's most exclusive communities, as well as Elia, a collection of 72 townhomes in the heart of Newmarket, Ont. StateView's reach across the GTA will continue east to Brooklin, Ont., this fall with the first phase of a multiple-phase project of nearly 500 homes, and then to Stouffville, Ont., with a master-planned community of townhomes and seven high-rise condos.
The company has been recognized by BILD, which honours excellence and innovation in the design, construction, sales and marketing of new homes in the GTA. BILD named StateView's Enclave project in Kleinburg as Low-Rise Project of the Year. It has also been honoured with wins from the National Association of Home Builders of California, where they were up against the best in North America.
"The BILD Award was very rewarding because we know just how competitive the GTA market is, probably the most competitive in North America," says Dino. "But, while these awards are great, at the end of the day, though, what really matters to us is that our homeowners are happy with the home we provide."
The company's success these past 12 years has allowed it to grow its philanthropic side by giving to world-renowned hospitals such as the Hospital for Sick Children and Johns Hopkins, thereby helping communities and the people who live in them.
"StateView is a family, and we all have kids," says Dino. "That is why we're so committed in our continued support to SickKids, to whom we've donated more than $800,000 through various events, such as its 'Get Loud' campaign or its annual Bubble Hockey Tournament."
"My brother-in-law, Julian, who is also our Director of Sales, was diagnosed with MS several years ago," says Carlo. "So, we have a very personal connection to MS4MS, which raises funds for Johns Hopkins. It's not only our responsibility to give back and make the world a better place, but we're happy to do it."
Passion for their people and their work is the living and breathing embodiment of service and quality that allows StateView to stand apart and is how it defines what in their industry is known as a "good build." "It's when we've heavily vetted our plans to be the best they can be, and we see that reflected in the excitement our clients have," says Carlo. "It's when we plan to phase out a project, but it sells out in a few weeks. And it's when we get emails from our homeowners saying how happy they are with their home, or the service, or our site staff. These are the things that constitute a 'good build' for us.