Refined Sporting — The 2016 BMW 650i Gran Coupe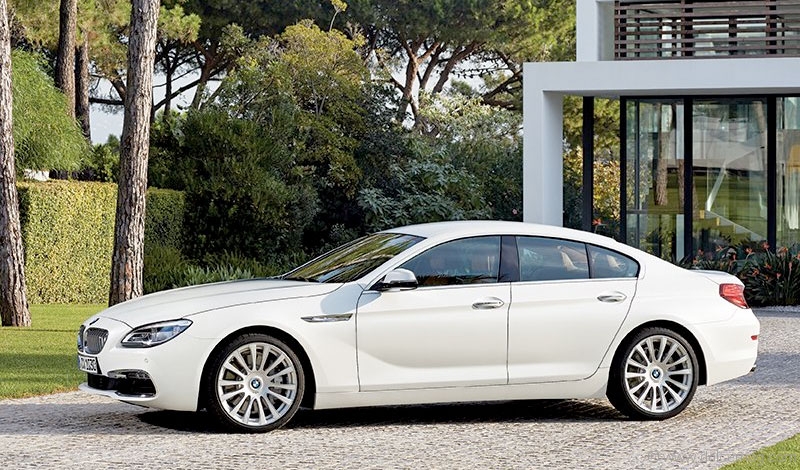 She's not just a pretty face: sleek and sexy inside and out, the 2016 BMW 650i Gran Coupe has us floored.
When the first few 6-series Gran Coupes started hitting the road in 2012, BMW enthusiasts of all shapes and sizes (myself included) were left slightly confused. After all, the 6-series had always been a coupe, and if you wanted a large BMW sedan for roughly $100k the 7-series was perfectly capable of satisfying all your needs. The thing is, BMW always has a knack for finding a buyer niche that none of us could have guessed existed, and in the case of the 650i Gran Coupe, they managed to find one that would wind up appealing to enthusiasts just as much as it does in the market as a whole.
The 650i Gran Coupe versus 750i is a classic example of the fundamental difference between examining two cars on paper versus in the flesh. On paper, they both come with a 4.4-Litre V-8 engine capable of 445-horsepower and 480 lb-ft of torque. The 650i Gran Coupe is a negligible one-tenth of a second slower from 0-100 km/h, reaching highway speed in 4.5 seconds. They both offer plenty of legroom and cargo space in a long touring sedan body, and given the similar price of entry their interiors are clad of equal-calibre materials, differing only in minor esthetics. Sure, one has a slightly more windswept form, but basically tomato, tomato, right? Surprisingly that couldn't be further from the truth.
For starters, the 7-series has a long-standing position in the market as the more mature gentleman's sedan. That's not to say that there aren't any young 30-somethings out there who are 7-series owners, but the car most often finds favour among those who started with the 3-series in their 20s or 30s, and worked their way through the model range. The 6-series, on the other hand, has a much more youthful feel to it. Its sculpted bodywork screams cool-yet -refined. Its proportions are genuinely akin to those of its two-doored sibling in the same manner as Aston Martin's Rapide and Audi's hulking beast, the RS7. That said, the brand (and its competitors for that matter) can continue to shout four-door coupe until they are blue in the face, but they're all still sedans by textbook definition.
Though the 650i Gran Coupe is easily louder and more bold than the 7-series in the visuals department, it's also just plain louder thanks to a wonderful sports exhaust system. Gran Coupe's twin-turbocharged V-8 has a deep and satisfying rumble at idle that builds to a substantial roar as it works its way toward the redline. BMW loves to say that the 6-series Gran Coupe turns any road into a red carpet, and as much as I hate marketing fluff, they're kind of right in this case. This thing is your rolling Tom Ford tux with its exhaust note playing the part of your royal entrance fanfare.
There's no arguing that BMW has knocked it out of the park when it comes to design, but the greatest part about BMW lives much deeper than visual appeal. The latest version of their direct-injection twin-turbocharged V-8 remains an absolute treat to drive. Power comes on very early in the low-range, and thanks to its all-wheel drive system and its quick-shifting 8-speed gearbox the mighty Gran Coupe can rocket off to dangerously quick speeds in a matter of very few seconds. Through the twisty stuff, the 650i is very well composed. Thanks to the latest variant of BMW's adaptive suspension system, the big tourer firms up to limit body roll through the corners, and remains supple when the road surface becomes less-than-perfect. Tipping the scales at just under 2,000 kg, the Gran Coupe is by no means a lightweight, yet every chance I've had to get behind the wheel I've been impressed with how agile it manages to feel when pushed.
If you're in the market for a serious full-sized performance sedan, BMW's sleek and sexy Gran Coupe makes a compelling case. If it doesn't draw you in with its stylish good looks, it may just as easily win you over if you take a moment to get behind the wheel.