La Ferrari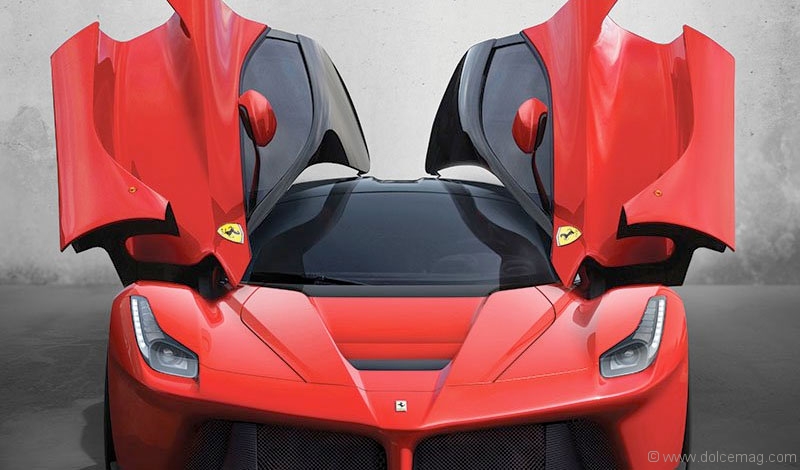 They call it LaFerrari, a 963-horsepower stallion that is, according to Ferrari president Luca di Montezemolo, "the maximum expression" of what defines the Italian sports car brand: "excellence." It incorporates the peak of Ferrari ingenuity and F1 knowledge, blending hybrid technology with the brand's philosophy of speed, performance and style. It's a modern masterpiece on four wheels. And you can't have it.
Ferrari unveiled the LaFerrari this past March at the 2013 International Geneva Motor Show. The company teased auto enthusiasts for months with shadow-drenched shots of the car's silhouette. The anticipation was high — what could Ferrari have in store? It's been over 10 years since the Italian icon released the last iteration of its special limited series, the Enzo, named, obviously, for Ferrari's founder, Enzo Ferrari. It was, and in many ways still is, that ultimate dream vehicle, which incorporated F1 design and tech in a street-legal supercar. What's been created with LaFerrari is arguably even more paradigm shifting.
Its name says it all: LaFerrari, literally "The Ferrari" — the definitive Ferrari of this place and time, and the future of the brand. It's also the first production model Ferrari has designed completely in-house, not at Pininfarina. And, it's a hybrid. This isn't your run-of-the-mill Earth Saver, however. The LaFerrari's crux is a road version of the Scuderia's F1 KERS system known as HY-KERS. Its genius is that the 120 kW electric engine supplements the 800 ponies pumping from the 6.3-Litre V-12, an enhanced version of the one found in the F12berlinetta, adding the equivalent of 163 additional horsepower and delivering high levels of torque in low revs. Engineers could then focus on optimizing the V-12's performance at higher RPMs, thus providing maximum power no matter where you find yourself on the tachometer.
The result is a bullet that will blast from dead to 100 km/h in less than three seconds, will hit 200 km/h in under seven, and will peak at over 350 km/h, according to Ferrari. The LaFerrari also emits 50 per cent less emissions than the Enzo, and runs five seconds quicker around the Fiorano Circuit. This is the fastest road car the company has ever produced, no question. Of course, it will do all this with the grace and style with which only a Ferrari can.
The LaFerrari's body is shaped for maximum aerodynamics, but still gushes with élan. Its future-present form flows with never-ending curves, strategically placed inlets and elegant lines that brush along its figure. It's leaner and lower than its predecessor with a distinct, downward slopping nose and a backend that is the lovechild of art and science. It's all meant to improve performance, but the package is pure technological beauty.
Seats are part of the chassis to further lower weight and its centre of gravity. The paddle shifters are bigger and more ergonomic. Four kinds of carbon fibre are used throughout its body. The batteries also don't need plugging in; they charge during braking and whenever the V-12 produces more torque than required, like during cornering.
But, like all of Ferrari's special limited series, the LaFerrari is, well, limited. Ferrari's screening process for this class is notoriously rigorous; a wallet's depth is not enough to guarantee ownership. Only 499 are being crafted and Ferrari reportedly received 700 requests to buy it before it was even unveiled. This rare beast, it seems, is already gone. Only the privileged own a Ferrari, and only the elite of that circle will get their hands on this car.