Mercedes-Benz S 550 Biturbo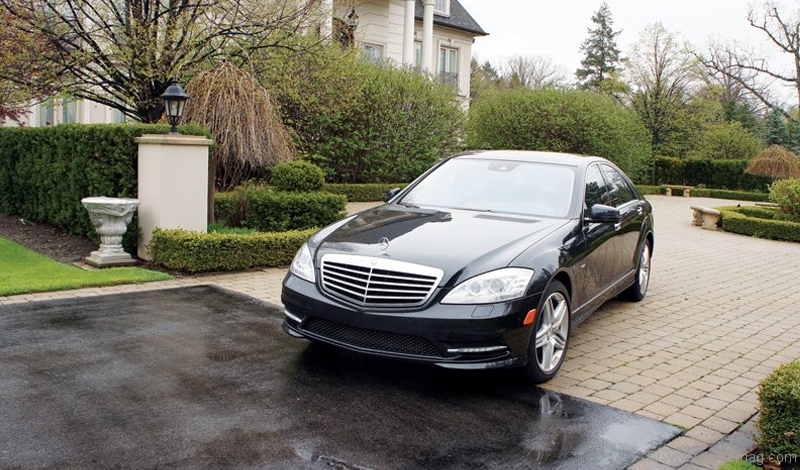 For decades, the Mercedes-Benz S-Class sedan has been a name synonymous with refinement, sophistication and luxury in the automotive world. Mercedes is looking to add another tag to this legacy with the addition of some serious performance enhancements to the 2012 S 550 Biturbo sedan. Automotive enthusiast and guest editor Jim Williams was enticed by this augmentation, and just had to give it a test drive.
As many auto enthusiasts know, the S 550 has always retained an exceptional standard of luxury. The 2011 iteration of the S 550, for example, featured a plush and spacious interior lined with elegant furnishings, including high-gloss trim in cashmere beige and alpaca grey; leather seating and plenty of legroom for backseat passengers. Mercedes has stayed faithful to that standard with the 2012 S 550 Biturbo, however, this urbane sedan has a special secret.
At first glance, the simple and esthetically familiar exterior of the S 550 Biturbo may give thoughts of unpretentious, reserved luxury, but don't be fooled – this gentleman is an assassin. Much like Clark Kent at a wedding, the sophisticated appearance of the S 550 Biturbo masks the raw power hidden within. "The 2012 model we tested is a 429-horsepower Biturbo engine," says Williams. "It produces 516 pounds of torque and gives you a 10 – 15 per cent increase in fuel efficiency." This staggering amount of horsepower and torque is 38 more ponies and 125 more pounds of torque than the previous 5.4-litre V-8 engine S 550, even though the 2012 Biturbo uses a smaller 4.6-L engine.
The 2012 S 550 draws this newfound muscle from its burly, direct injected, twin-turbo V-8 engine. "Compared to the normally aspirated sedan, this car actually has all the acceleration that you want," says Williams. "It's instant gratification and it has no turbo lag whatsoever."
The 2011 S 550 was already running 0 – 100 kilometres per hour in 5.4 seconds. With additional power pumping through the veins of this modestly clad animal, the S 550 Biturbo expeditiously accelerates from 0 – 100 km/h in five seconds flat. This impressive time creeps up on recent renditions of many high-powered sports cars, including the Maserati GranTurismo S, Audi R8 and Aston Martin V8 Vantage, and even stays tight in the rear-view mirror of the much more powerful Mercedes V12 S 600. No doubt, the Biturbo is a sleeper, through and through.
All that power doesn't mean a sacrifice to the drive. As Williams explains, "Even though the new S 550 Biturbo we tested is a short wheel base, it still gives you that luxurious ride that you've come to expect from Mercedes-Benz, thanks to its Airmatic air suspension with Adaptive Damping System [(ADS)]." What's more, much like the 2011 S 550, the model Williams tested came equipped with Mercedes' 4Matic all-wheel-drive system, making it far more prepared for the icy Canadian winters than its rear-wheel-drive kin.
Although this added performance boost may seem superfluous to those simply looking for a luxury sedan for the family, it is still a viable option for drivers who desire the best of both worlds. This car is a benchmark in touring sedans, and an excellent addition to the garage of those searching for a car that doesn't sacrifice power for comfort. As Williams concludes, "Overall, the new S 550 Biturbo gives you all the characteristics that you've come to expect from Mercedes-Benz, and gives you the extra power and fuel efficiency that you've been looking for."
General Specifications
Mercedes-Benz 2011 S 550 / 2012 S 550 Biturbo
Engine: 5.4-L V-8 / 4.6-L Biturbo V-8
Horsepower: 382 / 429
Torque lb. ft.: 391 / 516
0 – 60 mph: 5.5 / 5.0
Consumption L/100 km: 14.9 city, 9.3 hwy / TBD (10-15% improvement)
Base MSRP: $123,500 / TBD
Guest Automotive Editor, Jim Williams
The CEO and president of Williams Telecommunications Corp. – a global distributor of information, advanced technology, repairs and customer service – Jim Williams has been an auto aficionado his entire life. Today, Williams owns an impressive collection of exotic cars from some of the world's top manufacturers. From speed and performance to luxury and sophistication, Williams provides a well-rounded insight into the complex realm of motorized transportation. www.williamsglobal.com