The Glamazon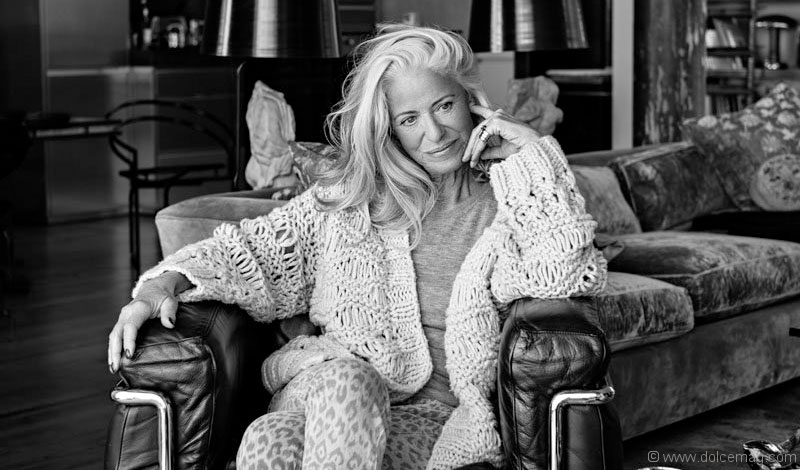 Hamburg's own Iris von Arnim holds a cosy spot in a close-knit community of German fashion designers. From Jil Sander and Tomas Maier to the legendary Karl Lagerfeld, von Arnim's impact on the scene and in celebrity closets inspires oohs and aahs from the likes of Claudia Schiffer and Sandra Bullock. Known as the Cashmere Queen, von Arnim, 68, was one of the first to introduce cashmere to the fashion scene in the 1970s. Since then, she has consistently delivered fashionable wool work, setting new boundaries for the modern woman in search of a luxuriously comfortable style.
DV: When and how did you begin to display the first signs of a designer-in-the-making?
IVA: After my father died when I was 16, I went to live with some relatives. Everyone felt responsible for me. But since I wasn't exactly the most disciplined or organized person, they were worried I would never have a "normal" job. As my aunt acknowledged once: "You'd rather make a belly dancer out of Iris than a secretary." In the end I tried everything — I worked in a travel agency, in advertising, as a local reporter, in public relations, as a photo assistant at Twen magazine and for United Artists Records. Finally, someone gave me a kilogram of wool during an extended hospital stay so I wouldn't be too bored. Then I knitted my first sweater, and that was the beginning of my journey into fashion.
DV: During the early days of your career, what industry challenges did you encounter, and what kept you positive?
IVA: Good design requires life experience, or as we say in German, "a life lived"— the more you have experienced and seen, the better you understand what you really need or feel good in. For me, it was learning by doing. I had no training in design, nor was I surrounded in my childhood by luxury clothing. In my early 30s, I owned a pair of jeans and some scratchy sweaters. There was room for my taste to develop and grow. When I started selling my sweaters in the '70s on the island of Sylt, I suddenly sold six pieces per day and not per week like I did in Hamburg. I found out that people do spend money on sweaters. Of course, competition increased from Asia and more commercial brands kept on copying our designs. But there is always room for creativity and for great sweaters. I love my team and work, and now my son, Valentin, is driving our company forward with a men's collection and opening our own retail shops. It's just fun to be here right now.
DV: Why did you choose cashmere as your staple fabric?
IVA: I eventually got tired of the whole motif sweater: I wanted to make them plain. People were fed up with mohair wool and fibrous material. From that time on I started with cashmere — it's one of the most delicate and luxurious fibres. No other natural or synthetic material has such an incomparably soft grip, such a warming characteristic, and the inherent ability to portray bright and deep colours.
DV: Where does the cashmere used in your work come from?
IVA: The best cashmere originally comes from inner and outer Mongolia, where the cashmere goats live on the edges of the Gobi Desert. But we buy the yarn from Italian yarn makers, who are still better spinners. Cashmere is a natural material taken from the under-fur of the cashmere goat, which lives on the icy plateaus of China and Mongolia in temperatures of up to -35˚C. The winter must be long and cold or the fibre will not grow in the first place. Cashmere from other areas of the world doesn't have the same quality due to the special conditions in the inner and outer
Mongolian steppe. Once a year, the cashmere goat undergoes a procedure by which the downy hair is combed by hand. For one regular Iris von Arnim sweater or cardigan, two to three annual returns are required; for a hand-knitted coat, even up to six or more. The production process doesn't require much energy, so we are spared from environmental pollution.
DV: What or who influences your designs?
IVA: It's usually the lives I see around me, on the streets, my own life. A strong woman with her own head who likes her feminine side, plays with it and emphasizes it. I suppose I'm inspired by strong personalities, curiosity, a zest for life and my team.
DV: What sparks your imagination when designing? Is it curiosity, travel, a muse?
IVA: In the early '80s, no motif from the arts was safe from me, from [Henri] Matisse and [Joan] Miró to Paul Klee. Today, it is rather about colours and shapes inspired by nature and architecture. I also flip through illustrated books, listen to music, talk with friends and keep my eyes open. Moreover, I always think practically: What am I missing in my wardrobe?
DV: What would you say are the three most vibrant, fashionable cities in the world right now?
IVA: It used to be New York, Paris and Tokyo. But I think Shanghai is catching up quite rapidly.
DV: Describe the area in which you live in Hamburg and what makes the city so great.
IVA: What some perceive to be a cool, reserved demeanour among people in Hamburg is actually something quite likeable. Everyone can do his/her own thing here. And as natural as it is for people to be open to new things, they respectfully give you the room to join or not. I also admire their discrete, classic elegance and their honesty. It is a style that is never out of fashion. I get my inspiration when I walk near the water, along the Elbe River and our large harbour. The water, the sky, the container ships — I stand then at the "gate to the world" as they call it here and feel very connected to Hamburg.
DV: What does la dolce vita mean to you?
IVA: To me it means not getting accustomed to everyday life. It means staying open and curious, not being afraid of something different and new, even at my age. And, of course, it means that little treats here and there are wonderful.