Q & A with Simon Sinek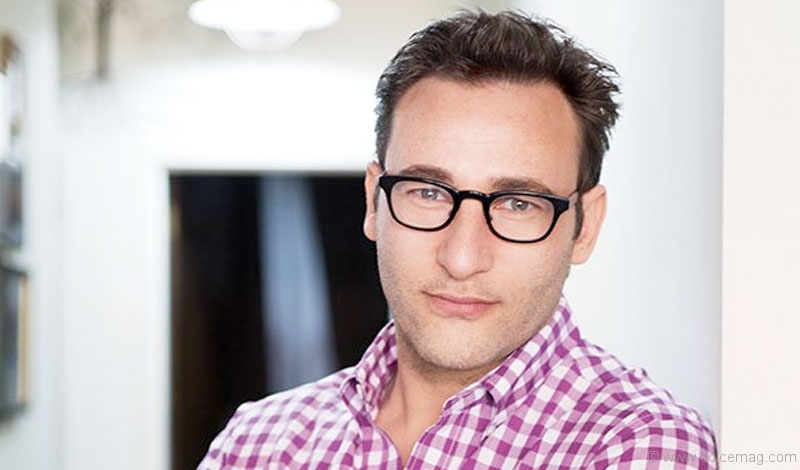 At the small TEDxPugetSound event in the fall of 2009, Simon Sinek gave a presentation that challenged audience members to re-examine their approach to leadership, suggesting it's not about what you do but why you do it. That talk now has over 16.5 million views and is the third most-watched video on ted.com today.
Following his bestselling Start With Why: How Great Leaders Inspire Everyone to Take Action, Sinek recently released his second book, Leaders Eat Last: Why Some Teams Pull Together and Others Don't. We caught up with the leadership expert to find out why being last in line can be the best way to lead.

Q The title of this new book, Leaders Eat Last, comes from a conversation you had with retired U.S. lieutenant-general George Flynn about the dining habits of the Marine Corps. Could you tell me a bit about how the title came about?
A I had a meeting with Lt.-Gen. Flynn as part of the work I was doing to try and learn about the Marine Corps, because at the time he was responsible for all the Marine Corps training. When I asked what makes the Marines so good at what they do, he replied simply, "Officers eat last." And if you visit any chow hall in any Marine base anywhere in the world, what you see is that at chow time Marines line up from most junior at the front of the line to the most senior person at the back of the line. It's not in any rulebook and no one tells them they have to. They do so because of the way they view the concept of leadership — which is they view leadership not simply as a rank but as a responsibility. It's a remarkable thing.
Q Early in the book you bring up the idea of the "circle of safety," which is the environment created by leaders that allows employees to feel safe in the organization. What are the repercussions of not utilizing the circle of safety, and, in contrast, what are the benefits of adopting it?
A When there is no circle of safety, when the people believe that the leaders would sooner sacrifice them to save the numbers than they would sacrifice the numbers to save them, when they believe that if they make a mistake or if performance suffers that it could cost them their job, there's this underlying sense of anxiety, or even fear, that comes along with that. It adds stress to the workplace. It gives the people no choice but to expend too much time and too much energy to protect themselves. This is why in lots of offices there's a culture of CYA [cover your ass], where everybody has to send an email to make sure it's on the record that they didn't do anything wrong. It's distracting. What ultimately it does is it wastes time, it wastes energy, and it reduces the strength of the organization as a whole, because people are not thinking about the problem, they're thinking about themselves. That's not because the people are bad. That's because of the conditions created within the company. The advantage of providing a circle of safety, the advantage of giving people the confidence that if they make a mistake they'll be helped, or they'll be offered to try again or sat down and told, "OK, how could you have done that differently?"; that if they have performance issues, then someone will come to their aid; that if the numbers suffer in one year, no one's going to lose their job — all of these things mean that people will start redirecting their energy for the advancement of the company and the help of each other rather than putting themselves first. It biologically creates a sense of trust and cooperation, as opposed to selfishness.
Q What are the biggest mistakes that leaders make today?
A Leaders very often see themselves as responsible for the results. This is not true. Leaders are responsible for the people; the people are responsible for the results. The problem we have today is a complete misunderstanding of what a leader does. Too many of our leaders think that they're leading companies. You can't lead a company; you can only run a company. You can only lead people. So, they call themselves leaders, but they're not leading people.
Q One example of great leadership that you use is Bob Chapman, CEO and chairman of Barry-Wehmiller. What makes him a great leader?
A Bob Chapman understands that every single person in this company is the son or daughter of someone else. Every single one is a precious life that he's been given responsibility for. So, he doesn't believe in head counts. Bob believes in heart counts. He sees his people not as workers, not as labourers, not as line items — he sees them as human beings. He feels an intense responsibility to protect the precious lives of the human beings who work in his company. It's an amazing thing. When you spend time with him, the way he talks, he's like a parent talking about his child. And by the way, his company does exceptionally well. This is not some ooey-gooey, hippie-dippie thing where the company doesn't perform but everybody likes coming to work. This is a very, very high-performing organization with 20 per cent year-to-year growth over the past 20 years.
Q You end the book with, "Let us all be the leaders we wish we had." What are some things that readers can do to become the leaders they wish they had?
A Leadership is a practice. It's something we have to do every day. You don't just have a big reorder, or take a class or have an off-site and all of a sudden you're a better leader. That's not how it works. It's a daily practice, and so we must conduct the daily practice of leadership. In other words, we must practise putting others before ourselves. For example, if you're running late for a meeting and you see someone running for the elevator, instead of looking the other way, hold the elevator for them, even if that means you'll arrive two minutes late. That's sacrificing something of yourself for the good of another. If instead of asking somebody, "Let me know when you need help," we just get up and go and help them, this is the practice of leadership. So, we get in the practice and habit of making these little sacrifices, and over the course of time, when we get good at those, we take bigger and bigger and bigger risks to do bigger and bigger and bigger things. It's a daily practice.
www.startwithwhy.com