Luxury Real Estate, Villa Les Colombières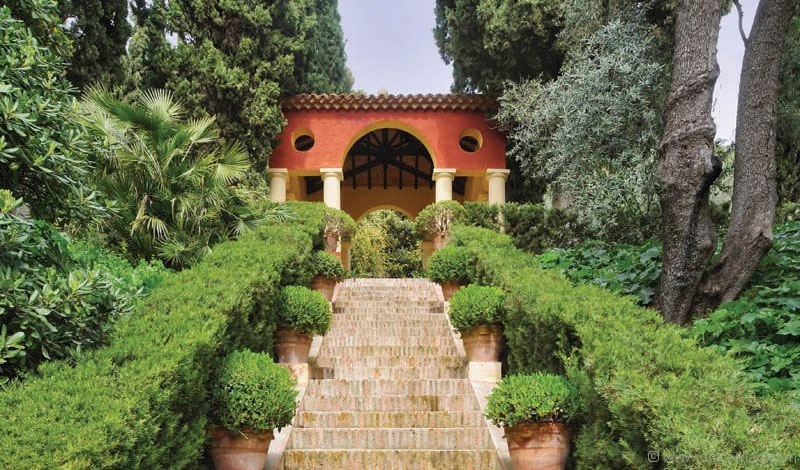 One must wonder if at midnight Villa Les Colombières turns into a Woody Allen set, where beloved artists and poets beckon you to join them for a grand dinner party. Above the village of Menton on the French Riviera rests an estate with a storied past, where long ago artists and dignitaries like Jean Cocteau and Joseph Joffre mingled at gala receptions.
It all began in 1920 when Emile and Caroline Ladan-Bockairy asked their good friend, 19th century architect and illustrator Ferdinand Bac, to help them in their search for a winter home. Bac discovered a seasoned escape and what would become his greatest undertaking: Villa Les Colombières. Throughout his life, Bac excelled at various roles, which included garden designer, painter, writer and decorator.
A man with an appreciation for the natural world, Bac took to his newfound project like a Roman emperor's scholar, resurrecting the vacant manor and its surrounding gardens into a mosaic of antiquity and the recollection one would find in an art gallery. "I feel myself in a way the student of Hadrian, the great solitary man, a refined and disdainful traveller, who wanted to transform a garden into the temple of his memories and who carved in it an immense nostalgia," wrote the celebrated artist in 1926. As the child of Charles-Henri Bach, the illegitimate son of Jérôme Bonaparte and brother to Napoléan, the Stuggart-born Bac studied art in France and frequently bumped heads with the likes of Victor Hugo and Richard Wagner during his travels.
The hallmarks of an artist inspired by travel ring true through the sprawling estate. Upon entrance, visitors are whisked through a sensorial experience of Greece, Spain and Italy. A patio carved with the illustration of Homer's Odyssey establishes the home's historic essence, with an impressive interior of frescoed works of art, sculptures, intricate busts and stained glass windows that overlook the Mediterranean. Completed in 1925, Les Colombières and its extravagant seven-acre grounds of well-tended gardens have been deemed a historical monument. Apart from its mythology inspired art, Les Colombières welcomed wounded Italian officers a haven of recovery in its sun-filled rooms during World War II. Today, the villa and its park – which were once a luxurious bed and breakfast – have been curated by its current owners, who in 1995, renovated and restored Bac's historic work while integrating modern elements. "[Les Colombières is] one of the rare houses with big private grounds masterfully laid out by Ferdinand Bac on a hillside with stunning sea views. The house and garden were part of the fashionable Côte d'Azur circuit in the 1920s and 1930s and everyone visited, from F. Scott Fitzgerald to Coco Chanel. General Charles de Gaulle made a speech in the garden in 1945, when Menton became French again," says homeowner Michael Likierman, who held with his wife a theatrical and musical millennium party in the house and garden for 150 family members and friends.
Adding to the treasured days of this Florentine palace are 14 bedrooms and 13 bathrooms, a swimming pool, elegant terraces and reception areas, as well as a guesthouse nestled in its landscaped gardens.
+33 (0)4 93 38 50 33
€ 22 million
www.burger-sothebysrealty.fr