The Language of Flowers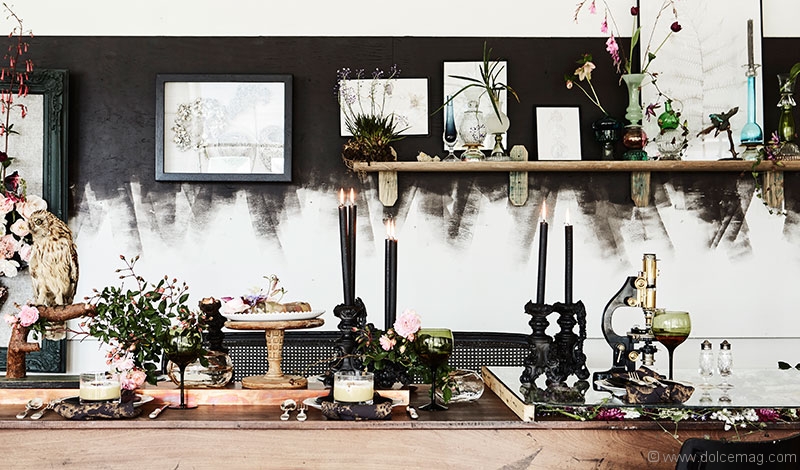 Think big and introduce dramatic floral elements that will elevate special gatherings around the table to an extraordinary feast for the eyes and senses.
Wild and expressive, the new flower arrangements draw inspiration from 17th century Dutch botanical paintings, the gothic intrigue of Victoriana and the old-fashioned romance of overgrown secret gardens. In combination with a moody colour spectrum, impasto-style textures, refined furnishings and decorative elements picked straight from the cabinet of curiosities, it's a style that heralds the revival of dramatic floral presentations using masses of seasonal flowers and gently worn opulence.
1. The Dark Arts
What better reason than a special dinner gathering to release your inner production designer and set an evocative, cinematic scene for your guests. Flowers are present everywhere: in vases and unusual vessels, laid out underneath a simple elevated glass top structure, as a moulded jelly centerpiece (for display or eating) and pressed flat and painted white as customised artworks. The moody colour palette and elements such as taxidermy, vintage scientific instruments and Baroque candle sticks rendered modern in matt black are tempered by the natural warmth of wood and pops of jewel-like colour in the form of decorative and functional glassware. The inky distressed feature wall is both an abstract focal point and dramatic backdrop inspired by the on-trend colour washing finish.
2. Magic Realism
Create a dramatic optical illusion with this living painting
Living Painting How-To
Find an old, ornate frame and if you like, paint it the colour of your choice.
Stretch a piece of sturdy neutral fabric tautly across the back of the frame and use a staple gun to attach it.
Find a colourful image of a floral arrangement (a painting, not a photograph) and paste it onto the back of your self-made fabric canvas.
Using an art knife, carefully cut out only the top section of the glued on picture but do not remove it completely. Make sure to leave the bottom section attached so you can arrange it so that it looks as if it is spilling out of the bottom of the frame.
Attach a piece of oasis to a tray with strong glue, then mount the tray onto the wall. Position the frame over it.
Begin to form your floral arrangement by placing flowers in the oasis and work until it appears that the painting and flowers are one for a peculiar (in a good way) effect.
3. Growth Spurt
As if having been sprinkled with seeds and left to sprout, this dramatic feature chair is pure romantic whimsy and makes for a far more delightful floral display than a vase.
Blooming Chair How-To
Scour the junk shops for a second hand period or reproduction chair.
Remove the seat upholstery, if possible leaving the frame and any coils intact.
Place pieces of damp oasis inside the seat and arrange your flowers, paying careful attention to building up the height of the display as well as draping a few vines and flowering tendrils down to the floor.
4. Ice Age
See the beauty of flowers from a different perspective by freezing edible petals in ice cubes. What better way to perk up drinks that with the vibrant colours of rose petals, nasturtium, borage, marigold and pansies.
photos by warren heath