In Gray Demand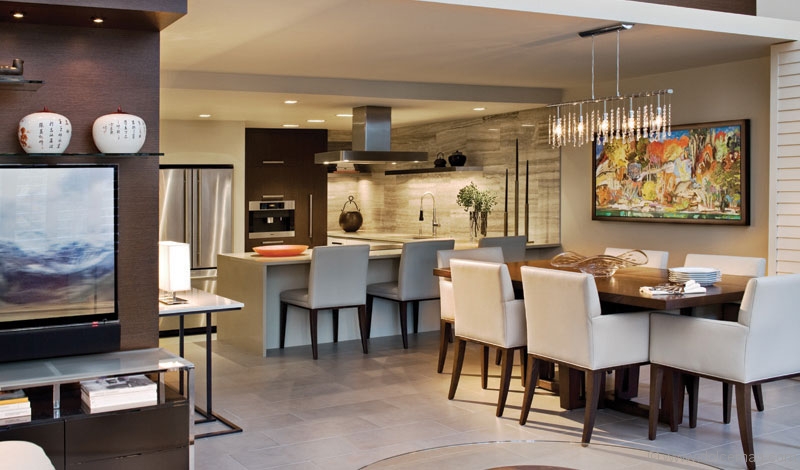 What could be better than a kitchen custom-designed with all the right appliances, lots of counter space and storage, perfect lighting and a place for everything? A kitchen that is both functional and beautiful, where you want to spend time, create special meals, and share precious time with family and friends.
Almost every home today is planned around an open-concept kitchen. Usually, the kitchen can be seen from the adjoining eating area, family room and/or media area. The trick to having an open-concept kitchen is to have a planned place for everything, so that the typical clutter on kitchen countertops is avoided. I like to make the back wall a focal point and remove overhead cabinets. To accommodate the lost storage space, I incorporate full-height roll-out pantries to house all the items that were previously stored in cupboards. Roll-out pantries provide an efficient use of space, and allow everything to be more visible and readily accessible. This concept gives the kitchen a clean, contemporary feel. In the False Creek, Vancouver project pictured above, I have tiled the wall full-height with beautiful, polished travertine marble, and hung a floating stainless steel shelf to display a collection of Oriental pottery. An eating counter was incorporated for quick meals and gatherings. Best of all, an island concept allows the chef to be part of the flow of conversation in the adjoining dining and media area.
A built-in and plumbed Miele coffee machine was incorporated into the pantry with a drawer below to house coffee cups and utensils. Above the coffee machine is a microwave, which has been cleverly concealed behind a door that slides up for easy access. Gourmet food preparation is facilitated by a state-of-the-art induction cooktop, with a built-in convection oven. Roll-out pantries eliminate the need for overhead cabinets. They slide out easily and everything is in full view and readily accessible.
Have fun with accent lighting in your kitchen. Finding just the right lighting is one of the most difficult things for me as an interior designer, but when it happens, it's magic. I think of the room as the perfect little black dress, one that dresses up or down according to the occasion. The perfect lighting fixture is the jewelry that finishes off and complements the outfit
The kitchen below was also designed with no overhead cabinets. This concept makes the cooktop a focal point and gives it a clean, contemporary feel. A wall of full-height pantries is located directly adjacent to the island work area with slide-out drawers behind full-height doors. A built-in and panelled Sub-Zero Refrigerator is also set against the wall of the pantry. The slab of granite behind the kitchen cooktop is like a beautiful piece of artwork. I always include a fitted soap dispenser beside the kitchen tap, so that a bottle of dish detergent is never seen on the countertop.
If consideration and attention-to- detail are applied to the interior design process, the results will be long-lasting.