Marianne McKenna's Ascent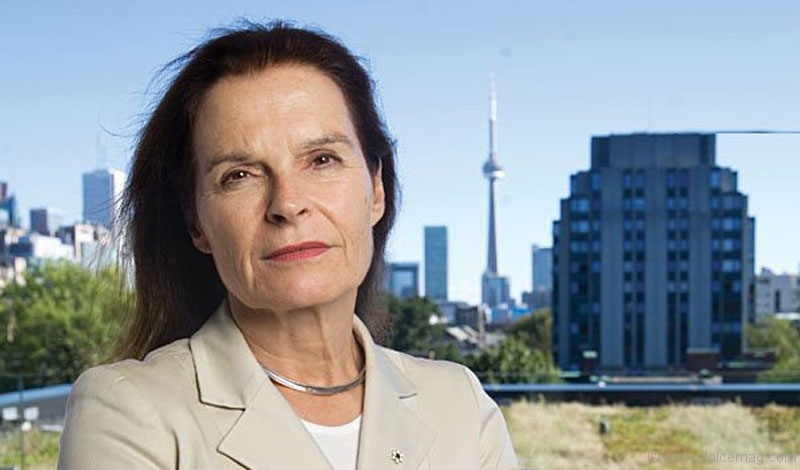 It all began on the second storey of a cosy Park Street flat in New Haven, Conn. It was there, in the heart of Yale's university district, that master's student Marianne McKenna foreshadowed her future as one of North America's most influential architects. The prophetic moment presented itself in a simple sketch she designed for her roommate, Meryl Streep. "She made a little drawing of our tiny kitchen that she hung over the actual kitchen table, mirroring and miniaturizing the view. I cherish it to this day," says the Oscar-winning actress over email. "Her vision, the way she looked at structure and line, was always sharp, clear and uncomplicated. This clarity was always and invariably informed by her own sensuous nature — her emotive, true and visceral reactions to people, places, spaces and events." That innate force of affection is the steel that struck McKenna's flint in an industry where so few have found their spark. 
Renowned architect Barton Myers recognized that flicker the moment he met her at a Montreal soiree in the late '70s. Following a lecture series, the recent Ivy League architecture graduate dined and discoursed with Myers, who at the time was greasing the wheels of a Toronto-based firm that would go on to become an international marvel. "I found her very articulate and interesting," says the founder of Barton Myers Associates Inc., who's since moved his life work to Los Angeles. "I tend to choose someone who I think is intelligent and organized and has reasonable artistic ability — someone who will probably survive." For Myers, McKenna was a natural selection. Nearly 35 years later, the Officer of the Order of Canada, who's been named one of the country's most powerful women, has gone far beyond maintaining a pulse in a Darwinian industry slimly designed for the fittest.
"Within five years I had the most talented firm in the country," says Myers. But when he flew his studio south in the late '80s, his Toronto progeny, Bruce Kuwabara, Thomas Payne, McKenna and Shirley Blumberg, decided to stay put and formed an acronym that spread its wings to win 175 awards, earn 12 Governor General's Medals and design some of North America's most notable properties. "Initially they were hesitant about going out on their own but once they did it's been gangbusters," he proudly adds of KPMB Architects.
It's just after 3 p.m. at the University of Toronto's Rotman School of Management and the monomaniacal attention to detail McKenna's become known for burns brighter than the flames blazing from a matte black wall to her right. The contemporary inset fire feature is one of an infinite number of elements she's become intimately familiar with as the partner-in-charge of the business school's recent $92-million expansion. "I see everything. It's a curse," says a smiling McKenna. Her resemblance to actress Ali MacGraw is as evident as it was when Myers gave her the Hollywood moniker 30 years ago. "I have the ability to scan and see when something is slightly out of place or not quite right," she adds, whirling her head around a glass atrium that lacks the anachronism you'd expect from an institution of its age. Her organic passion ricochets off perforated wood panels.
Behind her is a café lounge outfitted with white chairs that summons student interaction and beckons a bustling St. George Street with its see-through floor-to-ceiling face. To her left is a conspicuous staircase accented with a fuchsia ribbon of paint that runs all the way up to the elevated glass-box event hall. The hot pink punch was an unexpected intonation that helped the firm she co-founded in '87 win over a university selection committee in a cut-throat architectural competition four years ago. "I like it because it transcends any idea of a colour being gender-based," says Montreal-born McKenna. It also didn't hurt that she presented on Valentine's Day. "If you're interested in the building, we can walk up?" she asks.
According to Streep, the animated architect, who's become one of her closest friends, has always had an affinity for physical ascent. "I will tend to avoid anything that involves carrying things up and down the stairs, but [Marianne] taught me that the stairs, and the heavy boxes and multiple loads up and down were not a burden, but an opportunity, an opportunity to feel strong and maybe even take two steps at a time because we were young and we could," she says. "After I got over thinking she was insane, I realized she was right, and fit, and this was part of why she was gorgeous and happy and slept well at night."
So up the stairs we go.
From the Gardiner Museum to Maple Leaf Square and TIFF Bell Lightbox, KPMB has shaped the Toronto we know today with their progressive vision of tomorrow. But McKenna will never forget the climb — the events that helped hone her kaleidoscope lens of clean lines and conviction. An early failure stands out in her mind. She recalls one of her very first projects, a local university, and the consequences of being too passive to push forward her grand design plans. "I think when you're young you don't have the confidence to drop an idea down and then follow it through," she says. "What I should have done was gone to the president and said, 'look, you want a great building? For $10 more we can blow up this wall and connect these two spaces and make something fantastic!'" When she approached the president years later to express her regrets of not speaking up, he emphatically told her, "I would have let you do it." It was a lesson McKenna's never forgotten. "That's the advantage of aging in the profession, is that I do have that confidence. I'm not always right, but I'm always willing to talk about the issues."
"If she was not confident, she did a great job of hiding it," says Myers in his cowboy cadence. From his studio on Westwood Boulevard, the don't-throw-stones architect, who is revered for reshaping the framework of traditional design with his signature glass and steel structures, is short of material when searching for an anecdote that illustrates the distinct character of a great architect — someone like McKenna. "You could tell right away what the bone structure and the shape of the body is of a girl or a boy who will make a very great dancer, but what you can't tell is what the soul is and what the ambition is," he explains. "In architecture it's even harder." What he does know is that McKenna has it. There's a sense that Myers quietly credits himself for spotting a rare bird on that Montreal night.
"It's been an amazing time to make history in Toronto," says McKenna, noting that KPMB has worked on seven of the city's cultural projects that occurred between 2003 and 2009. "I mean, it's huge, how do we get so lucky?" Her most publicly extolled is The Royal Conservatory of Music's Telus Centre for Performance and Learning and its centrepiece Koerner Hall, which has received over a dozen awards and has been hailed the "final jewel in the crown of Toronto's Cultural Renaissance." As she stares down at the initial sketch she conceived, the particles of a project that spanned nearly two decades cast a wistful expression on her face. "I'd never done a concert hall, who gets to do that? And I was thinking, 'how do you wrap the room with people?'" she says, waving her finger over the chorus, the flipper walls and the acoustic veil as if she were conducting an orchestra.
What was once just pencil on paper has become a global platform for the arts. "McKenna created this vision. This irrevocable vision," says RCM president Peter Simon. "It's this notion that you're building something for the ages, you're building something that is at an international standard. How many architects have that kind of vision and that kind of taste and can actually design something that's so beautiful that everybody in the world just flocks to that hall because they want to see it?" he adds of McKenna, who was named an honorary fellow of the RCM in 2011.
Breaking ivory tower ideologies with buildings that alter tired trajectories is something she's garnered a reputation for. "She has an affinity for what most people would think to be the most unloved and unattractive structures, because she sees the potential in everything," says her husband Ian Tudhope, partner at a Toronto-based private equity and advisory firm. Her relentless work ethic is one of the je ne sais quoi qualities Tudhope took notice of while stationed in a neighbouring office nearly 30 years ago. "I used to see Marianne out in the hall frequently at all hours of the day and night. I was always impressed that she was working until two in the morning, she's a confident juggler."
Brigitte Shim, who grew to know McKenna during the Myers era, speaks to her colleague's unwavering commitment to address systemic issues through a principled design approach. "She's brought a level of humanity and insight and understanding to things that are really difficult and challenging and has turned them into really great outcomes," says the co-founder of Shim-Sutcliffe Architects. As a visiting chair at Yale, Shim has called on McKenna's insight as a guest critic for her student reviews. "She's willing to go the distance."
Streep recalls an early conversation about one of those far-reaching projects, which ended up earning McKenna's firm a Certificate of Merit from the American Institute of Architects and a Governor General's Award in 1997. "One of the first designs she shared with me of which she was most proud was for a new prototype of a women's prison which envisioned incarceration as a cluster of smaller houses in a linked community, shared responsibilities and access to children," says Streep of Ontario's Grand Valley Institution for Women. "I thought that this design could not have come out of the traditional firms of the decades before the inclusion of gifted women into the profession." 
Despite the fact that her gender represented less than seven per cent of registered Canadian architects in 1985, McKenna never felt like an anomaly. A vocal proponent of egalitarian environments modelled in KPMB's impartial anatomy, she's taken a visible stance at the top of a ladder that's now gaining a prominent female footprint. "We lose women in our office, but when they go, if they want a year off, I say, 'come to me when you're ready to come back. You're just as valuable to me in a year as you are right now. The other wages have gone up, your wage should go up.'"
Unabashed to admit she's had the fortune of great support along the way, the mother of two kids in their 20s has rewritten the work-life narrative. "The common good is to have women active and happy. I wouldn't be happy at home," says McKenna, who recently became a Metrolinx board member to better serve the transportation demands of a swelling population. Whether it meant having a baby on Thursday and being back at the office on Monday, or staying awake while the world was asleep, she's navigated an eventful life that's just right for her. "I don't agree with Anne-Marie Slaughter that you can't have it all, you just have to decide what all is." While it's not uncommon for her to put in 15-hour days, McKenna's made it a point to never miss breakfast or dinner at the Rosedale home she and Tudhope have happily renovated a handful of times. "I knew she was destined to become a wonderful designer and architect, but I also knew it would not be at the expense of having a family," says Streep.
Her lifetime achievements are personified in the Order of Canada pin piercing through her bone-coloured lapel, but the trailblazer promises she's only halfway through. It's clear that the 62-year-old hasn't spent more than a second basking in the glories that succeeded the poignant sketch she drew of her modest Park Street kitchen four decades ago. In a rare cathartic moment, a confident McKenna exposes the raw emotion her buildings so notably embrace. "It's hard work, not losing the things you value most, but yes, I'm living the dream," she says, tears welling in her eyes. "As architects, you have the opportunity to imagine and design your life."
Photography by Jesse Milns and Tom Arban