SNOW POLO IN TREMBLANT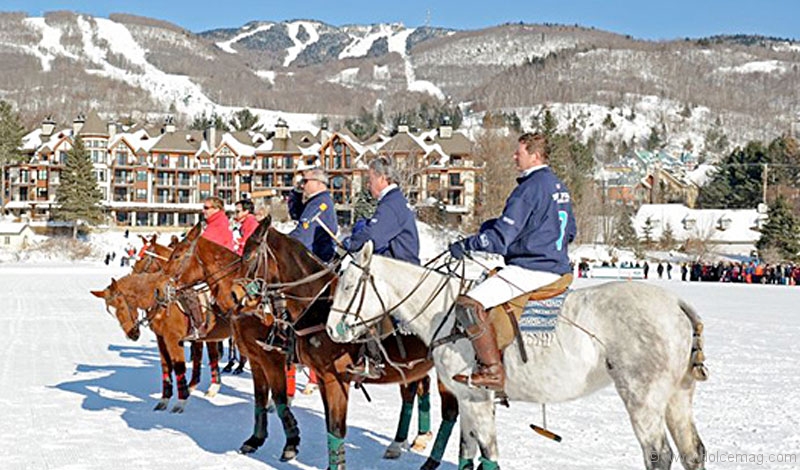 On Feb. 28, 2015, Mont Tremblant and Hôtel Quintessence hosted the first-ever Snow Polo Tremblant World Cup under what could not have been better conditions. The field (or pitch, as it's called in polo) was on a groomed portion of the lake in front of a stunning five-star hotel and the amazing Mont Tremblant backdrop. The Snow Polo Tremblant World Cup event has been in the making for nearly half a decade by its founders, Herbert Ratsch of Sotheby's International Realty Quebec, as well as avid polo players Marc Perreault of Landco and Justin Fogarty, longtime member of the Toronto Polo Club, managing partner of Regent Law Professional Corporation and passionate skier at Tremblant.
Canadians have always had a great love of many sports, and the nation has hosted dozens of professional teams and events. Canada is certainly no stranger to holding world-class events, such as the Olympics and the forthcoming Pan Am Games. The founders aspire to do for snow polo in Canada what has already been accomplished for decades in other areas of the world, such as in the U.S., Switzerland and China. This event at Mont Tremblant is no different — it had all the makings of a world-class event. In conversation with Ratsch, he said, "We all love Tremblant and wanted to showcase its beauty to Canadians. The [snow polo] sport deserves to be enjoyed by a greater audience. They just have to be exposed to it and they will be hooked. There were so many people who doubted it. We forged ahead like the movie Field of Dreams: 'build it and they will come'. No was not an option."
As a sport that is typically held in private settings within a very tight community, it is no surprise that most would question what degree of interest such an event might garner. Having followed the founders for a few days prior to the event, I can say that an underlying concern with the event not getting worthy attention would be an understatement. Although there was virtually no advertising, the event by all measures was a great success, with title sponsorship coming from Bell Media and Sun life Financial, not to mention considerable media attention throughout the Quebec region.
Because Canadians are drawn to many sports, when you incorporate the ball, stick, ice and intensity of a fast-paced sport the crowds will come. And come they did! The VIP section that anticipated 150 spectators drew over 400 of Canada's elite professional athletes, as well as the country's most prominent and influential business people. There was no way to anticipate what to expect, but it was estimated that an excess of 2,500 cheering fans — electric with excitement like hockey on horseback or Formula 1 on ice — stood fast on the sidelines in chilly conditions.
Over the weekend I had an opportunity to speak with both captains of the Canadian and international teams and get there take on the event. Marc Perreault, captain for Team Canada, said, "Mont Tremblant is a world-class location, and has all the markings of a first-class event, and I believe it will grow in popularity exponentially in the years to come. By next year we will expect many more players and teams throughout the world."
After the title match on Saturday, Fogarty took a few minutes to share his experience just moments after the game. "It has been a dream to play here today with my good friends and in front of so many passionate and enthusiastic fans, many of whom are old and new friends. Our vision to showcase Tremblant and Canada to the world in years to come has taken its first big step. With great success and the momentum created from today, our dream has become a reality for the community and the charities we hope to support."
The real icing on the cake was Canada winning the world cup, which was ceremoniously presented by members of the Royal Canadian Mounted Police. I don't care what sport it is; we love it when Canada wins. Based on the success of the inaugural event, you can assume that the Snow Polo Tremblant World Cup will only grow in popularity in the coming years as a must-attend event.
snowpolotremblant.com