Donald J. Trump: Golden Triumphs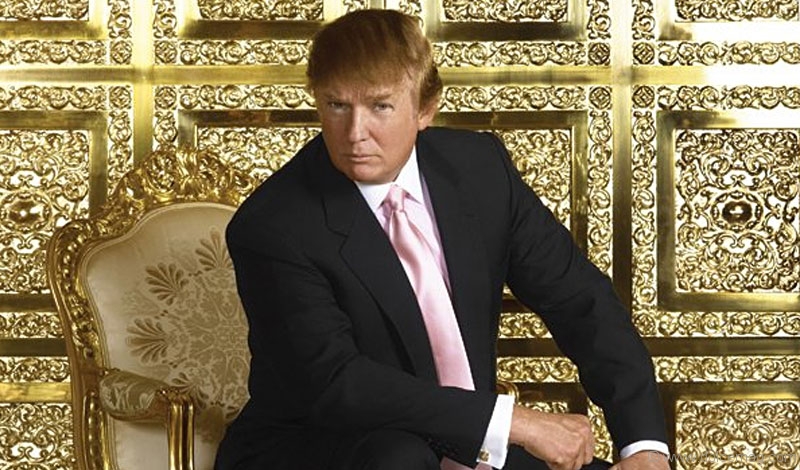 When you ask Donald J. Trump what his greatest luxury is, he says it's riding the elevator down to his office on the 26th floor of the world-renowned Trump Tower, which soars distinctively over New York's swanky Fifth Avenue. This modest pleasure affords him an effortless start to his day – living in the most expensive apartment in the capital of the world, a gilded three-storey penthouse just 40 floors above his coveted office. Yellow sticky-notes and piles of paper are his regalia, while family photos and a Shaquille O'Neal shoe look to the skyline of his kingdom. "Trump Tower is my proudest project. It was the first building with my name on it and it has become a landmark building on Fifth Avenue and one of the top tourist sites in New York City," says Trump.
Up at 5 a.m., he devours the morning news and the New York Post's Page Six before getting to work. "I'm usually in my office by 8:30 a.m. and usually stay until 7 p.m. when I'm not travelling. I have a jet and a helicopter, which helps the travel aspect of my work, as I have properties worldwide. Several evenings a week I have events or business dinners to attend, so it makes for a full work-week." Trump is a man who knows what he wants and knows what he is best at – skyrocketing standards of excellence as he builds the best and biggest. And no one has yet to conquer his success. In 2000, the UJA Federation awarded Trump his greatest honour: The Hotel and Real Estate Visionary of the Century award.
"The most important aspect for me is self-respect. I know when I'm doing a good job better than anyone else, and that matters a great deal to me," says the 63-year-old, whose hairstyle continues to be the subject of gossip columns. But Trump doesn't pay too much attention; he knows the cachet of his name and his enduring confidence has men wanting to be him and women wanting to be with him. When he began sporting crimson red ties – the ultimate colour of power – many followed suit. "I'm smart, fun and handsome," he says. "He's sexy, too," coos his alluring wife, Melania Trump.
"One reason why my work is respected is because I have the integrity of purpose in making it the best. It's my nature, it's not a false effort or façade."
— Donald Trump
Like a moth to the flame, Trump gravitates towards the spotlight, with his fearless actions simulating the brand that he has created for himself. As CEO and chairman of The Trump Organization, which pegs his net worth at $6 billion, the grandeur of his accomplishments is habitually overlooked because of his passionate public bravado in keeping the Trump legacy intact. This feeds the most popular adjectives used to describe him: pretentious and arrogant; boastful and overconfident. Love him or hate him, he is the smartest man in his industry, the king of realty, the world's best dealmaker. "One reason why my work is respected is because I have the integrity of purpose in making it the best. It's my nature, it's not a false effort or façade," says Trump, whose cutthroat boardroom disposition takes centre stage on The Apprentice, one of the highest rated shows on television. (The Emmy nominated reality series has now morphed into Celebrity Apprentice, with stars determined to defy Trump's infamous "You're fired!" – voted the third greatest TV catchphrase of all time). After graduating from the University of Pennsylvania's Wharton School of Business in 1968, Trump joined the ranks of his father, Fred C. Trump, a successful real estate developer building affordable rental housing in New York City. "My father told me: 'Get in, get it done, get it done right, and get out.' He was very efficient and that's something I learned from him." Coupling his father's proficiency with his sharp business sense, Trump smelled an abundance of economic opportunities in Manhattan. "Some of the best deals were made by my son," said Trump's father, who passed away in 1999. "Everything he touches seems to turn to gold." Donald Trump's first forays into commercial real estate had a resounding impact on the city, as his quick nature and revolutionary ideas ousted the co-ops that littered the Manhattan landscape. This created the condominium boom. "He single handedly turned the whole image of Manhattan around in the 1970s, when nobody wanted to live in New York," said Shark Tank's Barbara Corcoran during a visit to the Larry King Show in 2008.
The Trump name continues to be synonymous with prestige, and his eldest children, Donald John Jr., Ivanka and Eric Trump, carry on the family tradition as executive vice presidents of The Trump Organization. The Trump children were born a brand. "They are focused, disciplined and enthusiastic about life and work," says Trump, who coached his children about the real estate industry by exposing them to it. "That's how I learned and children are good at watching. It's much more vivid than talking or reading about it being done. Seeing it is a visual that will stick," says Trump, who steers his children towards achieving the best. "We had to work, we had to learn what it meant to earn a dollar," says Donald Jr. "He's taught me about life – especially as it applies to the business world and trying to be successful in the world in which we live. Maybe in time, I'll have the ability to have the same level of confidence … I hope to attain the level that he's achieved some day."
Cultivating his It-man status from a profound reputation of building grand residential and commercial towers, sumptuous luxury hotels and golf courses, Trump has recently extended The Trump Hotel Collection by expanding his New York state of mind to key locations across the world: Las Vegas, Chicago, Panama, and Waikiki, Hawaii. The imminent 2011 debut of the Trump International Hotel & Tower in Toronto will introduce Canadians to their very first Trump property and a new standard in downtown luxury. "An indication of life is growth. I also love what I'm doing, so I like the daily challenges that come with running a large business," says Trump, a golf aficionado and friend to golf great Tiger Woods.
"The most important aspect for me is self-respect. I know when I'm doing a good job better than anyone else, and that matters a great deal to me"
— Donald Trump
Trump's life is his work, and his big-bold-brash persona unveils itself in everything that has his name on it. Whether he has invested in a property or licensed his name to it, once the Trump signature graces a project, the asking price increases by an estimated 25 per cent. Everyone wants a taste of the Trump glamour.
Trump's triumphs colour the world's landscape with grandeur. His vast collection of properties and burgeoning portfolio of holdings include The Trump World Tower, recognized as one of the tallest residential towers in the world, and one of the most successful condominium towers ever built in the U.S.  Trump Park Avenue, with its gleaming floors and views of Central Park, debuted in 2004 as one of most luxurious buildings ever built on American soil. Its price per square-foot set new records. Trump International Hotel & Tower, a 52-storey super luxury hotel and residential building, is one of three hotels to receive a double Mobil Five-Star rating. It was voted the No. 1 business hotel in New York City by Travel and Leisure Magazine. Trump's Mar-a-Lago Club, the ultra-luxurious estate where he often vacations, is not too far from the Jim Fazio-designed, $40 million Trump International Golf Course.
In 2008, Trump sold his magnificent 515 South Ocean Boulevard estate in Palm Beach for a record $100 million. "Deals are my art form. Other people paint beautifully on canvas or write wonderful poetry. I like making deals, preferably big deals. That's how I get my kicks," wrote Trump in his best-selling business book The Art of the Deal (1987).
"You have to love what you do – otherwise, the passion won't be there to get you through the hard times or discouragements," says Trump, who is no stranger to struggle and controversy. He faced business bankruptcy in 1991, but by 2000, this Comeback Kid once again reigned as billionaire. "Few things are easy, and once you have achieved success, you are an easy target, which brings another set of challenges to deal with," explains Trump.
A word to the wise: Trump's No. 1 rule for success is to never give up. "Remaining complacent is a good way to get nowhere." His recent, contentious venture into Scotland to build Trump International Golf Links on the sacred sand dunes of Aberdeen was initially refuted. That didn't stop him from his dream of wanting "the best golf course in the world" in Scotland, the birthplace of his mother. The Scottish government has now approved this venture, where a hotel, holiday homes, houses and a clubhouse will be sprinkled across three miles of spectacular ocean waterfront. "Progress is often considered controversial, and that's exciting. Artists are very often ahead of their time as are architects, and then the dust settles down and everyone is pleased," says Trump.
Standing tall at 6 foot 3, Trump is also successful on the home front. Melania, 40, attributes her husband's accomplishments to his privately held qualities, which he often hides from the eyes of the public. A former model whose stunning looks mask her grace and gentle demeanour, Melania can't put her finger on the one particular trait that makes Trump so great. "It's just the way he is. It's hard to say one thing over the other, I see him as a whole person," says Melania. "He has a big heart; he's kind of an open book. He will always say what he thinks. He's a man of his word."
Trump has lavished her with expensive gifts, but it's the emotional security he provides her with that has her blushing. "Hearing 'I love you' every day is what is most important. That's a beautiful relationship." It's no surprise how fiercely devoted she is to him and their four year-old son, Barron, whose golden ringlets and baby blues are not without substance. He has already declared his intentions to be "just like daddy." Besides being a mom and wife, Melania fulfills her passion for design with the recent launch of her own jewelry line, which sold-out once it aired on QVC.
An untouchable real estate mogul conquering market changes and hungry entrepreneurs, the pulse of Trump's main competitor beats to a tick-tock rhythm. "I have so many projects to get done and having the time and using it well almost seems like a competition." www.trump.com