A Masterpiece of Modern Design: The Matte Black Ferrari Enzo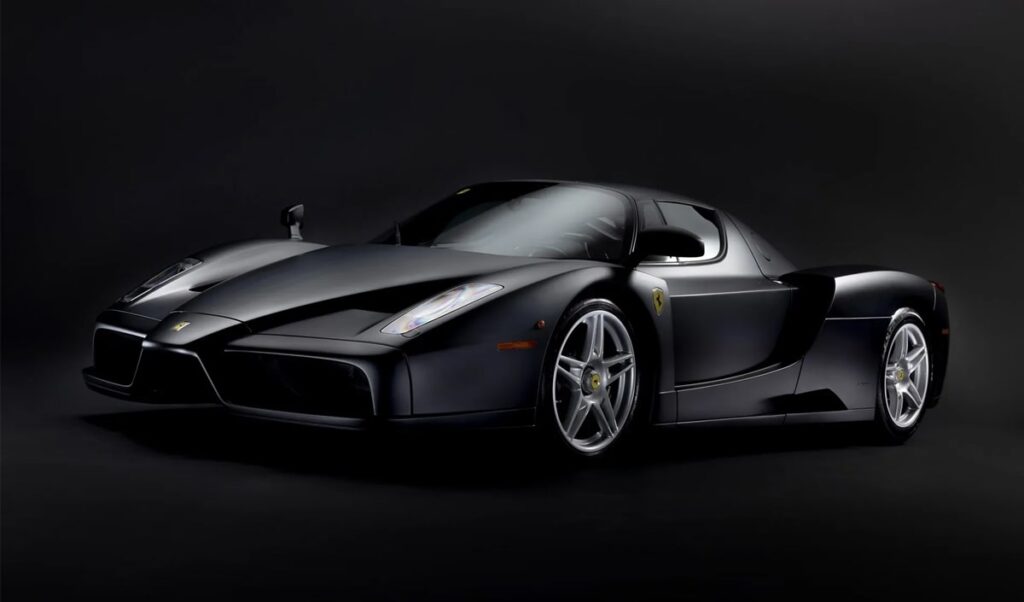 Calling all exotic car lovers! Beginning on Dec. 5th, 2022, the highly exclusive Matte Black Ferrari Enzo is being auctioned by RM Sotheby's. The Ferrari hypercar is now publicly available for sale for the first time and is the only model to ever be delivered from Maranello finished in Nero Opaco (Matte Black). Once belonging to a member of the Brunei royal family, the Matte Black Ferrari Enzo's odometer sits at just 5,730 km at the time of cataloguing, and the car is a masterpiece of modern design and a technological tour de force.
The Enzo model was named in honour of company founder, Enzo Ferrari, with the Enzo model coming to fruition 14 years after his passing. The name of the model lives up to the greatness of Enzo Ferrari and the company's history, with a published production of only 400 examples ever built. The Matte Black Ferrari Enzo is a rare and coveted hypercar, making it a crown jewel amongst the Enzo model.
The construction of this incredible triple-black specification began on June 8, 2004, with the finished car leaving Maranello's workshops on Oct. 15. The one-off car was kept at the Brunei royal family's London residence, where it made the occasional appearance on the streets of Hampstead, Mayfair and Knightsbridge, before later being brought over to the Asia-Pacific region.
Not only does this model boast low mileage, it has recently undergone cosmetic restoration by Carrozzeria Zanasi, the official paint shop for all of Ferrari's Hypercars, Tailor-Made editions and Icona series cars. With receipts totaling over C$157,000, Zanasi went through the cosmetics of the car extensively, replacing any necessary items such as the typical "sticky" switches, front and rear headlights, rear bonnet glass and a full repaint to the car's magnificent original Nero Opaco, among a number of smaller items.
The Enzo was introduced at a time in Ferrari's history when the colour palette for road cars was still limited, with the vast majority of the examples painted either red, yellow or black, with a handful of other cars selected in different shades of blue, silver, grey or white. With a rich history in ordering factory one-offs and bespoke automobiles, the Brunei royal family tailor-made the hypercar in Nero Opaco (Matte Black) almost two decades ago. Interestingly the matte-black colour is one of the most popular colours in today's market, making the Matte Black Enzo way ahead of its time.
The Enzo is in a category of its own on all fronts, including colour, low-mileage, and having been in the hands of a royal family. The lucky collector has an unrepeatable opportunity to buy the highly exclusive Matte Black Ferrari Enzo by Dec. 7th, 2022, at 12 p.m. EST. Vroom Vroom.