Dr. Jennifer Pearlman: Beauty From the Inside out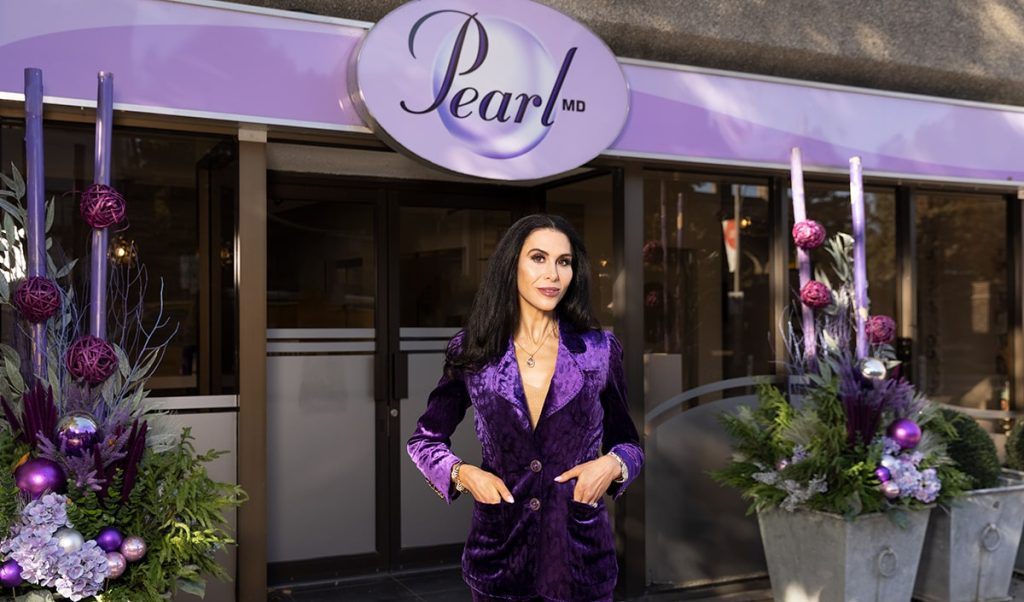 Dr. Jennifer Pearlman shares the five Ps that define her approach at PearlMD Rejuvenation, a world-renowned medical clinic, and what inspired her to build a new model of medicine to meet the needs of aging women.
As far back as she remembers, Dr. Jennifer Pearlman always had an eye for beauty. She taught herself to sketch female faces as a young girl using Veronica from Archie Comics as her muse. She has refined her artistry over the years with her love of math and science to practise medicine as an acclaimed expert in the field of cosmetic medicine helping her patients to look and feel their best.
However, her approach to beauty is more than skin deep. Her pursuit of a career in holistic medicine was also born from early childhood experiences. "As a young girl, one of the most prescient events was when my father, who at the time was a very fit young man in his 30s, had a massive heart attack and almost died," she shares. It was soon revealed that her father's heart disease was linked to genetic risks, which required treatment with diet and lifestyle intervention and eventually life-saving medical technology. However, years later as a medical student, she was surprised to find a void in the training that shaped budding doctors on nutritional and lifestyle treatment.
As she embarked into practice, she cultivated further her own unique approach to integrate holistic health with science-based medicine. She believed firmly in two tenets. First, that health is more than the absence of illness. And second, that aging well is a choice.
Over the past two decades, her approach and deep expertise and experience in women's health have been interwoven at PearlMD Rejuvenation, a concierge and holistic women's health practice she founded to help patients age well from the inside out.
She defines the PearlMD approach by five Ps. "We deliver precision medicine driven by an individual's unique biomarkers in a highly personalized way catered to their lifestyle and preferences," she says. "We take a proactive approach that's preventative and founded on partnerships. We educate, enlighten, advocate and empower women to make changes with the best in lifestyle- and science-based medicine."
To help her patients achieve "Ageless Vitality," an idea she coined years ago, Dr. Pearlman and her team at PearlMD curate bespoke integrative health plans shaped by one's genetic, hormonal, nutritional and metabolic health markers. With the best cosmetic medical treatments, technologies and techniques, Dr. Pearlman helps her patients refresh to their best with customized cosmetic care for skin, face and body.
Wrinkle-relaxing treatments, like Dysport, can be used to achieve a more youthful glow. Facial sculpting with treatments like Restylane can enhance the cheeks and contour the jawline, and biostimulant treatments with a skin booster, like Sculptra, can turn back the hands of time on aging skin.
In constant pursuit of the best and safest treatments and technologies, Dr. Pearlman has even developed her own line of medical-grade skin care and food-based health supplements, which she prescribes to her patients as part of the highly personalized care.
The high-calibre care at PearlMD is guided by Dr. Pearlman's extensive experience and expertise. She is a recognized expert in women's health and menopause, certified by the North American Menopause Society (NAMS), a fellow and faculty in Functional, Anti-Aging and Regenerative Medicine (FAARM) and is board-certified in Anti-Aging and Regenerative Medicine (ABAARM).
As international faculty, she is an invited speaker at prestigious medical meetings around the world, and as part of this global network, Dr. Pearlman ensures she is up-to-date on the best medicine, latest trends and most advanced treatments. "I'm honoured and excited to be the global ambassador for the largest group of cosmetic doctors in the world, the Aesthetic Multispecialty Society (AMS)," Dr. Pearlman explains.
With a thriving business and a packed schedule, it's easy to think Dr. Pearlman is all work and no play, but that's not the case. She is a wife and busy mom of two boys and balances their full schedules with hers. "The sweet life for me is carving out time, no matter where you are or what you do, for self-care. The fulfillment of doing what you love on a daily basis is like placing little investments to carry you on to the sweet life."