Golden Boy Ferris Rafauli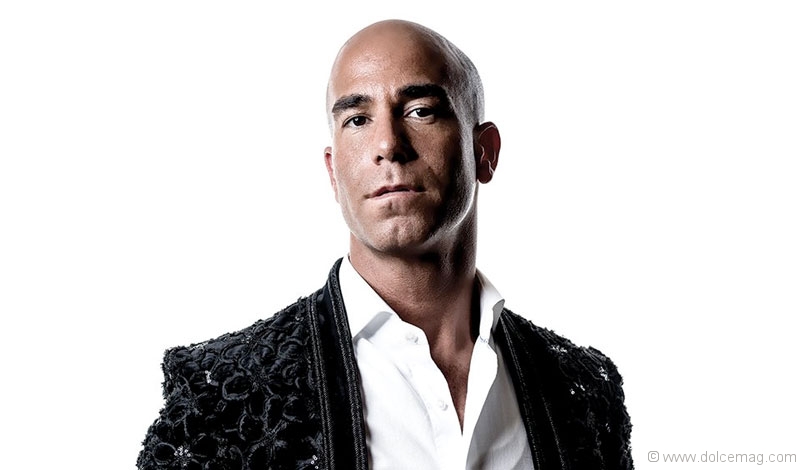 We step inside the high-fashion, fast-driving world of architectural designer Ferris Rafauli to discover what it takes to bring up super homes — and rapper Drake's VIP hideout — that are nothing short of spectacular.
Ferris Rafauli's work may be big and bold, fast and fearless, but there's more to his mega-mansions for the rich under his Ferragamo belt.
At 11 a.m. on a Friday, at the Ferris Rafauli Architectural Design Build Group office in Oakville, the architectural designer appears, all smiles and boyish charm, leading the way through glass double doors to a boardroom with white leather walls studded in an art deco pattern. His company headquarters is a study in elegant design: milky furnishings and marble floors, mirrored surfaces and a sleek fireplace.
Wearing a buttoned-up dress shirt under a black leather jacket, Balmain jeans and a rose-gold Rolex on his wrist, the fashion-forward founder of one of the most eminent design-build firms around looks more like a couturier than a builder. "But don't be fooled by an impeccably dressed human being," says former client Patrick Chetcuti, president of First Canadian Title. "He's an extraordinary talent for a relatively young person, and just like his homes his wardrobe is about being at the very highest level."
Like the deconstructive forms of Canadian-born Frank Gehry or the sweeping, fluid shapes of the late Zaha Hadid, 38-year-old Rafauli possesses the very same passion needed to push past architectural boundaries and elevate design. This innate desire to build loud has launched Rafauli into becoming one of the leading — and youngest — architectural designers this country has seen in the last decade. Boasting monomaniacal attention to detail and a gilded touch that gleams throughout his classically disciplined, transcendent super homes, Rafauli's standing in the luxury market is hardly unexpected for a natural-born builder who eschews trends and vanilla design.
The first time Chetcuti met Rafauli was by chance. The title insurance exec and his wife were driving down Lake Shore Boulevard in Toronto when a beautiful home in the midst of construction caught their attention. With plans to find a quality builder to bring their own dream home to life, they stopped the car for a closer look. "We saw a fellow on-site in a truck wearing a hard hat and work boots so we asked him if he knew who designed the home. And he responded, 'I did!' [Rafauli] then took us through the home and we were just flabbergasted by the construction, the design, the symmetry — we'd never seen anything of that quality before," says Chetcuti.
The serendipitous encounter eventually led to Chetcuti enlisting the services of the Ferris Rafauli firm, and the result was nothing short of spectacular. "All you need to do is bring your toothbrush and move in," Rafauli promised him. Over the course of 26 months, the designer of luxury estates erected Chetcuti's Dundas Valley home from the ground up and infused it with a rich, country-chic esthetic achieved by hardwood floors, a combination of marble and stonework, bronze, glass, Ferris Rafauli designer furniture and his signature layered technique. "You don't realize the impact this has on your vision until you see it," says Chetcuti of Rafauli's strength in blending materials together. "It becomes a piece of art for him."
Bringing up stately homes in affluent pockets across Ontario, Rafauli's offerings — which have recently expanded to include a celebrity's VIP lounge, brand collaborations and the FR luxury furniture collection — conjure up the look of a wide-eyed emoji as the brain wraps itself around the question, "How on Earth did he build that?" Teresa Cascioli, noted Canadian entrepreneur and former CEO of Lakeport Brewing, answers it best. "The thing that strikes me most about [Rafauli] is his passion for his work. It was very clear at the time — and continues to be — that you can tell that in his mind he can picture something completed … he can close his eyes and see what that house is going to look like as you describe what it is that you want."
Upholding the gold standard of some of the finest boutique hotels in the world, Rafauli's design mind conceptualizes and builds all his multi-million-dollar residential and commercial projects from beginning to end. It's a seamless MO that has the firm executing all architectural drawings, interior designs and the construction of the entire project, including landscaping, interiors, exteriors and the design and build of his furniture line. "I become OCD control-freak over every detail," he says. "I'm a passionate designer, and that's where my flair comes from, that's where my study comes from — it derives from classical nature and discipline — but every part of a project is equally important to the next. I like to see things come together and become real."
Rafauli's unwavering commitment to flawless design and precise scale is so deep that if even one minor detail is a millimetre out of place he will redo a room — all at his own expense. He also scours the world for the best and most unique materials, and imports plants and vegetation from Vancouver and California to ensure that the landscape and building align in look and context. He's even gone as far as adding extra square-footage to a client's home if he sees that a pool or a basketball court should be bigger because, scale-wise, it's the right thing to do, he explains.
To put it in perspective, some of Rafauli's projects include a 30,000-square-foot home in the Greater Toronto Area that features a 100-foot heated knife-edge pool, handmade bronze screens, a full indoor spa and 3,000-sq.-ft. master bedroom with a two-storey walk-in closet; a glam Muskoka cottage mansion nestled in nature and amenities like a tennis court and interior walls clad with slab marbles, leathers, suede and exotic woods; a French villa in the countryside with a 200-foot-long art gallery hallway, hand-polished woods, hand-dyed pony fur, a wine cellar and a Cineplex-sized movie theatre; and a 43,000-sq.-ft. manse, also in the GTA, with a three-storey lobby, 5,000-sq.-ft. master bedroom and a 12-car garage. Ferris Rafauli is also the firm behind the interiors of the French beaux-arts-inspired The Randall Residences, an opulent, 36-unit condo development in downtown Oakville with classic interiors and exotic finishes like zebra and Macassar woods. Often coming up ahead of deadlines, the FR firm takes on a careful amount of projects per year to ensure that disciplined and seamless design is carried through from start to finish. The firm currently has a waiting list.
Boasting a posh client list of VIPs, successful businesspeople and celebrities, Rafauli prides himself on being recognized for his niche luxury touch, and for joining forces with select people and marques that represent the consistent, high-level output of his own work. In a recent collaboration that put his drive to the test, Rafauli was asked by the Policaro Automotive Family to design and build a lavish lounge within the Porsche flagship store in Oakville. The designer lounge, which will include furniture custom-made by the Ferris Rafauli firm, will allow clients to pick out colours and fabrics in an edgy and inviting space. Rafauli has also specially put together his own seasonal collection of colour and leather options for those who dare to go beyond the traditional black-on-black. "You can quickly see how talented and passionate he is about his craft," says Francesco Policaro, general manager at Porsche Centre Oakville, who met Rafauli through mutual friends at a charity event. "It's not hard to trust someone with such vision and confidence." Rafauli was also asked to design and build a luxurious lounge within Policaro BMW in Brampton, which will feature slab marble flooring, exotic wood panelling and glass walls, to be completed by June of this year.
Rafauli's fearless approach to design and top-to-bottom style has resulted in iconic projects at a level of sophistication, speed and accuracy that few and far between have mastered. It was only a matter of time, then, until a celebrity like Drake would invite Rafauli on board to bring his champagne-popping, über-intimate party hideout in the Air Canada Centre to life. A titillating space for exclusive VIPs to hobnob the night away, the Sher Club features sexy-eccentric touches like crushed red velvet, pony-hair hides, piano-black gloss walls, hand-blown sculptural art and a rich black-and-gold scheme that rocks out to a modern-baroque vibe.
With the weight of super structures and big-name projects on his shoulders, Rafauli is surprisingly centred and well put together, his highly disciplined, Type A personality stretching across all compartments of his daily life and life's work. "My days begin early — I have 5 a.m. or 6 a.m. starts and I'm typically the first guy in and the last one out," he says, taking intermittent sips from a small cup with a mystery liquid he refers to as his "brain juice." Turns out it's espresso, and lots of it. "I believe that if you don't set goal lines for the week at this calibre of work then things just don't move efficiently. It's premeditated and methodical and I work a lot of hours, but the days are different because there's so many layers to what we do," says Rafauli, his right wrist dripping in Cartier diamond bracelets.
A week after our interview I catch up with Rafauli for his photo shoot with Dolce Magazine. His boardroom is now transformed into a makeshift walk-in closet brimming with runway denim, crisp dress shirts and blazers from his favourite top fashion brands like Balmain, Tom Ford and Dalla, whose designer personally sent him several pieces fresh off the catwalk. Slipping on a black-and-gold Yves Saint Laurent leather jacket over a simple white T-shirt, Rafauli explains that his appreciation for dressing in haute couture or owning a lithe supercar are not for show, but rather a reflection of the high-luxury design and quality he puts back into the world. "I have an appreciation for nice stuff because I respect the work that goes into it. I'm in the game of understanding it; it's in my DNA," says the owner of several exotic wheels, which include the 2016 Ferrari 488 GTB. "So it's not just a designer jacket or a fast car — it's about the appreciation of what it took to make it."
As for balancing his long workdays to squeeze in some dolce vita, Rafauli doesn't ask for much. "The sweet life for me is being able to be happy at work and happy with who I'm working with because that makes me feel good — it very much influences my mood and it influences my design. If you're not happy, you can't buy that."
ferrisrafauli.com / @ferrisrafauli
PHOTOS COURTESY OF FERRIS RAFAULI ARCHITECTURAL DESIGN BUILD GROUP
Hair and Makeup by Karima Sumar using Mac Cosmetics/Judy Inc.