David Grainger – The Rebel and The Ghost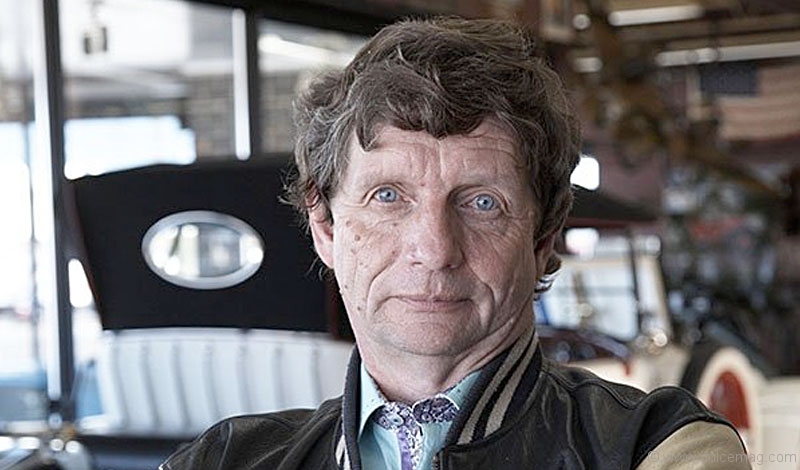 David Grainger doesn't know what he wants to be when he grows up. At 60 years old, you would think at the very least he'd have a general idea, some direction. But, no. He's cruising along the road of life, going his own way, taking it one mile at a time. The problem is he's running out of cars.
"That Jeep," Grainger says, pointing to the yellow SUV sitting in the showroom of The Guild of Automotive Restorers, his restoration garage in Bradford, Ont., "that was supposed to be my summer cruiser." He's still waiting for his team to finish work on it, though. He motions towards a royal blue twin-turbo Lotus Esprit. He was driving it; until, that is, it was sidelined by an electrical failure. "They're fixing it for me. I may get to drive it next spring." The body of a 1936 Corben Super Ace, an old racing plane, rests near the front window. He crashed it two years ago, slid it down a runway. "Normally, it would be about six weeks," he says of the repair time. "But because the staff is doing it for me: two years."
It doesn't sound like he's got a lot of pull around here. "I have no pull whatsoever. None," he says, chuckling. "I'm just the comic relief."
Grainger knows, of course, that his team doesn't always have time for his pet projects. The Guild of Automotive Restorers is one of largest and most accomplished restoration shops in North America. People from all over the world bring their old, beat-up vehicles, their prized antique coupes and their beloved classic muscle cars to The Guild for everything from paint jobs to top-to-bottom restorations. When you have upwards of 50 cars being repaired, refurbished and revived all at one time — and a 5,000-square-foot storage garage with another 25 to 30 cars queued up — his personal rides may have to wait.
The Guild is more than just a Lazarus Pit for decrepit and neglected cars, however. Between the walls strewn with art and old posters, under the hanging vintage bicycles and behind the hodgepodge of model cars and airplanes and other knickknacks resides an array of automobiles from the recesses of motoring's past. You'll find antiques, such as a 1901 De Dion-Bouton, a 1910 Locomobile Model 30-L "Speedster" and a 1925 Model T "Snow Flyer"; muscle cars, like a 1973 Mustang and a 1980 Trans Am; exotics, which include a 1968 Jaguar E-Type and a rare Lamborghini Countach LP400 "Periscopo" (valued, Grainger says, at over $1 million), and everything in between. The Guild is a haven for collectors and gear-heads alike. It's a museum for resurrected relics and mechanical steeds from every epoch of automotive history. And Grainger is its keeper.
But it wasn't always so. Grainger is a bit of an outsider, a restless wanderer. His past, eclectic as it is, is filled with divergences. For 18 years he was a professional wildlife artist. He's also a novelist and has been published in a number of publications, including the National Post, Globe and Mail and Octane magazine. He's worked at zoos and sanctuaries — and ran his own, which specialized in injured birds — was a big cat trainer and a reptile handler, working with poisonous snakes like the king cobra. He was a professional aquarist who designed salt-water filtration systems and a commercial diver who worked with sharks. "When it wasn't trendy," he jests. Throughout the '80s and early '90s he dabbled in television, where his forte was special effects. Today, even, he's a key figure on Restoration Garage, a History Channel reality series that follows the daily activities of The Guild. And, he was, and still is, a rebel to the core — "I was the hippy who wore dress pants and rebelled against even being a hippy," he says — but one that doesn't take himself too seriously, unafraid of a little self-deprecation.
He's also an encyclopedia of car knowledge. As he drifts through the buzzing and clamouring and banging of The Guild's shop, Grainger hops from project to project, like stepping-stones across a pond, sharing details about the model and its particular story. A Lamborghini Islero, the personal favourite of company founder Ferruccio Lamborghini ("He had an Islero right until the day he died"), which Grainger drove at the 75-mile Tour d'Elegance at Pebble Beach. "It's got the same engine as the Countach, a big 12 cylinder. Just a really pretty car," he says. There's a Lancia that was missing, basically, its bottom half, which his team was forced to completely remanufacture, thanks to being left to rust in grass for years. "It's for a gentleman in Florida." A 1948 Delahaye that Grainger found in a garage 20 miles north of Barcelona. "The last one that sold," one that wasn't as exuberant as this, he explains, "was 880,000 euros." That was last year. He's already got half a million dollars in this one. "It should sell for $1.2 million," he says.
While many of these cars are for collectors, there are plenty being restored purely for sentimental value. He nods towards a Dodge Challenger raised on a lift. The couple that owns it is not particularly wealthy, he says, but that car represents a dream. "In some cases, doing an heirloom car for a family is more satisfying and more important to the shop than building a car for a collector, because it means so much more," says Grainger. It might be the only car they ever restore, but it becomes "part of the fabric of that family" and not just another trophy on a collector's mantel.
But of all the cars from all the eras that Grainger and his team have laid hands on there is one that stands above the rest. The Guild's crowning achievement: the Bugatti Aerolithe. This unicorn of the automotive world, this ghost of engineering's past, was originally built by Jean Bugatti, son of company founder Ettore Bugatti, and premiered at the Paris Auto Show in 1935. Its claim to fame was being made of magnesium alloy, a notoriously difficult material to manipulate, for extra lightness. It had a striking, aeronautical design and was dubbed by the media "The Electron Coupe." In the spring of 1936, it made a small tour of England before disappearing. Forever. Legend swirls around the car's fate. There is a suggestion that an American soldier took it back to the States after the Second World War or that it was buried somewhere before fighting broke out. Grainger, however, believes it was most likely cannibalized for parts. Whatever the case, the original Aerolithe hasn't been seen in nearly 80 years. Grainger wanted to change that.
Grainger decided to recreate the Aerolithe using a chassis for a Bugatti Type 57 — the road-going version of the Type 59, Bugatti's final race car of the 1930s — that he had purchased 15 years ago. "It was such a sexy shape," he says of the Aerolithe's design. The problem, however, was that little information about the Aerolithe existed. Over three years of research, he uncovered only 11 photographs and half were of the same angle. He dug deeper, learning the production techniques of the period and how they would put this car together using those same methods. The scope of the project, he would find, was too much to handle. He sought a partner to finance it.
After two attempts at launching the endeavour with movie star Nicolas Cage, Grainger found an associate in Christopher Ohrstrom, chairman of the World Monuments Fund. Ohrstrom immediately jumped on board, but insisted that the car be built the same way it would have been in 1935. "We had total alignment on our commitment to reconstructing the Aerolithe based solely on the data and historic truth," says Ohrstrom. The problem, however, was working with the magnesium. "We found that it was the most unco-operative material you could possibly ever work with," Grainger explains of crafting the magnesium body. Magnesium doesn't like to be manipulated, prefers to be flat and can't be welded by traditional methods. At 1,100 C degrees it catches fire and burns, and to top it all off, it's expensive. But Grainger and his team refused to quit.
After seven years of research, experimentation, naysaying, frustration and millions of dollars, the recreated Bugatti Aerolithe was finished this past summer and premiered at the Historical, Vintage & Classic Cars Museum in Kuwait. Every detail of the recreated Aerolithe is to the exact size and shape as the 1935 model, using the same techniques as its original craftsman. And it's absolutely stunning. On a segment of Jay Leno's Garage, Jay Leno, a well-known auto enthusiast, interviewed Grainger and called the Aerolithe "a true piece of art."
"The original Aerolithe was a tremendously important vehicle," says Orhstrom. "It influenced everything that came after. Its silhouette haunts every automotive designer's imagination. We had to do it right. Doing that was not only about lots of money and time, but also required unwavering commitment to technical perfection right to the very end. Perhaps that was David's sheer doggedness."
The recreation of the Aerolithe was a key piece of the first season of Restoration Garage. But even after the deluge of hardship it caused, Grainger is already on to another "crowning car": the Alfa Romeo 6C 2500, the first car designed by Battista "Pinin" Farina post-Second World War. It's the only one in the world, and Grainger bought it from a Yakuza loan shark — but that's another story.
Beyond that Grainger isn't looking too far ahead. He's just gripping the wheel and enjoying the ride. "I just live life from day to day," he says. "It wasn't planned, and it's still not planned. People say, 'Where do you think your company is going?' No clue. 'What's going to happen after the TV show?' Don't know. I won't make plans for it. It just happens. As long as you're having fun along the journey, what the hell."