Music: The Secret Sisters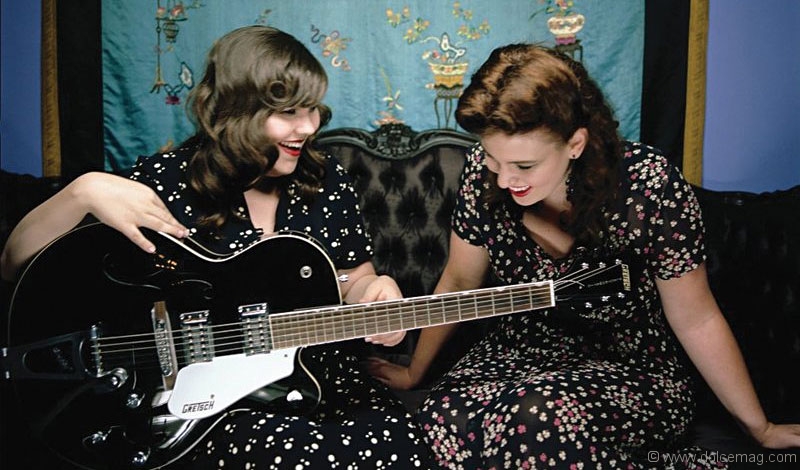 In 1974, Lynyrd Skynrd crooned that, "Muscle Shoals has got The Swampers." But today, it's also got The Secret Sisters. Like the soundtrack to a summer evening stroll or a breezy Sunday afternoon drive, The Secret Sisters herald an age when life ambled with a little bit more leisure and the times were simply, well, simpler. Ironically, it's this mellow, upbeat country carolling that swiftly swept these singing sisters up the river of stardom.
Gracing the stage in 1950s vintage dresses and voices to match, Laura and Lydia Rogers hail from Muscle Shoals, Alabama, an iconic town where legendary greats like Bob Dylan, Eric Clapton and The Rolling Stones all cut compilations. "It wasn't that we were directly influenced by the music that made Muscle Shoals famous, but it was just that knowledge that very good musical history was created there years ago," says Laura.
And inspiration certainly wasn't hard to find. A tightly knit musical family with a bluegrass-playing father and a grandfather – a man Laura and Lydia tribute as "hugely instrumental" in their melodic upbringing – who encouraged their singing while strumming his guitar and spinning twanging vinyl from the likes of Doc Watson, the Everly Brothers and Hank Williams. The result of this raw, unadulterated musical tutelage is a nostalgic harmonious album of original tracks, like the silky love song Tennessee Me, and euphonious covers of Patsy Cline, Hank Williams and Frank Sinatra classics.
Embracing the bare bones approach of their spiritual predecessors, the Rogers sisters' debut, self-titled album – produced by the renowned T Bone Burnett – was recorded in about two weeks, and is a stark contrast to the digitally diluted, "over-produced" tunes saturating modern mainstream music. They dusted off the ancient analog equipment, shunned auto-tune like the plague and shared a single microphone to rectify the scarce level of sincerity that's nearly void in today's commercially manufactured music. As Lydia explains, "If you go into the studio and you know what you're doing, trying to get it on the first or second take, then you step up your game and you become a better version of yourself." A version that doesn't need computerized correction.
Already opening for Willie Nelson and playing live with Elvis Costello, this duo has also recorded a gritty rendition of Johnny Cash's Big River with rocker Jack White – a track demonstrating their range and a would-be welcomed addition to their next album. "The first record was kind of an experiment to let people hear our voices and where our hearts really are," concludes Laura. But it's the next album, she feels, that will define The Secret Sisters. "It's really going to set the tone and establish us and what our sound is going to be."