Tricon Residential: Home Sweet Home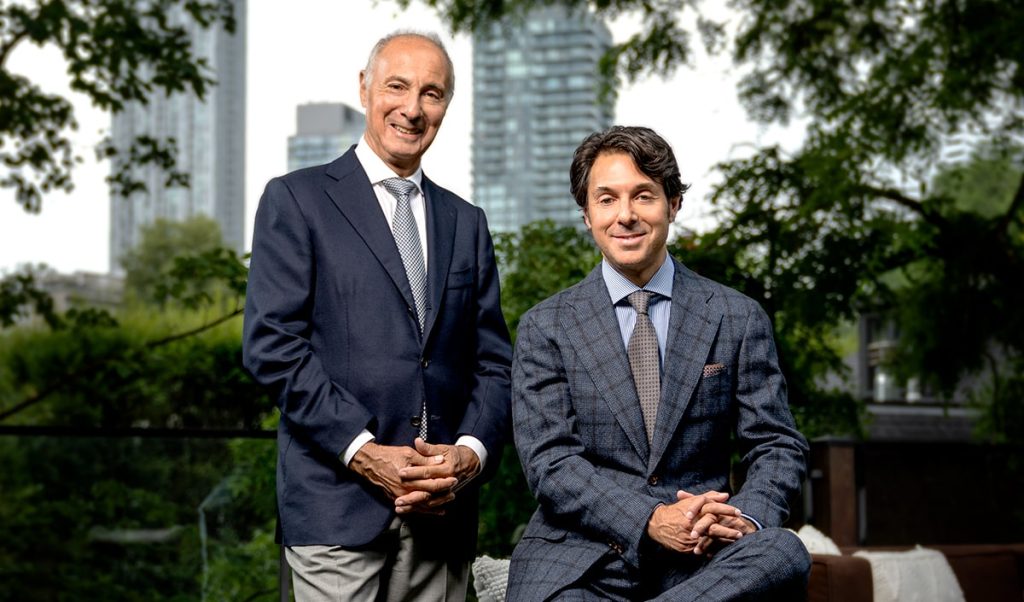 Tricon Residential builds on a solid legacy by investing in culture, community and connectivity to reimagine rental living across North America. Owning more than 31,000 single- and multi-family homes and apartments in the U.S. and Canada has made Tricon an acknowledged leader in the rental housing market
When someone starts a business, it's usually an expression of their passion, and very rarely do they think about their legacy or have time to wonder where they will be in 30 years. However, where passion leads, success follows.
This story begins in 1988, when David Berman and Geoff Matus founded a real estate equity lending and joint venture company named Tricon Capital. They hoped to establish themselves as the preferred lender for residential developers in North America, distinguishing themselves from competitors by developing a reputation for doing "the fair and right thing" in their business operations and relationships.
Passion and integrity have taken Tricon a long way, but vision and a spirit of entrepreneurship that have been consistent characteristics throughout the company's history have moved it forward. In business, the result was a deliberate transformation from a for-sale housing company to a rental housing company, recognizing the demands of a new generation that faces reduced home affordability and seeks a convenient and community-based alternative. In leadership, the result was a transition from the founders of the company to a new visionary leader.
Today, Gary Berman, president and CEO, leads a rebranded Tricon Residential, the first public company to own and operate single-family and multi-family rental homes across North America, making it one of the largest owners and operators of rental housing. Tricon is also one of Toronto's most active multi-family rental developers, with 10 purpose-built rental housing projects under development and it will have a portfolio of over 5,000 units upon completion (including The Selby). Overseeing a company supported by the foundational pillars of culture, community and connectivity, Gary finds himself in the fortunate position of leading a company into an exciting future built firmly on a cornerstone of passion. "We love what we do," says Gary.
"Our 'we' culture started right from the beginning, as we were a family business and a small group of people who depended on each other," says David Berman, co-founder and executive chairman of Tricon Residential. "I give my wife, Renette, much of the credit. She has a genuine interest in the well-being of our people. From the very beginning, she viewed our staff as part of our family. She would say, 'It's about the we, not the I.' And, without the 'we,' I believe that it is nearly impossible to run a successful business."
This guiding philosophy illustrates the feeling that exists strongly at Tricon, where the very backbone of the company is the tenet that all people should have the opportunity to live in a good home. This simple yet noble objective runs throughout this Toronto-based company, which is committed to increasing the number of accessible, high-quality housing options available to individuals and families who either prefer to rent or are unable to afford the home and location of their choice.
"It's About The We, Not The I. And, Without The 'we,' I Believe That It Is Nearly Impossible To Run A Successful Business" — David Berman
"We have become a company that recognizes the needs and desires of our residents," says David, who is still closely involved in the company. "We provide an attractive alternative to home-owning and have reimagined renting as something our residents want to do, irrespective of their means. There used to be a stigma that renting was only for people who could not afford to buy, but that's not the case anymore. As millennials are showing us, there should be a choice, as there is a lot more flexibility in renting and living a maintenance-free lifestyle."
While a strategic succession plan is part of a successful company, Gary's eventual leadership was not in Tricon's plan, nor was it David's idea. When Gary decided to leave his Wall Street career and return to Toronto to join Tricon, David discouraged him. "I don't believe in nepotism, and I told Gary that he'd have to work for another developer first to get the necessary experience," says David. "I said if you can then convince the other three directors why you should work here, then you can."
For Gary, wanting to work at Tricon was an easy decision, as he realized he could learn the most from his father, who would be the best mentor for him. "He has taught me judgement and how to make small but important decisions; things they don't teach you in business school or that you can't learn from a book," says Gary. "I used to overhear his business discussions on the phone while riding in the car with him. He is a good man, generous and thoughtful, always seeing the big picture and wanting to take care of people by doing deals that lead to win-win situations. To this day, those values live on at Tricon, and that is what I've learned from him."
While David had every confidence in his son's business acumen, there were still some things that surprised him once they were working together. "What I didn't expect was the vision — Gary has the ability to see things I don't," says David. "He came to me 11 years ago and said there was an opportunity to go public. I didn't think we could do it, but five months later, we had our IPO! Gary also had the foresight to be an early entrant in the single-family rental market in 2011." Tricon's most recent growth initiatives have been backed by joint venture partnerships with over US$7 billion in purchasing power, putting Tricon on track to double its portfolio to 50,000 single-family rental homes in the next three years.
The vision to change the business and expand is one aspect of success, but operations are another. "In everything we do, we foster an environment where everyone should have permission to be their best authentic self, as that has a significant ripple effect. You can be who you are here," says Gary. Being your authentic self also means doing the right thing, even when no one is watching and when it would be easy to do nothing. A case in point is the Tricon manager in California who drove 100 miles to a resident's home to deliver a turkey, so the resident could have a proper Thanksgiving during the California wildfires. Or the mother and her sons in Orlando who lost their home when an electrical short in a clothes dryer started a fire. Unknown to the family, while they were sheltering with friends, the Tricon team salvaged some of their personal possessions, rebuilt the home, placed those special mementos inside, and surprised the family by welcoming them back to their home. "We always try to go above and beyond for our residents, as our whole culture is about putting people first," says Gary.
This thoughtfulness and attention to detail are reflected in every decision, including Tricon's significant investments in a growing portfolio of developments, such as its flagship building, Th e James, in the heart of the Rosedale area in midtown Toronto. "While the overall quality of developments in Toronto has improved over the past decade, there is an opportunity to raise the bar further through intentional design, quality and attention to detail," says Gary. "For The James, we hosted an international design competition and we are creating what I think will be the highest quality building in Canada. As developers, we have a responsibility to improve the built environment and we want to inspire our peers and competitors to elevate that environment."
In addition to focusing on developing some of the most beautiful properties across the skyline, each Tricon development includes state-of-the-art amenities such as pools, gyms, games rooms, lounges, dining rooms, theatres, guest suites and concierge services. These first-class environments are supported by professional, best-in-class, onsite property management teams that take care of every need. "But we also recognize that we are not perfect, that we can and will make mistakes," Gary adds. "There is an adage that says that those who have never made a mistake have never done anything. We believe that. If we learn from our mistakes, they can help us grow. All we ask of our employees and ourselves is to take ownership of each situation and learn from it."
Tricon has also integrated sustainable design into its development projects. The company's first purpose-built rental development in Toronto, The Selby, was awarded LEED (Leadership in Energy and Environmental Design) Gold Certification in 2020. The building has many sustainable design features that promote resident well-being, while optimizing energy and water performance. In all of its new developments and renovations, Tricon incorporates design principles that foster accessibility and mobility, as well as a sense of community and well-being.
"Although over 95 per cent of our properties are in the U.S., we love Toronto and believe we can help address its housing affordability concerns without sacrificing quality and design. Our goal, which we believe is achievable, is the large-scale development of new, affordable, high-quality rental housing," says Gary. In collaboration with Dream and Kilmer, Tricon is developing a 12-acre rental community in the West Don Lands area surrounding Toronto's Distillery District. The West Don Lands project includes the province's first purpose-built Indigenous Hub. The Hub will help meet critical health-care, spiritual, employment, training and family support needs for the Indigenous community.
A partnership with Evergreen Brick Works to launch a community garden program where residents can share locally grown produce is another innovative way Tricon is integrating environmental, social and governance (ESG) practices. Apiaries for honey production will also be available. "These are creative ideas that enable us to be more sustainable, while giving back to our communities at the same time," says Gary. Besides Gary's infectious enthusiasm for the business, his ability to guide his team establishes a management style that enables a collective spirit for the greater good of the company and its employees, fostering the "we" culture, that drives the company.
This generosity of spirit also extends to Tricon's philanthropic endeavours. The company is heavily invested in arts and culture in Toronto, supporting the National Ballet of Canada, the National Ballet School, the Art Gallery of Ontario and the Royal Conservatory of Music and sponsoring a lounge at Roy Thomson Hall, all of which benefit Tricon's residents, since they are able to attend special events. Equally important, Tricon's principals provide annual scholarships for underprivileged but talented aspiring dancers and musicians to enable them to attend the National Ballet School and the Royal Conservatory of Music. In 2012, Tricon and its partner MOD Developments Inc. donated a critical piece of land to Massey Hall, the 121-year-old Toronto live entertainment theatre, to facilitate its revitalization and ensure that the hall continues to contribute to the lives of Canadians through arts, employment and cultural celebration for generations to come.
Tricon weaves art and design into each of its projects — with the head office proudly displaying a collection that features both established and up-and-coming Canadian artists. Artworks are displayed throughout Tricon's residential buildings, there is a historic WWII-era piano in The Selby's lobby that residents are welcome to play and plans for a soundproofed music room are being explored, so that residents who are budding musicians can practise their artistry. "Where would we be as a society without art and music?" says Gary. "I think that's what makes a great city, as it connects us and brings us joy."
Tricon's goal of enriching the community and its residents' lives extends beyond art and design, and it has made several impactful donation programs, including its Pay It Forward campaign, Giving Back Fund and Resident Emergency Assistance Fund. The company culture, founded on a shared passion for making a positive difference in people's lives and the community, influences all of its organizational, strategic and operational decisions. "We want to be a company that always takes the long-term view and is solid, innovative and responsible," says David. "A company that always does the right thing, not what's easy. A company that respects its people and its residents. One that people want to work for and that makes them proud. Together, we believe in Gary's strategic leadership that will enable us to achieve great returns for our shareholders and investors, while always considering the interests and needs of our residents."
Tricon Residential is committed to making a difference and determined to leave an enduring legacy; it's not just an example of a noble business philosophy, it's a genuine life lesson as well.