David Grainger: Citizen Grainger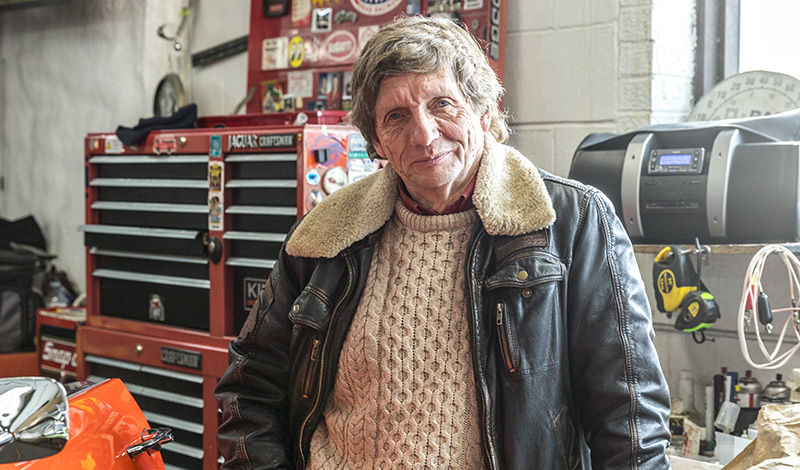 With many different labels and occupations, David Grainger's successes and experiences make him a citizen of the world.
Perhaps the second question we ask when meeting someone at a cocktail party is the cursory, "What do you do for a living?" while you wonder when those good hors d'oeuvres are coming around again. This question usually solicits a one-word response, such as perhaps "doctor" or "lawyer" or "accountant."
Not so if you are fortunate enough to run into David Grainger. In fact, refresh your drink and plant yourself, as you're going to be there quite a while enjoying a fascinating conversation.
Writer, producer, TV host, animal advocate, environmentalist, artist, world traveller, pilot, boat racer and car restorer — and these just scratch the surface of Grainger's incredible life. To that we might add adventurer, raconteur, nomad, eccentric, bon vivant and rebel to this colourful, larger-than-life personality. True, astronaut, brain surgeon and Nobel Laureate are missing, but don't bet against him.
"I don't really describe myself and am enjoying life as much as I can," says Grainger. "I just think I'm me. I really don't like to join the herd. When I was a hippie, I never called myself a hippie. I have rebellious thoughts, but don't see myself that way. I'm just not easy to drop into any one hole."
You may know Grainger as the host of the successful television show Restoration Garage, now in its sixth season and shown worldwide on various channels. That was a result of his work as owner of The Guild of Automotive Restorers in Bradford, Ont., located about a half hour north of Toronto, which he founded 25 years ago and has become a world leader in the art of restoring and maintaining all types of classic, antique and exotic automobiles. TV hosting and business ownership were consuming him the last time we spoke with him in 2013 and that activity has only increased.
"We're into our sixth season of the TV show and we're getting more popular," says Grainger proudly. "We're shot as a documentary with the scripts happening after the fact, as the show just follows me on my adventures. And I'm forming a new production company and starting a new series shortly, with the working title David Grainger on Wheels, which covers my fascination with anything that has wheels and the culture of people's fascination with weird machines."
Grainger prides himself on going with the flow in how he experiences life, taking what life gives him and, if he's passionate enough about it, throwing himself into new experiences where he invariably survives and thrives due to his many talents. He's proud not to have a plan, and this life approach was not a conscious decision, but happened organically.
"I get bored very easily and I never fully commit to anything, as I just plan for day-to-day work, and it's totally chaotic. But chaos is part of the creative process," says Grainger. "Something captures my interest, and I become well versed in something and when I get bored I move along. Last year it was tractors, and I acquired 35 tractors. This year I've become fascinated with watches, modern and dating back to the 16th century, as they are machines but also works of art, and those are even better types of machines. Then I'll move onto something else. You don't find inspiration in strict planning."
"I Have Rebellious Thoughts, But Don't See Myself That Way. I'm Just Not Easy To Drop Into Any One Hole"
Grainger's professional career began as a writer for newspapers in the Kitchener-Waterloo, Ont., area, where his columns dealt with wildlife and the environment. He also worked for zoos and wildlife sanctuaries, and founded and operated his own sanctuary specializing in caring for injured birds. This was in the 1970s, when issues about wildlife safety and the state of the environment were not exactly the front-page news they are today.
"I have no sense of satisfaction that what I was warning about with the environment back in the 1970s came true, as I would much rather have been wrong," says Grainger. "Most of the deniers live in the cities, as here in the country, you can see the dramatic decreased number of birds and wildlife, and this is among the canaries in the coal mine."
His passion for the environment and natural curiosity means Grainger gets to see the world up close in his many travels, usually not to big cities or popular beaches. His off-the-beaten-track approach to travel is reflective of his personality.
"The trip I've enjoyed the most for years is to the South of France. It's a special place that is charming, beautiful and quiet, and life is much slower there," says Grainger. "Maybe Janice and I will end up there," he says in speaking about the future with his wife.
As an artist, Grainger illustrated wildlife for many magazines and other publications and in the early 1990s turned to work in the film and television industries, doing special effects and eventually moving into scriptwriting and producing. His TV experience and passion for cars made him the perfect host for Restoration Garage.
An aficionado of classic, antique and exotic automobiles, in typical Grainger style he turned that passion into a successful business by forming The Guild of Automotive Restorers in the mid- 1990s, now respected worldwide with a roster of many international clients.
While its world-renowned creations — such as the restoration of the 1935 Bugatti Aerolithe Coupe, which won the International Historical Car of the Year award in 2013 and was featured on Jay Leno's Garage, or the Alfa Romeo 6C 2500 Pinin Speciale, which took a top award at Villa D'Este in Italy — may garner the headlines, it's the day-to-day work upon which The Guild of Automotive Restorers prides itself.
People from all over the world bring their prized, beaten-up vehicles, antique coupes and classic muscle cars for everything from tune-ups to engine rebuilds to paint jobs to top-to-bottom restorations. These collectors are understood by Grainger, as he, too, is a collector and an acquirer of life's experiences.
"There is no one trait to collectors other than collecting," says Grainger. "I honestly find it hard to understand people who don't collect anything, as I feel it's a deep part of our nature."
An insatiable curiosity and passion are at the heart of David Grainger, followed closely by talent and hard work to achieve the dreams he has had in so many different occupations and different walks of life, while squeezing every ounce from the juice of life.
When asked what he puts on those tax, passport or health forms that ask for your occupation, Grainger responds, "I don't know what I put there. But I'm terrible with forms, anyway. I'm always drawing outside of the lines."
A most appropriate metaphor for a life well lived.