RM Auctions: Resuscitating Retro Rides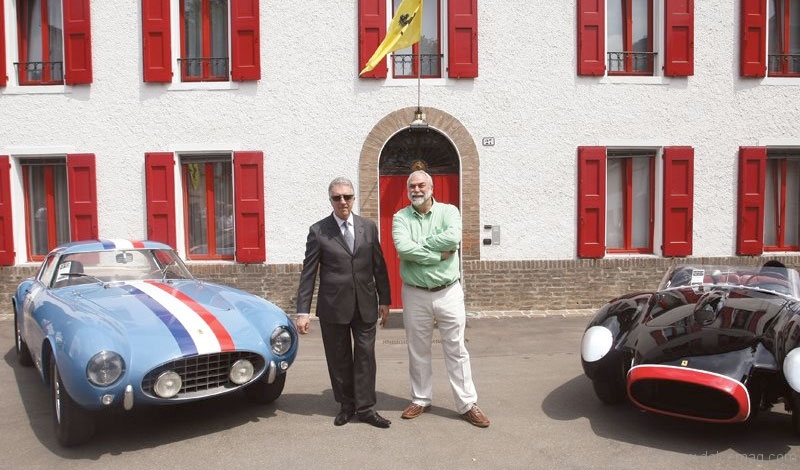 Throughout the world, luxurious, restored vehicles are purchased at astronomical figures, as pangs of lust and desire scrawl the faces of privileged, discerning car collectors. Excitement ensues, enveloping the buzzing space that has some crazed car aficionados bidding through telephone wires. Such an event is reserved for serious automobile lovers, who are looking for grandiose additions to their already lavish and enviable car collection.
RM Auctions, the world's largest collector car auction house, has been offering rare, covetable cars for sale since 1991. Wealthy clients repeatedly scour its impressive catalogues, set their hearts on revived revvers and proceed to engage in fierce bidding wars. RM Auctions' unparalleled fleet of motor car consignments impress at auctions in Monterey, Calif.; Amelia Island, Fla.; Phoenix, Ariz., and London.
The man behind the extravagant chassis is chairman and founder Rob Myers. To date, RM is accountable for five of the top 10 most expensive car sales at an auction. At the top of that list is the 1957 Ferrari 250 Testa Rossa, which sold for a whopping $12.4 US at the Ferrari Leggenda e Passione event in Maranello, Italy. "The Bugatti Royale and the Ferrari 250 GTO Series 1 are probably the only two cars on the planet that would break that Testa Rossa record," muses Myers. The company's private collections and sales are equally as inspiring. "I privately sold a GTO about three or four years ago for 15.5 million."
His affinity for everything automotive began while working on his father's antique cars at a young age. In the late 1970s, he founded his own modest single-car garage restoration business that primarily focused on engine and performance upgrades, repairs, custom paint and bodywork modifications. Collector car experts Dan Warrener and Mike Fairbairn later became business partners, and a surge in the volume of cars being consigned to auctions quickly followed. RM Auctions was then established in Chatham-Kent, Ont. in 1991. "It's been a ride and a half. I would've never thought 25 to 30 years ago our company would become what it is today," says Myers.
He describes RM's clientele being as varied as the company's roster of remarkable rides. "It's all races. It's all walks of life. From the true car enthusiast to the guy who sold his company for a lot of money."
It's difficult to swallow the fact that Canada has the lowest auction revenue when considering RM's stellar sales. Myers points to a lack of passion for car collecting as the primary reason for it. "There just doesn't seem to be that passion in Canada for the serious collector. There are collectors in
Canada – like Lawrence Stroll in Montreal – but there are a lot fewer in Canada than in the United States," he says.
Myers on the other hand, oozes pure passion as he discusses cars. His zeal for collecting also stretches far beyond the confines of the automotive industry. "I have a craziness for all that stuff: motorcycles, diners, buses," says Myers, who owns a Harley Davidson dealership, has recently purchased a 1950 Flxible Motor Coach and is in the midst of restoring a 1930s O'Mahony diner. It appears Myers surrounds himself with fellow fanatics; as we chat he informs me that he's in the company of a man who currently houses 40 cars, and has a friend who boasts stamp and coin collections that are estimated to be worth $50 million.
For those itching to park a restored, vintage beauty in their garage, Myers offers a few words of advice: educate yourself on the car market prior to your purchase, consider investing in a rare ride, care for your car and do it all because of your unyielding affection for autos. As for his secret to living la dolce vita: "Treat people as you want to be treated yourself and live every day like you were living your last."
www.rmauctions.com
1.519.352.4575
WORLD RECORDS FOR CARS AT AUCTIONS:
1.  1957 FERRARI 250 TESTA ROSSA
RM / Sotheby's – $12,402,500
2.  1961 FERRARI 250 GT SWB CAL SPYDER
RM / Sotheby's –  $10,894,400
3.  1931 BUGATTI ROYALE TYPE 41
Christie's – $9,800,000
4.  1962 FERRARI 330 TRI/LM
RM / Sotheby's – $9,281,250
5.  1937 MERCEDES-BENZ 540 K SPECIAL ROADSTER
RM / Sotheby's – $8,252,201
6.  1937 BUGATTI TYPE 57SC ATALANTE COUPE
Gooding & Co. – $7,920,000
7.  1929 MERCEDES-BENZ 38/250 SSK
Bonhams – $7,443,070