Robert Hattin: For The Drive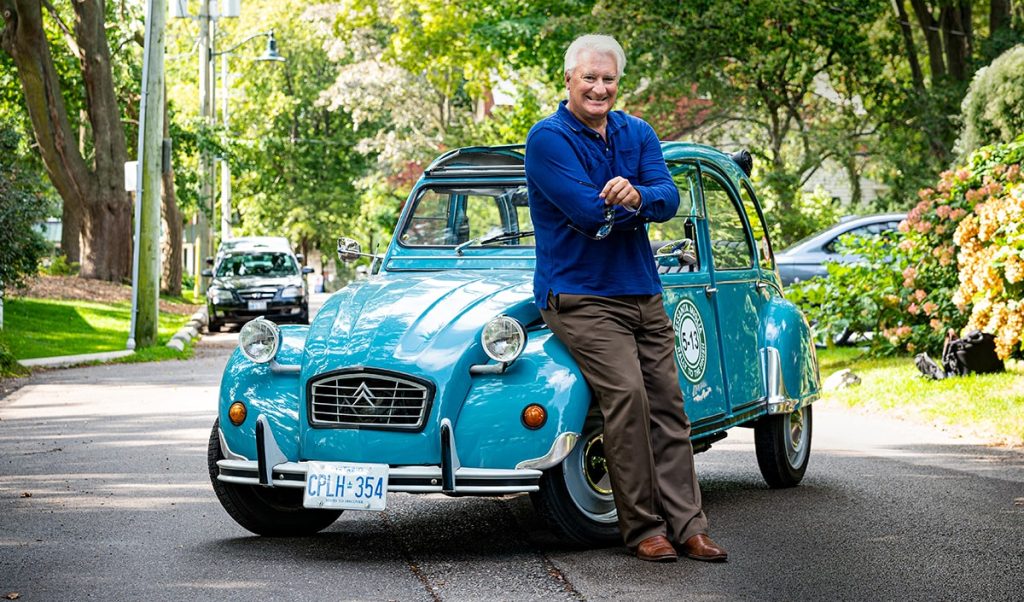 Every year, luxury cars gather in the town of Grimsby to take part in the Sessanta Miglia. Its co-founder, Robert Hattin, explains how they're driving for change.
When asked when his love for cars began, Robert Hattin puts it down to genetics. "My father was a naval aviator in the Second World War, so he always liked mechanical, noisy things." He also mentions his time ice racing motorcycles before transitioning to cars and paying five cents to see Johnny Dark at his local theatre as defining moments. "It was the trashiest B- or C-rated film about this racer called Johnny Dark, but they had some action photos where they mounted the camera on the car, and that stuck with me to this day."
In 2006, he became a member of the Aston Martin club. In 2015, he co-founded Sessanta Miglia, a fundraising drive for luxury cars commencing in Grimsby and ending in the Niagara region. "Car clubs are like tribes," Hattin says. "There's a Corvette tribe, a Ferrari tribe, a Lamborghini tribe. I said, 'We've got to bring them all together and have people come out who enjoy the passion of driving while raising money.'"
The name of the event translates from Italian to 60 miles and is inspired by the Mille Miglia, or 1,000 miles, a historic event through Italy's stunning landscapes. Since its inception in 2015, Hattin's event has grown from strength to strength. He shares how the first drive featured around 15 cars. This year, 80 vehicles took part. "In the world of volunteerism, if you don't have a passion for what you do, it doesn't get done. So, myself and my friend Paul Del Grande did this. We kept layering things on."
In terms of what cars can enter, there are no hard and fast rules. Rather, Hattin says, "It has to be rare, historic or have done something technically important." He follows this by taking us outside to show a Citroën 2CV sitting on his driveway, a car known for its historic impact and popularity as a symbol of affordable mobility in post-war France.
For that reason, you can expect to see anything from Bentleys to BMWs gliding through the countryside, each driven by someone with their own story to tell. "There's a certain passion being around vehicles and going for a drive," Hattin says. "But the common thread is a desire to help."
"We've got to bring them All together and have People come out who enjoy The passion of driving While raising money"
While the drive through Niagara is picturesque, winding through the region's rolling hills, what underpins it is philanthropy. All the money raised goes to replacing the new West Lincoln Memorial Hospital (WLMH) in West Niagara, which has been approved for 2022, with new acute in-patient beds, a 24-hour emergency department, as well as maternal and newborn services. "In Grimsby, we have this dilapidated old hospital," Hattin explains. "From Hamilton to St. Catharine's, there's a 50-kilometre gap with no hospital, yet we have Grimsby in the middle. It was always underfunded."
Compare the first Sessanta Miglia to this year's drive, and you'll see the progress Hattin has made, both in terms of it as an event and in the philanthropic good it's doing. It's evolved from a simple start-and-end drive to include optional receptions at local wineries, meals at local restaurants and even the presentation of a few awards before people return home.
"I always wanted, in my heart, to have the best event," Hattin says. "Not the biggest, but the best. I wanted people to come out and say, 'I'm part of something interesting.' I wanted to figure out a way to get people to give so we could make a difference. It's as simple as that."
Interview by Estelle Zentil