Sylvia Benchimol & Daniel Sultan: Love In Stone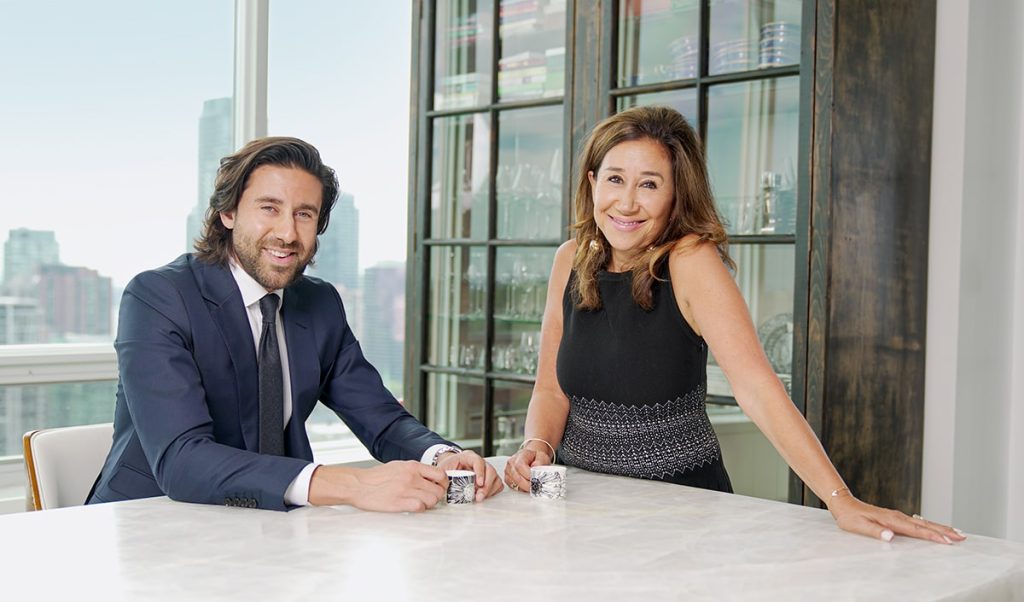 Stone Tile started with its co-founder and president, Sylvia Benchimol, working from her car. Today, it's one of the most respected stone, tile and wood businesses in the industry.
Not only does Stone Tile have an unwavering commitment to staying ahead of fashion trends, but it also employs close to 200 people and has more than 250,000 square feet of warehouses, with locations in Montreal, Calgary and Vancouver, as well as a new slab showroom, which just opened in Toronto.
"There was no grand scheme. My vision was only to work each day as hard and smartly as I could in order to create a solid future for my son," says Sylvia Benchimol, recalling the developmental stages of Stone Tile, which she co-founded with Carl Hesse. "Every day became a building block to the next because I believe that life is built one block at a time. It was a lot of work, but I did it with a lot of love. It's not textbook theory, but it doesn't mean you don't have a vision. Stone Tile is a perfect example of what happens when you put your heart, passion and hard work into something."
Since its inception, Stone Tile has become known for having products of the highest standards, providing options for its customers in stone and porcelain slab, quartz and wood. And that's just the beginning. The company's competitive advantage is its industry-leading ability to provide the design industry with creative tools backed by experts providing expert consultation.
"The culture of our company is to ensure a safe place, where everyone is treated like family. We really care for our people and are very proud of our team, which evolved naturally from our belief of surrounding ourselves with the very best. Whether it's the initial partnership with Carl Hesse, the addition of Vicky Baron, the opening of our first showroom or the current executive team, our purpose has always been to make Stone Tile the best it can be on a daily basis."
Beyond its superior product line and high standards of creative design and materials, Benchimol's love of family runs through the organization. Her son Daniel Sultan is VP of corporate development, diversifying Stone Tile's product lines and realizing his vision for product innovation and market expansion. He began working in Stone Tile's warehouse when he was just 14 years old.
"Stone Tile Is A Perfect Example Of What Happens When You Put Your Heart, Passion And Hard Work Into Something" — Sylvia Benchimol
"It was hard to comprehend in the early years, but I always knew my mom was very independent and I could sense she had her own vision for things," says Sultan, recalling those initial visits when he tagged along. "I have some clients today who remember me riding along with my mom, and that was 30 years ago. I would help her take samples to her clients. She is probably one of the most transformable individuals in the industry. I witnessed what she started and I always wanted to finish the story. This is what drives me."
Over the last three decades, Stone Tile has worked on impressive projects. Whether it's supplying materials for W Hotels in Minneapolis and Atlanta, major National Hockey League arenas in Toronto and Winnipeg or the transit system in Vancouver and Toronto, the business's portfolio is nothing short of impressive. Currently, the company is supplying stations for the entire Eglinton Crosstown Light Rapid Transit line in Toronto.
Benchimol's favourite project, however, was the supply for the world-famous Madison Square Garden in New York City in the early 2000s. "That, for me, is a project I value very much."
Through all of these projects, however, commitment to quality and material has been consistent. As well as offering styles that are both classic and contemporary, Stone Tile has trusted relationships with the finest quarries and always adheres to a strict environmental policy that addresses the concerns of its materials. So, whether the setting's urban downtown or natural wonderment in the country, Stone Tile has the materials and finishes to reflect the desired surrounding driven by Benchimol's ability to forecast trends, determine what's new and what's next and have a natural eye for esthetics. "I love the business because we deal with such amazing clients and suppliers, and it is all about creativity," she says. "And it's all about relationships, as I consider all of my clients my friends. We can only work with people we like."
Benchimol gives great credit to Carl Hesse, with whom she originally founded the company. "He really branded the look of Stone Tile, and the branding of a company is the essence of a company," Benchimol continues. "He designed our showrooms and defined how to present our products."
As the transition to her son begins to gain momentum, the pair are looking to Stone Tile's future. "It's much more than just a tile business," says Sultan. "Today, we also sell hardwood, vinyl, countertops and perhaps there could be future plans for plumbing, lighting or home finishing down the road. I want to create the most convenient business in the industry. We're daring to think big and in everything we do, we push the limit."
Expansion within North America is also part of Sultan's vision. "My vision is to be in every major city, but my mom's vision is to be in New York City," says Sultan. "For her, New York is the mecca, and I hope I can make that happen for her."
The strong sense of family and the ability and appreciation to embrace life are best reflected by how mother and son describe what la dolce vita, or the sweet life, means to them both. "La dolce vita is the ability to enjoy the moment, to really understand that this is a special moment and to squeeze the sweetness out of life and to appreciate it," says Benchimol. Adds her son: "It's about learning to have balance, and I'm learning from my mom there is a way you can have it all — you can have the business, but you can also build a family, and that's what I'm trying to achieve."