The Life That Dreams Are Made Of – Vanderpump Rules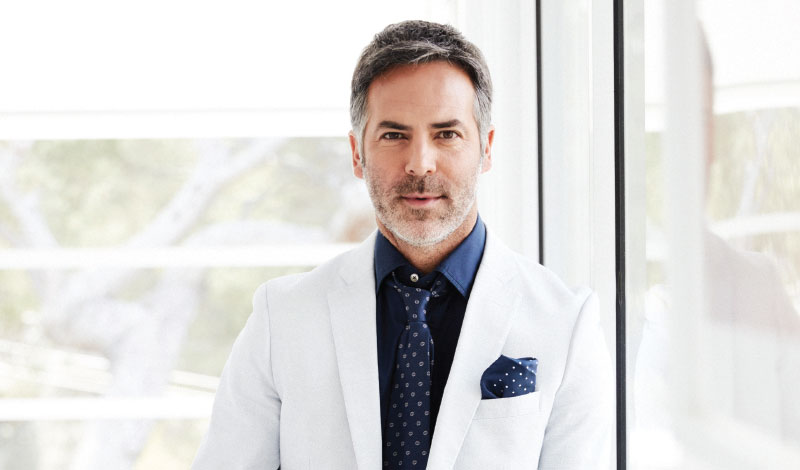 Dolce Magazine talks to the face behind the famous set of Bravo's popular TV series Vanderpump Rules.
A man from Argentina with no knowledge of English immigrates to Los Angeles and works as a dishwasher; years later, he owns one of Hollywood's trendiest eateries that hosts the likes of Madonna, Angelina Jolie and Al Pacino. It may sound like a movie plot, but in this case, that movie would be biographical — it's the real-life story of Guillermo Zapata, restaurateur, actor, model and reality TV star.
"To me, la dolce vita is the American dream, and I am living la dolce vita every day of my life," says Zapata in an exclusive interview with Dolce from SUR, his West Hollywood restaurant and lounge. "When I moved to Los Angeles I had no financial help from my family, as my father believed that anything you earn in America, you have to earn for yourself. That's maybe the best thing he could ever have said to me, and I say it to everyone every day. If you speak English and live in America, there is no reason you can't be successful and productive, if you work hard. Don't rely on politicians; it's all up to you."
Zapata originally came from Argentina to Los Angeles on two weeks' vacation when he was just 22. But the power and vibe of the City of Angels and the potential opportunities convinced him to stay. He took his first job as a dishwasher in a restaurant on Melrose Avenue despite having no friends there, nor any knowledge of English.
Learning the language was key to success and advancement in both his restaurant work and his aspiring acting and modelling career. "I went to school in the mornings to learn English and worked in the restaurant at night," says Zapata. "I got promoted at the restaurant to busboy and then assistant manager, which was paying all my bills, so I focused more on that than acting or modelling work, and by the age of 28 I was able to open my first restaurant. Interestingly, now with my reality TV show and SUR Restaurant, both those worlds have come together, which is very satisfying."
When Zapata took over SUR, which stands for "Sexy, Unique Restaurant," he reopened the 2,000 square feet, with a more traditional Argentinian atmosphere and menu. Along with an expansion, Zapata and his wife, Nathalie, made sure that the menu, wine list and overall atmosphere had a global flair that would appeal to all people. But the real growth of SUR came when Zapata and Nathalie were introduced to reality TV stars Lisa Vanderpump and Ken Todd from England.
"We had just done an extensive business plan for SUR, which was small but very popular, and our lawyer had heard of this couple who were looking for L.A. investment opportunities, and they loved the location and the plan we had done," recalls Zapata. "They did their research on me and wanted to meet. And the first day we met, we became partners — it was just meant to be."
Vanderpump and Todd had a plan for how to build and grow SUR; the Zapatas had the expertise and experience in cooking and running a restaurant. It was the perfect combination. SUR is now one of the hottest restaurants in West Hollywood, more than 10,000 square feet in size with a huge bar and lounge area, employing 90 people.
In 2012 the four partners were approached by Bravo TV about doing a reality show on SUR, its employees, and the daily dramas, challenges and triumphs of owning and operating a trendy eatery and keeping it on top in a town known to change favourites every month.
The show, Vanderpump Rules, is one of the most popular on Bravo and will be entering its fifth season of production in early June. "Our customers love coming in and seeing the cameras and the excitement," says Zapata, who has stepped back from being on-camera so much and now has an executive producer role. "Nathalie and I are very involved, as the producers see me as the insider and allow me to come forward with stories and creative ideas."
The work ethic learned in his native Argentina has Zapata up at 6:30 every morning, cooking breakfast for Nathalie and their two daughters, getting the girls to school, going off to the gym, attending auditions, then heading to the restaurant, where he still cleans tables every day. "An owner needs to be visible and very passionate," says Zapata.
"Every day is like my birthday, with the smiles of people and the good energy from SUR," says Zapata. "I am truly blessed with all the people I have worked with and all my customers."
It sounds like a show with a very happy ending.
www.guillermozapataactor.com
www.surrestaurant.com
Interview by Rebecca Alberico
Photo By John Russo