Dare to DAS – DAS Model Management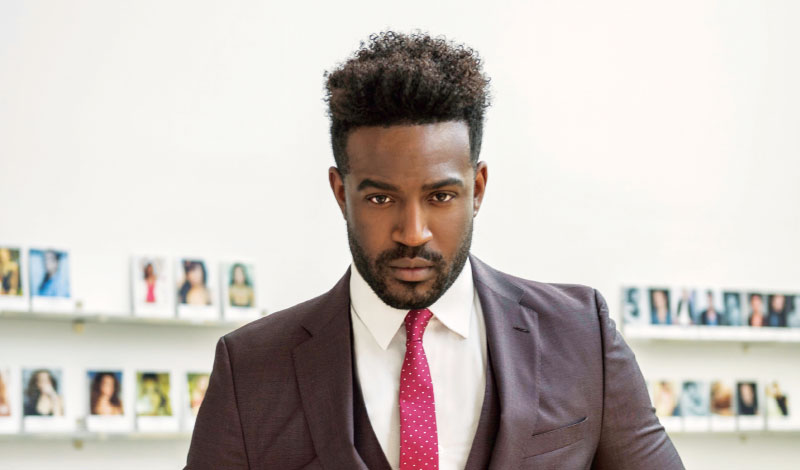 The founder of a new Miami Beach talent agency explains the simple idea he's banking on: that what every model really needs is a mentor.
This spring, Rasheed Alli, a 31-year-old entrepreneur from Columbia, Mo., opened the doors to DAS Model Management in Miami Beach. It's an agency with a twist, as Alli describes it, one that puts mentorship at the centre of its approach. Listening to Alli describe his own coming-up, it's easy to see why mentorship matters so much to him.
Alli himself is a former model who entered the business young. He was a teen when he signed with Ford in New York and quickly worked his way into campaigns for Ed Hardy and Carrera eyewear. He credits much of his success to the grounding force of his mother and father, whom he refers to as the only people he really liked. "I wasn't much of a people person," he notes with a smile.
Both parents were former athletes – his father, the Nigerian record holder in long jump and his mother, the world record holder in the 400-metre sprint during the eighties. Under their mentorship, he learned how to make the most of a competitive streak. While modeling, he won a football scholarship to Stanford University, then scored an externship at Goldman Sachs in New York City, followed by an internship at KPMG in San Francisco before forming his first company at the age of 21.
Now, he believes the best way to make clients happy is by nurturing talent first – using mentorship to help his models uncover their strengths. The concept has attracted an impressive roster that includes GUESS face Elizabeth Turner, Sports Illustrated model Samantha Hoopes, Victoria's Secret's Ditta Kucsik and 2016's New Models Today contest winner Michela Begal.
In a sitdown with Dolce Magazine, Alli shared his secrets on making it as a model (persistence), his philosophy on success (it's a moving target) and his special formula for spotting toxic people from a mile away.
Q. When did you realize you wanted to get into modeling?
I admired it and the fashion industry from a young age. I would love to formulate my own individual styles and my parents encouraged me to try the modeling business when I was a teenager. I was lucky to have the height and good genes that enabled me to become quite successful, with the right passion and drive to get me there.
Q. What is your definition of beauty?
Beauty doesn't stop at the surface; often what's inside is very visible to the outside world. There are times someone may be beautiful from a far, but like a Monet, with closer observation, many of the impurities and imperfections come to light.​ Beauty is truly in the eye of the beholder and is a very subjective term.
Q. Why do you think society is obsessed with youth and beauty?
As a species, we are inherently obsessed with life, and youth is a basic function of life. We look at beauty as a marker for health in both the physical and mental sense.​ But beauty can also come with age. I know many beautiful people in their later years who are still youthful in mind, body and spirit. Embracing beauty at any age is the key to staying young.
Q. What is your favourite city to visit?
After living and working in San Francisco​ for a number of years, I have always been drawn to its vibrant culture and liberal outlook on life. Some of the greatest minds come from Silicon Valley, which I greatly admire. The people are genuine and, of course, the restaurant scene is one of the best in the world. I love to return whenever I can.
Q. Which fashion designer best reflects your style?
It's a toss-up between Hugo Boss, Marc Jacobs, Adriano Goldschmied. I love that sharp, classic look that all three encapsulate.
Q. What would you like to see change in your industry?
I think it's time for models to be treated fairly, and clients to receive the professionalism they pay for.​ At DAS, our fundamental goal is to provide a personal and courteous service to both our talent and clients. Treating our agency's models with genuine value and mentoring them in the right way ensures their personal development is of a quality we expect and uphold – allowing them to reach their true potential. Experienced members of our senior management team, who are dedicated towards guiding each model throughout the developmental process, personally implement our mentoring program. As one example, we provide a portfolio of photography with testing that is not charged to the individual. We invest long-term in our talent, in the same way they invest their time and trust their career with us.
Q. What are some negative things you have experienced in your career that came with a life lesson?
Mainly people who expect the most help are usually the ones who give you the most problems, and who never appreciate anything. I have started to identify certain markers of these entitled individuals and steer clear.​
Q. What advice would you share with someone who aspires to be a model?
Don't give up. If you really want to be a model, there is a market for you. You may have to go to many agencies to find a company with clients that are looking for your look and style, but they are out there. ​Persistence and determination are qualities agencies always admire.
Q. Who is your mentor?
I can't say I have one mentor in particular right now, but my godfather, Tom, continues to be a major influence in my life.​
Q. Tell us one thing you have learned about success?
Success is not absolute but relative, and not something dynamic or static. I think success is constantly improving on where you were the day before. I think once you become complacent you are not successful by any standards. Look at Bill Gates or Warren Buffett. They are in perpetual states of movement and growth.​
Photos By Hamid Kootval