Fashion: Outfitted with Elegance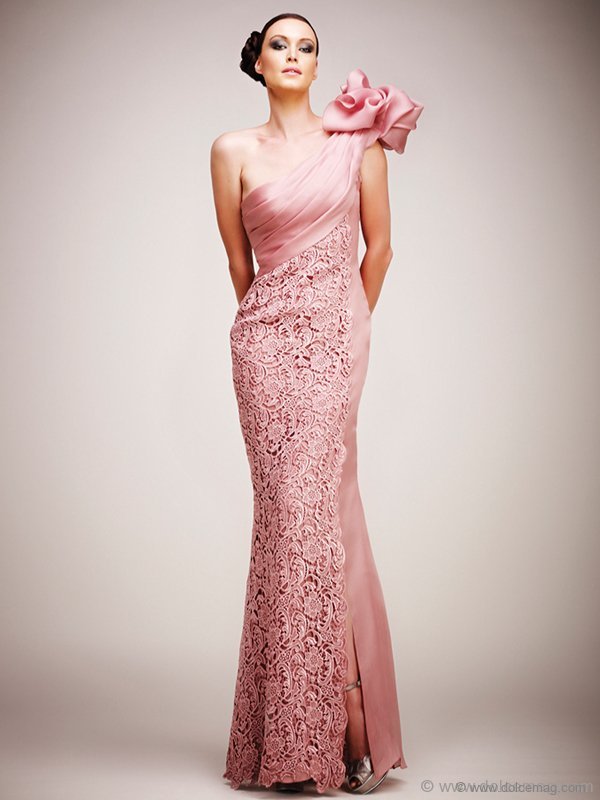 Abed Mahfouz's 2011 spring/summer collection blossoms with an outstanding array of breathtaking dresses and gowns – an undeniably sensational display of magnificence.
Brumani Earrings
Your life will be anything but simple with these white gold, white diamond Brumani earrings with smoky and pink quartz stones. www.brumani.com
Brumani Ring
An elegant cluster of glistening gems set in pristinely polished white gold, this marvellous Brumani ring will turn heads at those formal spring galas. www.brumani.com
Matthew Campbell Laurenza Earrings
With three tiers of dangling pink sapphires, these lovely pavé drop earrings from M.C.L. by Matthew Campbell Laurenza will have you sparkling under the soft lights of those sultry summer events. www.mcldesign.net
Semi-transparent Gown
Embroidered with royal blue floral arrangements, this flowing, semi-transparent gown is a graceful display of divine beauty that is sure to floor potential suitors. www.abedmahfouz.com
Sutra Earrings
These eye-catching Sutra earrings rest bold pink tourmaline gems on a fantastic field of petite diamonds. Become a Jewel of India with these fabulous accessories. www.sutrajewels.com
Cocktail Dress
As if from a chic contemporary ballet, Abed Mahfouz dazzles audiences with glittering gold on this frilly and unforgettable cocktail dress. www.abedmahfouz.com
Abed Mahfouz Soft-pink Gown
Designer Abed Mahfouz adds a refined touch of elegance to AltaRomAltaModa with this graceful, soft-pink gown. So stunning, even Cinderella would be jealous.
Le Vian Earrings
Sparkling with soft and sweet colour, a sizeable cotton candy amethyst is draped with pink topaz and chocolate diamonds on these dazzling earrings from Le Vian. www.levian.com
Summer Dress
Soft champagne-coloured fabric gracefully dances around the body, while feathery frills accent the single-shouldered strap of this darling summer dress. This light and breezy outfit showcases the splendid designs and beautiful mind of Tony Ward, and is certainly worth raising a glass to. www.tonyward.net
Amrapali Cuff
Sharp pink tourmaline triangles blend beautifully with the gold frame of this marvellous Amrapali cuff. This golden band will make you the centre of attention at any black-tie affair.
www.amrapalijewels.com
Tony Ward Cocktail Dress
A flock of wildly scattered and silky squares juxtapose sophisticated yet sexy embroidery on this unique cocktail dress from Tony Ward. www.tonyward.net
Tony Ward Gown
Tony Ward's smart and sophisticated style radiates from this elegant piece of haute couture – an ideal piece for any formal affair. www.tonyward.net
Pavé Drop Earrings
An endless array of sapphires and diamonds rival the evening's twinkling twilight on these gorgeous pavé drop earrings. www.vivre.com
Christian Louboutin Pumps
Electrify the night with Christian Louboutin's sparkling Swarovski Crystal-encrusted peep-toe pumps. www.net-a-porter.com