Guillaume Benezech: Accommodating Style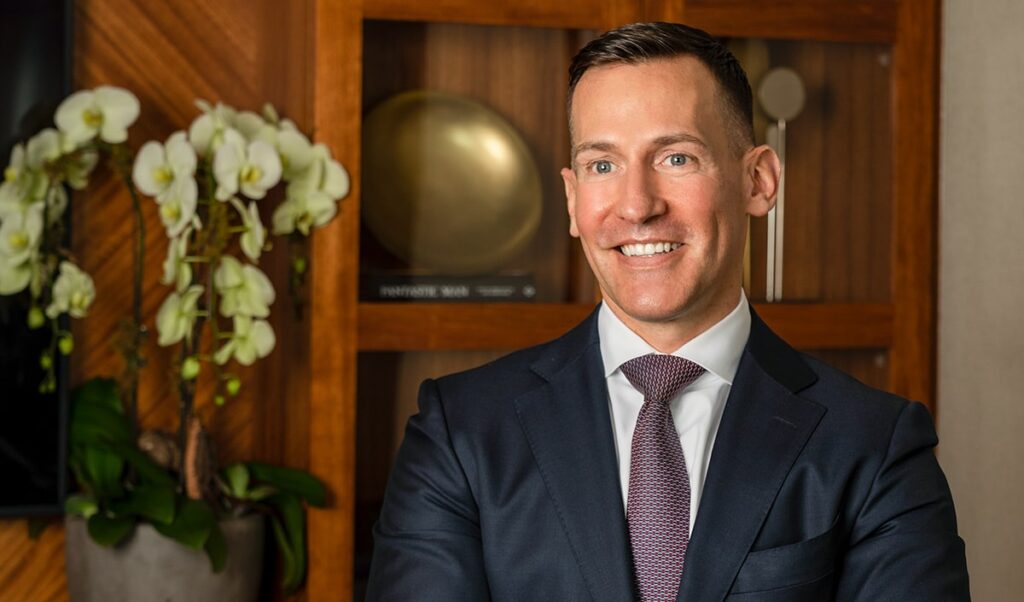 Ritz-Carlton Toronto general manager Guillaume Benezech's skill and style have elevated his hotel to the top tier of Toronto hotels.
The world's great hoteliers all seem to have certain traits in common: despite the thousands of balls they have to keep in the air, they each seem to exude an air of calm, grace, dignity, confidence and a welcoming hospitality that reflects the urban oasis of their luxurious lobbies. They all seem to be gliding peacefully along an ocean of calm organization, while mayhem may be lurking just below the surface.
Meet Guillaume Benezech, general manager of Toronto's Ritz-Carlton Hotel. If you were looking to cast someone in a movie to portray a cool, stylish, sophisticated modern general manager of a leading world-class hotel, it would be Guillaume Benezech. But he's real, as well as real life.
"As a hotel manager, I like to put my footprint on the hotel, that's what I love," says Benezech in a recent interview with Dolce. "The design, the food, the rooms, how we are going to serve our guests and the attention to detail. The first thing I understood very quickly was that it is not your hotel, so you have to be careful to bring something that you like, but that all your guests will like as well. At Ritz-Carlton, we have a fragrance which I created from memories of mornings on my grandmother's farm in the South of France. It remains to this day, and guests can purchase it for their own homes."
Benezech entered the hospitality business because of his love for cooking and entertaining. A graduate of Ecole hôtelière de Lausanne, in Switzerland, he worked with some of the leading luxury hotel brands, including The Ritz-Carlton hotels in Montreal, Geneva and Naples, before coming to Toronto 1.5 years ago.
Engaging and affable, Benezech is also passionate and committed to his livelihood, his employees and his guests, as evidenced by what he says are his top three priorities for success.
"The first priority is our employees. The way we hire and the way we train are very important to Ritz-Carlton," he says. "Our hiring priorities are of course based on skills, but also personality and emotion. The second priority is a sense of detail and personalizing as much as we can, in our rooms and our food and beverage to create an identity for the hotel, and the third is the experience, as in, 'What we are we offering our guests that they will choose to stay with us?'"
Great hotels have a palpable feel to them the minute you enter the lobby. The look, the colours, the fragrance, the designs, the style and the textures all seem to create a feeling of comfort and home — even to first-timers.
"As A Hotel Manager, I Like To Put My Footprint On The Hotel, That's What I Love"
Ritz-Carlton Toronto has that feel, and though relatively new, having opened in 2011, it will hold an important place in Toronto's hotel history as the destination that elevated luxury accommodations in the city. For years, Toronto was calling itself "world-class," but it was speaking to the converted. It was not until a significant leading global luxury brand decided to make a considerable investment and plant its flag in the city that outside recognition and validation had arrived, and Ritz-Carlton is that brand. Other leading hotel brands soon followed, which dramatically changed the level of luxury in the city.
The hotel's location in Toronto's downtown Entertainment District also coincided with the gradual migration of the Toronto International Film Festival from its traditional home midtown to the downtown area, making The Ritz-Carlton a destination of choice for the Hollywood elite and A-list celebrities attending the festival. Glamorous as that may be, Benezech pays equal attention to every guest, practising the Ritz-Carlton motto of "Ladies and Gentlemen serving Ladies and Gentlemen."
"I have tremendous respect for any guest who can appreciate the efforts of what our Ladies and Gentlemen are doing to provide the best experience," says Benezech. "We are in the service industry, and I always say the biggest challenge is consistency. I respect guests who can appreciate issues may arise, but who recognize the team is taking the time and effort to address everything. Over the past five years, most of my loyal guests have become friends, in Florida and in Switzerland, and we are still in touch. They may have started as guests, but that's a connection that I love."
Guillaume Benezech has definitely put his "footprint" on The Ritz-Carlton Toronto. With his passion and attention to detail, the hotel has risen to the upper echelon of Toronto's hotel industry in providing the ultimate guest experiences — an accommodating style that, perhaps not coincidentally, comes from the top.
www.ritzcarlton.com
@ritzcarlton
Interview by Estelle Zentil