LP Enterprises: Taking Luxury Beyond The Label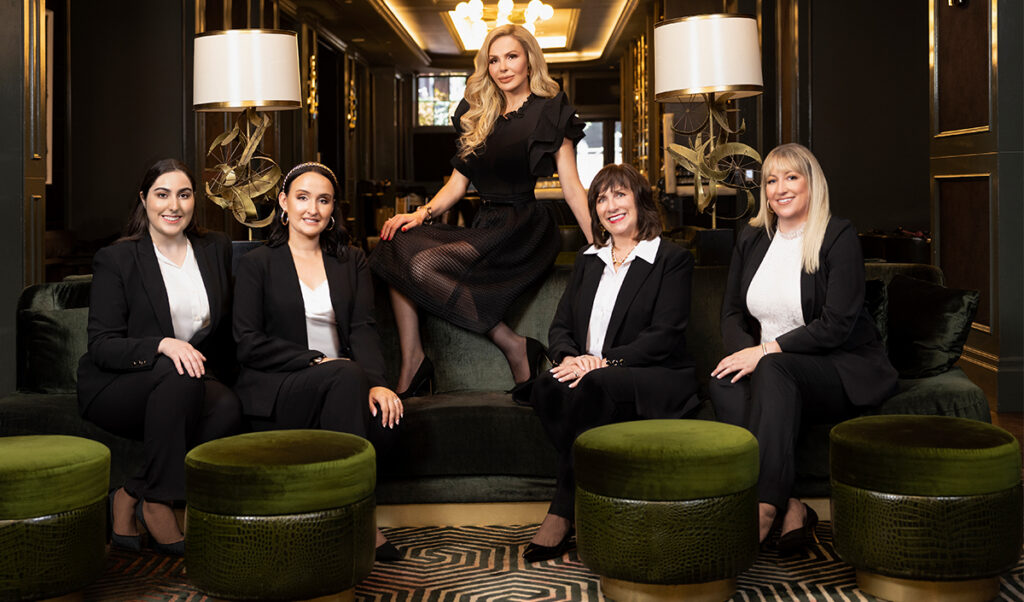 For serial femprenuer extraordinaire Lauren Parente, LP Enterprises is founded on providing unparalleled service to communities, the real estate industry and the future.
When asked how she would describe LP Enterprises, its founder, Lauren Parente, says it's "the ultimate one-stop shop for all things agent and home." Dealing with everything from real estate sales, home renovations, staging and concierge services, to marketing and lead generation for selling properties, the concept allows agents or homeowners to do away with calling 20 vendors and instead get everything they need in one place.
LP Enterprises itself is the umbrella for a collection of over 15 separate business entities making all these services a reality, and providing a solution for whatever people need doing when it comes to real estate. Where Touch of Prestige is the brand that offers full-service home staging, Luxury Home Prestige Team offers unparalleled real estate experience for selling and marketing homes. Parente even has a coaching vertical, helping people become the best versions of themselves both in and out of business.
While they all exist under LP Enterprises, each business has its own success story to tell. Luxury Home Prestige Team is where it started, helping clients buy, sell and market properties as a boutique real estate entity. As well as receiving multiple awards, Parente's work with Luxury Home Prestige Team has seen her sell homes for 9.4 per cent more than the average GTA agent, and three times as fast as the average listing. Parente even introduced a private "matchmaking program" for buyers and sellers interested in moving property exclusively.
It's a lot to manage and no day is the same, but Parente shares that every venture and company that falls under LP Enterprises was born out of necessity, and a desire to serve to the highest abilities. For example, the coaching came organically after the Luxury Home Prestige Team rocketed to the top 4 per cent of the real estate industry, doing what many working for more than 25 years hadn't.
"I began sharing best practices and found more and more people were coming to me for advice," Parente says. "Naturally, this demand gave birth to my coaching practice. That's when I decided to become a licensed coach through the Maxwell Leadership Community, honing my leadership skills under the guidance of John C. Maxwell, who's recognized as one of the number one leadership gurus on the planet, and his faculty." She loved Maxwell's values so much that she now serves on his President's Advisory Council, serving alongside some of the best, globally recognized leaders working today.
As Parente continued offering her insight and coaching real estate agents and entrepreneurs, she recognized that not everybody was in a position to grow their own teams. "So much goes into hiring, training, developing and retaining a winning team," she continues. So, to alleviate the cost, both financially and in terms of time, and with real estate clients asking if they could also leverage her team, Parente decided to create a solution that would do the hard work for them.
"We're their turnkey model," Parente explains. "Now, they can show up and leverage our administrators, marketing specialists, lead generators, home stagers, renovators, home care specialists and more, without the headache or extensive overheads." Her virtual assistant company, Prestige Executive Virtual Assistants, encompasses global representatives who have been hired, trained and developed by her enterprise personally, while representatives on the frontlines, such as her certified home staging representatives, are there to provide full, Prestige-Touch service.
For homeowners, too, the benefits are clear. "They call one enterprise for all of their home care needs, including their home-based business needs. Whether they want their landscaping tended to, driveways power washed, snow removed, dog walked or their website built, they call the same people and don't pay more in doing so."
But, for the extensive and impressive range Parente offers real estate agents and homeowners, the one thread that ties everything together is service. Service to people, to the planet and to the future.
She continues to share how LP Enterprises does what it does so its clients have more time on their hands and can enjoy what's most important or valuable to them. "For agents, that might be time spent closing sales and gaining new real estate business. For homeowners, that may be a weekend away at the cottage with their family while we tend to their home care needs." Even busy executives can call the full-service suite to have their dry cleaning delivered, limo services reserved or travel arrangements taken care of. "We want to be their go-to for any and all things home related," Parente says. "That includes lifestyle management." When it comes to ensuring that service is delivered as powerfully as possible, Parente has introduced four community pillars. The first, Creative Kidz, works to the mantra that young people are the future and seeks to support that vision. The second, Zero To Millions, works to the belief that money in the right hands can make a huge difference.
The third is Women For Women, which understands how far women have come but also, as Parente is a mother, leader, sister, daughter and lover herself, how far they still have to go. "This platform brings our community of sisters together to connect and ultimately rise together," Parente says. "I help women get in touch with who they are, their unique skills, talents and abilities, and then help them tune into their purpose and hone their vision for the future." As a single mother raising three young men herself, managing an enterprise and being actively involved with her community, Parente understands what is required of success and balance.
The fourth pillar Parente focuses on is Perspective Shifts, which is all about getting a hold on how we see the world. "It's about perspective," Parente says. "There are people who get stuck in the victim mindset and there are those who choose to look at challenges and obstacles as blessings in disguise."
It's these pillars that don't just guide Parente and the work she and her team does with LP Enterprises, but have kick-started a number of other initiatives and platforms. Recently, she published her Perspective Shifts: Total Self-Mastery book, which explores the topic on a deeper level, and has been launched following several supporting Life By Design programs where a large portion of profits generated from both the book and programs will be donated to charities throughout 2023. For those who want more, she is about to launch her Perspective Shifts podcast to help rewire thought patterns so people can create the life of their dreams.
Another initiative Parente has launched on the back of these pillars and a commitment to service is Prestige Touch Media Co., a talent house that promotes socially conscious art and creativity. "The influence artists have on the community is powerful. We plan to tap into it and promote it while empowering artists to own their platforms and contribution to society."
Naturally, all of this is timely, given the tough events of recent years and the political instability occurring across the world. Parente's someone who believes that if top-down leadership isn't serving communities, then people need to find a way to focus on a bottom-up approach.
"It's our way of giving back as everyone resets, restructures, rebuilds and reestablishes themselves after the pandemic," Parente notes. "All the suffering we've seen can be a blessing in disguise if we choose it. There is no growth without challenge and no success without experience. We get to decide how we will move into our new way of being."
The pillars also govern how she builds her own teams and continues to expand the LP Enterprises brand. Doing so doesn't just ensure Parente is working with like-minded individuals who share her vision for giving back and offering services of exceptional quality, but that every client who works with one of her businesses enjoys the same experience.
"It all boils down to values and character," Parente says, speaking of the process that goes into hiring. When the decision has been made to hire someone, she'll actively invest in them. "As a leader, I help them go from best to better to best again, and to keep growing. Once they've given me their best, I look and say there's the opportunity for growth and try to help them develop those skills."
"They Call One Enterprise For All Of Their Home Care Needs, Including Their Home-based Business Needs"
It's for all these reasons LP Enterprises donates to charity on transactions that go through the enterprise. "It's such a rewarding experience to be able to reach out to our clients and ask about causes close to their heart," Parente explains. "It's equally rewarding to reach out to new charities and learn about their missions and visions in the process of donating." In fact, the stories behind these charities — often tragic to transformative — inspire her the most. It's the reason her brand has a track record that's seen them win numerous awards and remain at the top of their game. It's also the reason the establishment has become such a memorable success.
In terms of what the future holds for LP Enterprises, Parente makes it sound like they're just getting started. With plans to continue global expansion, to innovate both with the demand from clients and with what the world needs, and to continue serving charities, communities, entrepreneurs and those who work in the real estate industry, the best is yet to come.
"I was a stay-at-home, apple-pie-baking homemaker before beginning my career in real estate," Parente says. "I've made the decision to live life authentically while choosing to embrace growth — despite people telling me that I should live according to their own paradigms — and it's been one of my best decisions to date. I want to help as many people as possible discover their true life calling, passions and purpose."
Often referred to as a Lifestyle Transformation Strategist, Parente's hope is that everybody reaches their full potential. "I'm a big believer that when we grow in our awareness, the universe grows with us," she says. "The universe, I believe, wants to see people thrive. It's watching and saying we want to see you grow. When you're in line with your natural skills, talents and abilities, that's when opportunities show up. It's in discovering our true life's purpose that miracles happen."
With three philanthropies in the works — Realtors Giving Back, Roots Of Humanity and Mission U — and being involved with dozens of charities, Parente is well on her way to accomplishing her mission of helping to regenerate communities around the world. "Service is an art. Whether we are serving our spouse, our children, our teams, our clients or our communities, it all boils down to the same thing," she says. "We must take time to understand who we are dealing with, what their specific needs are and how they like to be served. Then we need to work hard to deliver like no other.
"There Is No Growth Without Challenge And No Success Without Experience. We Get To Decide How We Will Move Into Our New Way Of Being"
LinkedIn
www.linkedin.com/in/laurenparenterealestate
---
Luxury Home Prestige Team
www.luxuryhomeprestigeteam.com
www.facebook.com/LuxuryHomePrestigeTeamLPE
www.instagram.com/lhprestigeteam
1-800-568-0890 ext.1
---
Touch Of Prestige
www.touchofprestige.com
www.facebook.com/TouchofPrestigeLPE
www.instagram.com/touch.of.prestige
1-800-568-0890 ext.2
---
9th Ave Inc
www.9thaveinc.com
www.facebook.com/9thAveIncLPE
www.instagram.com/9thaveinc
1-800-568-0890 ext.3
---
La Casa Luxury Concierge
www.lacasaluxuryconcierge.com
www.facebook.com/LaCasaLuxuryConciergeLPE
www.instagram.com/lacasaluxuryconcierge
1-800-568-0890 ext.7
---
Prestige Executive Virtual Assistants
www.prestigeeva.com
www.facebook.com/PrestigeExecutiveVirtualAssistantsLPE
www.instagram.com/prestige.eva
1-800-568-0890 ext.4
---
Lauren Parente Coaching
www.laurenparente.com
www.facebook.com/LaurenParenteCo
www.instagram.com/lauren_parente_co
1-800-568-0890 ext.5
---
Perspective Shifts Book
www.laurenparente.com/perspective-shifts
Coaching Programs
https://bit.ly/3O9E41t
---
Ms. Lauren Parente
www.facebook.com/Ms.LaurenParente
www.instagram.com/ms_lauren_parente
---
LP Enterprises Inc.
www.facebook.com/LPEnterprisesInc
www.instagram.com/lauren_parente_enterprises
1-800-568-0890