Pavoni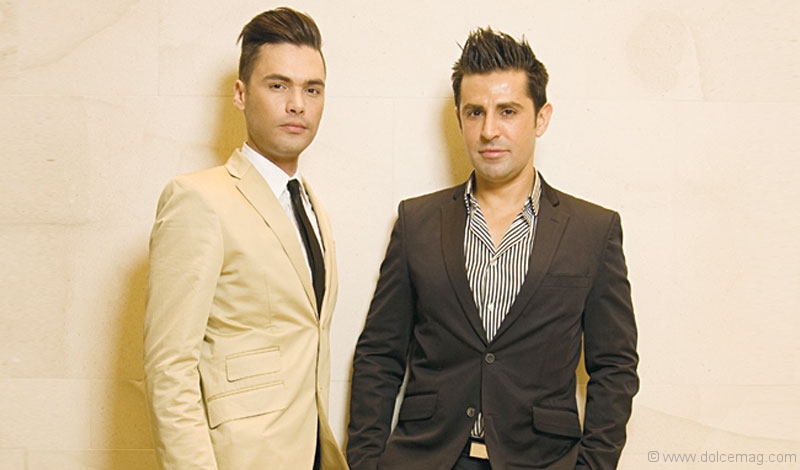 We often wonder how cutthroat the fashion industry really is, but after talking with the busy bodies of a new fashion label, it is clear that the sartorial world is not for the faint of heart. On the day of our interview, the Pavoni designers pull me in two different directions – one working on an upcoming collection in New York City, the other managing business in Montreal. I'm thankful for conference-calling and matching time zones. Speaking over each other with excitement, designers Mike Derderian and Gianni Falcone of the Canadian-based label Pavoni describe their pre-fashion show sensibilities simultaneously: "There is no time for emotions."
Seconds before that first model steps on the runway, these Montreal natives are focused on one thing – the dresses. This past March, Pavoni seamlessly floated onto the fashion scene at the World MasterCard Fashion Week in Toronto. With the spotlight on evening gowns and cocktail dresses, Pavoni's fall/winter collection mastered the art of seduction.
Cinched waists, open backs and shoulder-baring dresses showcased the designers' main inspiration: the female form. "I enjoy making a woman feel confident in her own body," says Derderian. "I want my dresses to bring out what's best in each individual."
Hues of rose gold, black and red made for a romantic yet edgy colour palette. During their 15-minute collection preview, elegance was redefined, crystallizing the obvious: Derderian and Falcone were born to be designers.
The two met while studying fashion at LaSalle College in Montreal. After individual experiences in the fashion industry, they decided to sew their visions together and make a luxury brand. Daring and bold, they look up to people who have made waves in the fashion industry. "From Thierry Mugler and his corseted silhouettes, to John Galliano's theatrical costume -inspired creations, all the way to [Alexander] McQueen's dark elegance– it is because of these individuals that a spark was ignited in me," says Derderian.
Taking inspiration from iconic designers, Derderian and Falcone have looks worthy of the red carpet. Celebrities such as Katy Perry, Carrie Underwood and Shakira have opted for glamorous Pavoni dresses at performances and high-profile events. Having its clothes photographed on famous figures is the ultimate nod of approval.
After fearlessly launching the brand, Derderian and Falcome garnered a following of style-savvy Torontonians. A recent trunk show at Holt Renfrew on Bloor Street West showcased their pieces to fashion lovers. But Pavoni is not stopping there. "We have always dreamed of giving all women the chance to experience our brand, our vision and the perfect look, and we will work very hard to reach them – wherever they may be." Hoping to hit a wide international market, Derderian and Falcone are creating collections that appeal to a variety of women.
Pavoni's design ideas are sparked by natural landscapes, architecture and art, which develop into sketches when the moment is right. "This could happen in the kitchen of my house or while lounging on a sunny beach," explains Derderian. Currently, the duo is designing a swimwear line that will premiere in Paris during the presentation of its 2013 Resort collection. They promise exquisite bathing suits, swim dresses and caftans with "beautiful quality fabrics, great workmanship, impeccable design and opulent beading details." Pre-public viewings will follow at prestigious stores around the world, including Holt Renfrew, Neiman Marcus and Harvey Nichols.
Unveiling a strong and colourful identity, Pavoni spreads its feathers with each new collection. "In order to be irreplaceable, one must always be different," says Falcone, quoting Coco Chanel. With the words of a legend as their guide, the Pavoni designers are fitting just right in the world of fashion.