Christine Cushing: Blushing Berries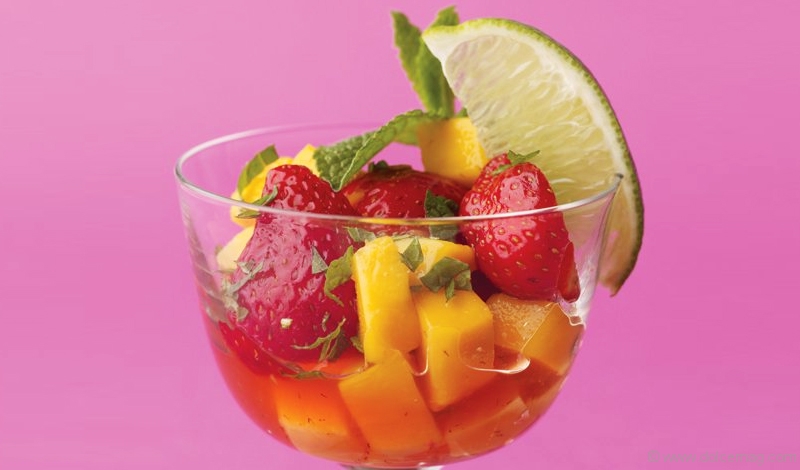 It was at the four-hour mark of travelling over 150 clicks per hour that we all started to get a little edgy and really needed to eat – and fast. That is when I was first seduced by the cutest little wild strawberries, sitting perfectly on top of a simple pastry shell nestled in a thin layer of vanilla ricotta cream. As I reminisce about that incredible road trip I took with my TV crew shooting across Italy several years ago, I can still remember how fragrant those strawberries were.
The scorching hot sun of mid-July was beating down on us and to make things worse we didn't have a clue about driving or eating in Italy. This unlikely spot – a roadside café on the autostrada – somewhere between Rome and Abruzzo – is where I realized that you can eat something incredible, prepared fresh from seasonal, local produce, almost anywhere!
All we expected was a little sandwich to stave off the hunger. Like kids on our first summer adventure without our parents, one by one we filed into the café and began to browse the counter. With faces pressed against the glass fridge that encased the day's panini, we chose a few simple yet perfect prosciutto and mozzarella sandwiches.
Well, that's when I looked further down the counter to see these gorgeous little blushing strawberries the size of my fingernail, showing off their colour in a cloud of white ricotta set in a custard tart. One bite and I'll never forget their sweet, just-picked wild flavour and the little crunch from their distinct seeds. How could a simple tart taste so good? Mostly because the berries were picked from the region where we tasted them, the tart would only be eaten fresh a day or two after it was made and you would never eat them any other time of year.
This story is the way I remind myself that there's always great produce in our own backyard but it only grows during certain times of the year. It doesn't last for weeks in our fridges, but rather, only a few days. Look above for a great simple recipe to help you enjoy this summer's strawberry harvest.
www.christinecushing.com
3 New Food Loves
1. Pink Himalayan Sea Salt
Considered the purest salt on Earth that does not undergo any chemical processing, this beautiful blush-coloured salt has all its elements and minerals intact.
2. White Anchovies
Called gavros in Greece, white anchovies can be served either fried or raw and marinated. In Spain, they are called boquerones, and are a delicious way to eat more small fish.
3. Vin Cotto
Grape must that has been super-reduced and slightly acidulated, Vin Cotto presents the perfect balance of sweet and sour with a more delicate flavour than balsamic. I use it in dressings and love it on lamb!
Strawberrry Mango Mojito Salad
Makes 6 servings
This refreshing summer dessert combines the delicious lime and rum combination of the classic Cuban drink the mojito with sweet mangoes and ripe strawberries. Serve it over yogurt, ice cream or completely on its own. You can also go virgin by eliminating the rum.
Prep time: 15 min. • Chilling time: 30 min. • Season: Summer
1 pint fresh ripe strawberries, hulled and cut in half
1 medium size Ataulfo mango – less stringy than other varieties – peeled and diced
1/4 cup (60ml) white sugar
1/2 bunch fresh mint leaves, washed and chopped finely grated zest and juice of 1 lime,
1/4 cup (60ml) white rum or to taste
Combine the strawberries and mango in a medium bowl. Sprinkle with sugar, mint leaves, lime juice, zest and rum.
Let stand for about 30 minutes to develop flavour before serving.
Serve in a martini or rock glass for maximum impact, with lime slice on edge of glass and mint sprigs.         

Guest Food Editor, Christine Cushing
The award-winning chef of Fearless in the Kitchen (OWN) has become a famed foodie, with fans following Christine Cushing Live and tasting her sauce and extra-virgin olive oil product lines. www.christinecushing.com