The Spoke Club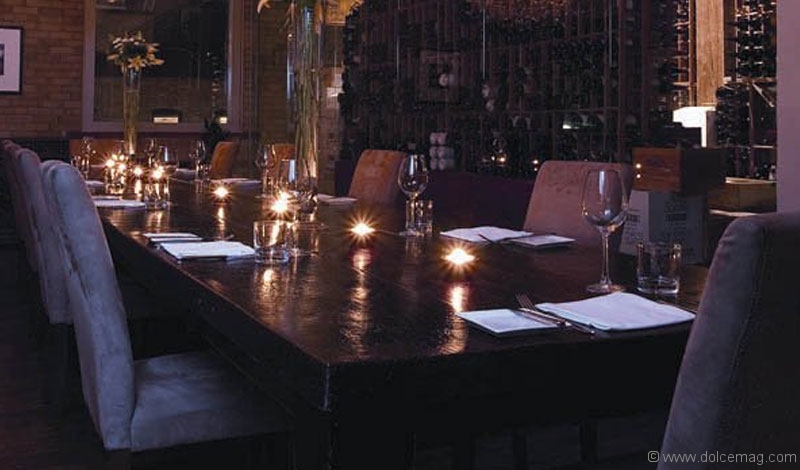 A private hideaway on one of Toronto's most popular streets serves as a second home to the city's quick-witted kin. This exclusive members-only King West sanctuary might sound a little stately, but if you step over its invisible velvet rope you'll quickly realize that there's more behind its curtains than a deck of face cards. Designed for individuals affiliated with the arts, media and entertainment industries to meet, greet, wine up or wind down, The Spoke Club is a full house of vibrant, creative minds.
With movie screenings, gallery exhibitions, wine tastings, debate society dinners, fundraisers, launches and author sessions held every month, the three-tiered club with its exposed brick and raw hardwood acts as an organic platform for networking. "We often see members doing business together as a result of meeting here … it just happens naturally," says president Pierre Jutras, glancing at the panoramic views of Toronto from the rooftop patio. As a work-and-playground, The Spoke Club functions quite efficiently; a screening room for films and boardroom meetings, several dining areas for private parties and dinners, a gallery for showcasing and admiring art, a library for quiet time and of course, cocktail bars.
Conceived in 2004 by the next generation of Canada's esteemed Weston family, Alannah and Galen, The Spoke Club is evolving the concept of exclusive establishments, echoing a similar sentiment to Soho London's The Groucho Club and New York City's Norwood. "[Galen] has always cared about the arts, and that is the primary reason he opened the club," says Jutras. Combine that with Alannah's history as an art critic for The Daily Telegraph, and you have a picture-perfect partnership.
So how does this club keep its heart beating in an industry that's infamous for short lifespans? "You stick to your guns and you separate yourself from everybody else by filling a need that is not offered," says Jutras, emphasizing that its niche environment is intended to co-exist with its neighbours, rather than compete.
While you certainly shouldn't judge this club by it's covertness, you should judge its books, as every member is asked to reveal their favourite literary piece upon signing up so it can be added to the library; one of many silent subtleties at The Spoke Club.
www.thespokeclub.com