Katheryn Winnick Fearless On-and Off-screen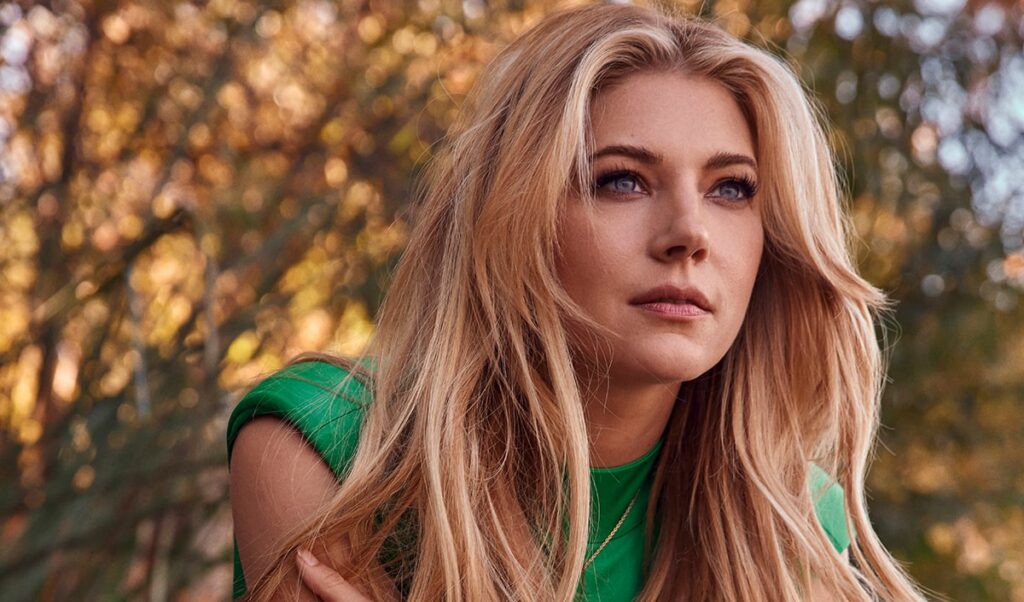 The Canadian actress, director and producer shares her career highlights and love for the martial arts, and mission to give back to Ukraine.
Katheryn Winnick demonstrates fearlessness on and off-screen. She practised taekwondo four to five times a week when she was young, and currently holds a third-degree black belt in taekwondo and a second-degree black belt in karate.
Winnick's passion for the martial arts eventually led her to a career in acting, starring in roles like the shield maiden Lagertha, wife and warrior of a great Viking leader in the critically acclaimed television series Vikings, and one of the leading roles in Big Sky.
Coming from a strong Ukrainian heritage, Winnick started the Winnick Foundation, a platform that allows people to donate basic supplies to help the Ukrainian people during the humanitarian crisis.
Q: What was it like growing up in Toronto?
A:I had a really beautiful childhood full of backyard ravines and forests. We lived in a cul-de-sac, so I was always playing road hockey with my neighbours, and the boys, and going to taekwondo four or five times a week. My childhood was very active and very outdoorsy. I come from a strong Ukrainian family, so it was part of our Ukrainian tradition to go to Ukrainian schools every Saturday and be involved in Ukrainian scouts. We had a great Ukrainian community in Toronto.
Q: What made you interested in taekwondo?
A: It was an activity that we did as a family. My father, my four siblings, all of us. I fell in love with it, so it was a big passion of mine. I got my first junior black belt at 12. I started at a martial arts school at 16 and turned it into three schools around Toronto by teaching after-school programs. It kept me out of trouble, so that's always good just to have something to go to after school. It definitely kept me very focused. As a woman, it's also very good for confidence.
Q: Can you walk me through what eventually got you into acting through martial arts?
A: Through martial arts, I got a chance to train actors, spend some time in different locations, and be on set. I started teaching the actors martial arts, and that's how I kind of got my foot in the door with wanting to pursue acting. And then I moved to New York and then Los Angeles, back and forth from both cities. I've travelled, all over the world now.
Q: You're very vocal about the current war that's going on and giving back through the Winnick Foundation. Why is it important for you to give back philanthropically?
A: I think it's important for everyone to find something that they're passionate about and to give back. The war in Ukraine was unprovoked, and I think this is not just an Ukrainian issue, but a world issue. Seeing thousands of people murdered every day and seeing the war crimes that are unfolding — it's heartbreaking. I think it's everybody's duty as human beings to step up and help. My biggest worry and fear is that we get used to it. This is not something we should ever get used to. We need to do our part to end this war. I started the Winnick Foundation as a vehicle for people who can trust that the money goes back to Ukraine.
Q: Out of all the roles and experiences that you've had on set, are there a couple that really stand out for you?
A: I think for me, right now, obviously Vikings, playing Lagertha, was a big part for me, and it took seven years for me to play her and bring her to fruition. It was such an incredible experience. I also absolutely love directing and getting a chance to go behind the camera to tell the story, work with the cast and the crew and the DP and tell the story through a different lens, versus as an actor; I've had some great roles. I got a chance to work with Sean Penn on Flag Day, which I really enjoyed. I played Dylan Penn's mother in the movie and got a chance to produce that. I'm very proud of that and I'm excited to continue to build on my production and find more projects that have strong women's content.
Q: How do you keep fit on set when you have a busy schedule?
A: It's really important to have a very healthy sense of mental health and wellness. I try to do at least one "nature thing" a day, if it is going for a hike or walk or spending time on the water if I'm in Los Angeles or the mountains; it's really important to do that. Trying to get out there and see the sunrise if I can get up early enough, depending on work, or the sunset. I just think that really connects you to nature. In terms of fitness, obviously eating healthy and a gluten-free meal is important because I'm celiac, but I try to work out and weights are important. But I love the outdoors — I'm a skier and I'm a very active person. I want to be able to constantly do fun stuff on the go.
Q: What would you say you are most excited about for the next couple of years?
A: Oh wow, there's so much to be excited about! I'm excited to do more travelling. I'm excited to direct more. Hopefully, help more with Ukraine, give back to the community more and have some downtime to be able to enjoy life. It's been a really tough working schedule for a few years, so I'm hoping to not work as much in front of the camera.
Q: What's your definition of success?
A: Happiness. Balance. Freedom. Inspiring others.
Q: What does la dolce vita, the sweet life, mean to you?
A: Live life to the fullest.
thewinnickfoundation.org
@katherynwinnick
Photographer: Sarah Krick @sarahkrickphotography
Fashion Stylist: Oretta Corbelli @orettac | Assistant Fashion Stylist: Allegra Gargiulo @jesuisallegra_
Hair: Rod Ortega (@rodortegahairstylist) | Makeup: Sarah Uslan (@sarahuslan)
Casting & Production: Kricket Productions @kricketproductions