Strawberry Cardamom Cake With Zerillo Jam And Toasted Meringue Frosting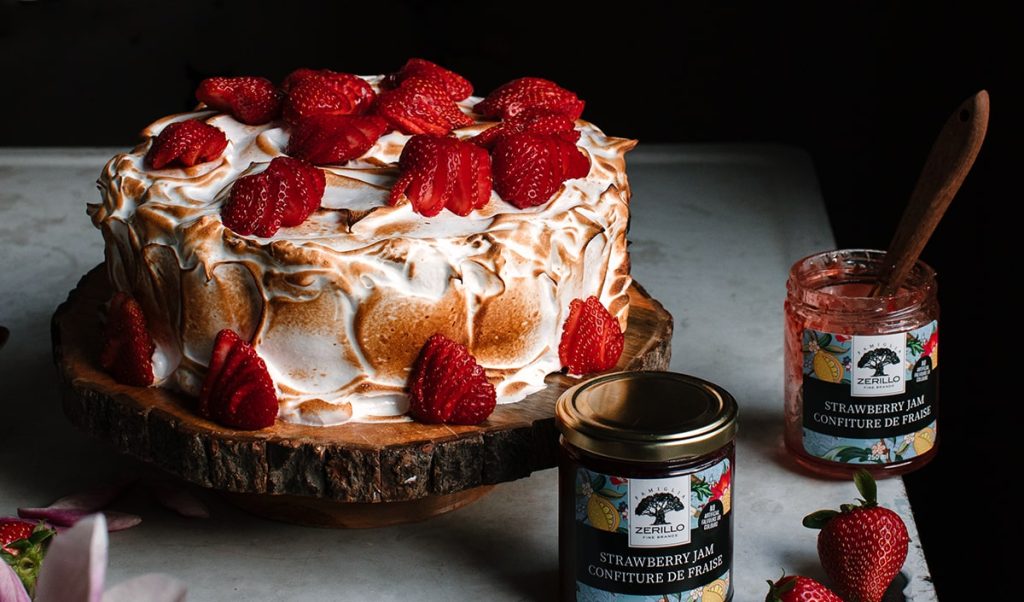 INGREDIENTS FOR THE CAKE
3 eggs
½ cup milk
1 teaspoon vanilla extract
2 cups or 260 g all-purpose flour
3 teaspoons baking powder
1 teaspoon table salt
1 teaspoon ground cardamom
300 g or 1 1/2 cups granulated white sugar
¾ cup or 170 g unsalted butter, softened but not quite room temperature
250 ml or 1 jar / 1 cup Zerillo Strawberry Jam
675 g or 24 ounces (2 1/2 clamshells) fresh strawberries, hulled and sliced
---
INGREDIENTS FOR THE TOASTED MERINGUE FROSTING
4 large egg whites
200 ml or 1 cup white granulated sugar
---
DIRECTIONS FOR CAKE
With rack in middle, preheat oven to 350 F.
Spray and grease two nine-inch cake pans and line the bottoms with parchment paper. Set aside.
In a medium bowl, whisk the eggs, milk and vanilla extract. Set aside.
In stand mixer bowl, sift the flour, baking powder, salt and cardamom.
Add sugar and mix on low with paddle attachment until well combined.
Add the butter a tablespoon at a time and beat on low until the texture looks mealy, scraping sides and bottom of the bowl.
Beat in about half of the milk/egg mixture on medium for about 30 seconds.
Scrape sides and bottom.
Then add the remaining milk mixture and beat for another 30 seconds.
Scrape sides and bottom, and beat another half minute.
Divide batter into the two cake pans evenly and smooth out with offset spatula.
Bake for about 23–25 minutes until toothpick inserted in middle comes out clean.
Let cakes rest a couple minutes in their pans before transferring to cooling racks.
Chill cake layers overnight before assembling cake.
---
DIRECTIONS FOR THE TOASTED MERINGUE FROSTING
Whisk together the egg whites and sugar in a stand mixer bowl over a pot of simmering water, making sure the bowl doesn't touch the water.
Whisk constantly until the sugar has completely dissolved, about 4 minutes, or when the egg whites reach 150 F.
Transfer the bowl to the stand mixer and whisk until stiff peaks form, about 5–7 minutes.
---
ASSEMBLING THE CAKE
With an offset spatula, spread about 1/2 cup Zerillo Strawberry Jam on your first cake layer.
Add a layer of sliced strawberries.
Place your second layer and repeat.
Using an offset spatula, frost the entire cake with meringue.
Lightly toast the meringue with a kitchen torch.
Recipe by Betty Shin Binon