Mitchell Cohen, Paolo Ferrari – Forma: High Design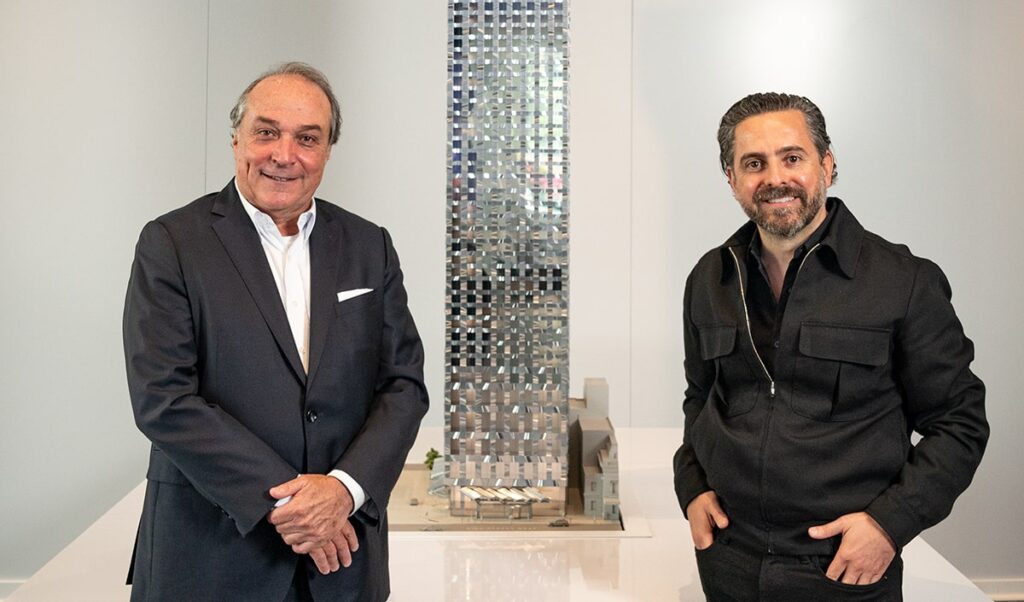 Legendary architect Frank Gehry's homecoming masterpiece, Forma, is set to rise on Toronto's King Street West and become an iconic statement in one of the world's most vertical cities.
With a population growth of between 70,000 and 100,000 people per year, and the geographic restraints of Lake Ontario to its south and a protected greenbelt area to its north, Toronto has become one of the world's most vertical cities. The city is reaching skyward to accommodate this growth with 70-, 80- and 90-storey residential condominiums announced seemingly every month, if not weekly. The city now leads North America in the number of construction cranes, and people rarely look up anymore at another new condo reaching into the sky.
Until now. Until Forma.
A planned shining, gleaming, two-tower mixed-use residential development in the heart of Toronto's Entertainment District on King Street West, the project marks the triumphant return to his hometown of world-renowned architect Frank Gehry and will become perhaps the most significant structure built in Toronto in decades. A stunning masterpiece of urban design and vivid imagination, Forma is more art than structure and will be a signature statement of architecture certain to dominate the ever-changing Toronto skyline. Its facade of metal and glass will capture the light and reflect the very essence of the metropolis, which was the intention and inspiration of the hometown architect who knows his beloved city so well.
"This Building Will Be Renowned Around The World And People Will Talk About It For Generations"
"I'm a Toronto traditionalist, because I remember Osgoode Hall, University Avenue, the Ontario parliament buildings and the Royal York Hotel," says Frank Gehry, principal of Gehry Partners, LLP. "There is a feeling of Toronto that I had as a kid and I wanted that to be in the DNA of our design. Every city in the world has its own light and the light is modified by the buildings in the city. I wanted this building to capture the essence of Toronto. It's not like everywhere else. The light is different. The heritage is different. It's a different place. I hope that is what people see when they look up."
Forma is being developed by Great Gulf Group, Dream, and Westdale Properties, with interior design by internationally recognized Studio Paolo Ferrari of Toronto. While there are plans for a future 82-storey west tower, the first phase of the project, the 73-storey East Tower, is Gehry's first residential tower in Canada and marks his tallest building designed to date, and that significance is treasured by those involved in the development of Forma.
"This building will be renowned around the world and people will talk about it for generations," says Mitchell Cohen, chief operating officer of Westdale Properties. "Frank Gehry has a way of working with metal and glass in which he collects nature's colour palette. When the sun shines, this building is going to shimmer and sparkle. It will reflect the moonlight and lights of other buildings in the evening, so it will always have movement. People will not just want to buy a piece of art, but live in a piece of art."
Interior spaces at Forma have been created by Studio Paolo Ferrari. Drawing on Ferrari's reputation for designing five-star luxury hotels and resorts, Forma marks Ferrari's first condominium residence in his studio's hometown of Toronto, and he built upon Gehry's initial inspiration.
"Forma is a metaphor for Toronto," says Paolo Ferrari. "We wanted to do something that felt global, but also captured the exuberance and subtle nuances of the city. So it's a balance with more restorative aspects. We wanted to use wood to balance Gehry's incredible facade and the use of oak and walnut is synonymous with Ontario and Canada and speaks to a sense of place and always interpreting it in a subtle but global way."
Forma will be purely iconic and Forma will be purely transformative. And in every way and from every angle, it will be pure Gehry, and people will most definitely look up.
www.formatoronto.com
@formatoronto
Interview by Estelle Zentil