Jeanne Beker
Style Editor and Media Personality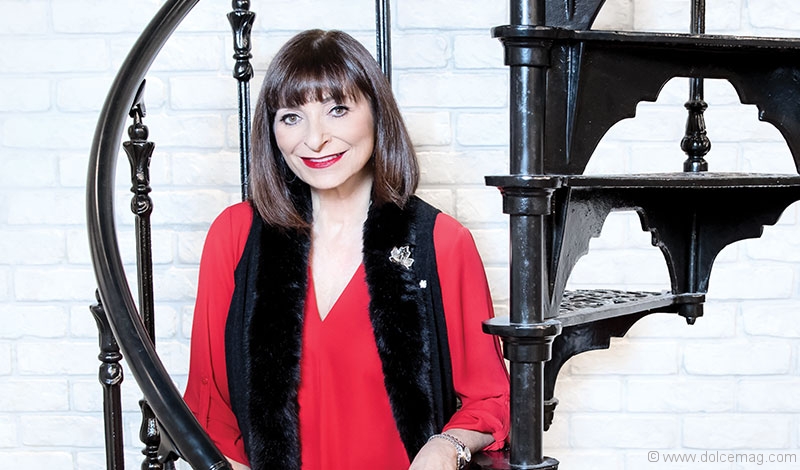 Jeanne Beker
Style Editor, The Shopping Channel And Media Personality.
Pursuing your passion is a noble endeavour. There's excitement that comes with discovering what you were meant to do, and actively working to make that passion a reality is a feat worthy of praise.
The resolve, persistence and courage it takes to make your passion a reality is what gives that venture the respect it deserves.
No one knows that better than Jeanne Beker. As a journalist, media personality and fashion entrepreneur, the famed Fashion Television host has pushed to build an illustrious career by bringing together the two variables of that elusive winning formula: passion and determination.
That's why Jeanne Beker is one of Dolce Magazine's top 20 influencers.
Her long and esteemed career started to find its footing when, at 16, she landed an acting gig on CBC's Toby. From there, she fell in love with media and connecting with people. That was where she discovered her passion. "I just love people," she explains when asked about her chosen career path. "If you love people, you're going to love communication, and the art and craft of communication."
That early realization is what launched Beker's career, giving her the determination to find a niche in the media industry and begin building the illustrious career she has today.
The first of a long list of demonstrations showcasing Beker's resolve took place when she was just breaking into the industry, in St. John's, Nfld., and was interested in reporting on the arts. This was generally a new concept in the '70s, and the CBC didn't have a foothold in the market. Beker saw an opportunity and sprang for it: "I talked my way into the radio station to create a consumer's show. I thought, I know a lot about the arts, maybe they can approach arts as a consumer subject, like, is it worth it to spend five bucks on that new record? So I really sort of wormed my way into CBC Radio that way."
Those visionary qualities showed themselves again in 1979, when Beker introduced The NewMusic to the screen. "Putting music on television in that way was unheard of. And this was pre-MTV, remember." The five-minute entertainment reports that she and J.D. Roberts would put together every night on the 6 and 10 o'clock news broke the ice for the surge of info-tainment that is now so prevalent in our culture.
"If you love people, obviously you're going to love fashion, because [it's] a great form of self-expression"
In her opinion, that same media landscape she saw success in has morphed into something "totally different" today. "You used to have to go somewhere with a whole production crew of people to gather your story," she recalls. "Now you can become your own reporter if you've got a Twitter and Instagram account."
Beker has taken the transformations of the media landscape in stride throughout her career, always managing to stay ahead of the tide. Her influence on the international fashion scene has perhaps been her biggest accomplishment to date, with the reasoning behind first entering the industry being exactly what you'd expect from Beker: "If you love people, obviously you're going to love fashion, because fashion is a great form of self-expression."
Beker figured out what she wanted her career to look like a long time ago. She's made that vision a reality, innovating wherever she feels she can insert her passion of communicating with people. "I've kept interested just by really concentrating on my love of people and my intrigue with the human condition. It's the very thing that would compel any storyteller to keep on telling stories."
Perhaps her love for people shines through most fiercely in her famed interviews. Whether it's actors, designers, musicians or entrepreneurs, Beker has captivated her audience by finding out where her subjects "live" while interviewing them. "Not physically," she jokes, "just kind of where they're at. I want them to feel at ease and give me a look at the best possible facets of themselves that they could present." In her mind, an interviewer's role is "to merely be a storyteller there to facilitate their story."
So what's next in the story of Jeanne Beker? It sounds like 2017 will be a year of reintroduction for the 2014 Order of Canada appointee. "I'm working with Bell Media in reinvigorating our archives. We're going to dust them off, digitize and repurpose them and bring them back in new and exciting ways. We want to be able to continue telling the story of fashion and how it's evolved over, certainly, these past 30-odd years, and how it will continue to evolve beyond."
Even today, Beker's passion — communicating people's stories — continues to shine through and fuel her desires. To this media magnate, that is what makes the world tick, and she has no plans to stop telling those stories anytime soon.
Photo By Robin Gartner