Great Expectations – Lewis Howes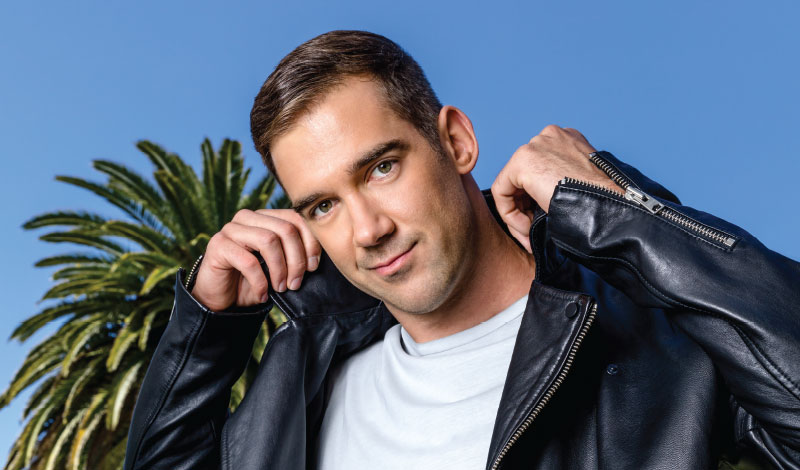 On his journey from bullied outsider to thwarted pro athlete to the eternal optimist behind The School of Greatness podcast, Lewis Howes uncovered an uncanny recipe for success. The best-selling author and entrepreneur learned to treat life like a favourite sport filled with coaches that could train him. Howes welcomed Dolce Magazine to Los Angeles for an on-location cover shoot with open arms (literally) and gave us a primer on his winning way.
Lewis Howes was an easy target, bullied and picked on relentlessly as a kid. Self-described as "tall, skinny and goofy-looking," Howes found school challenging; he couldn't understand what he was reading and found it difficult to read aloud, so he was always at the bottom of the class academically. "I didn't have any friends," he states.
At home, things weren't any better. Growing up in Delaware, Ohio, Howes was the youngest of four children. He describes his situation as "such a dark world."
Fast forward to today. Howes, 34 years old, has bought several seven figure businesses and sold one. He's a bestselling author helping others achieve their dreams through his book and podcast, The School of Greatness, which was named one of the top podcasts in the world, with more than 35 million downloads. In fact, in 2013, President Obama himself named Howes one of the top 100 entrepreneurs under 30 in the United States. He's a former pro athlete and former world record holder in football. And now he plays on USA Team Handball, the national handball team. You may be asking yourself, how did this happen?
Perhaps it started here: Every summer, Howe's parents sent the kids to a Christian summer camp. Howes met kids from a boarding school in St. Louis who were different from the kids in his small town. Fun, creative and welcoming, they inspired Howe, who wanted to make a change. He knew that he didn't want to end up in prison like his brother. He went home and begged his parents to let him attend the boarding school — which he did, starting in Grade 8. Howes began playing football in his sophomore year. And he was really good at it.
Howes channelled all of his energy into his dream of becoming a professional athlete. "My whole life was dedicated to becoming an athlete and playing professional football, because that's all I cared about," says Howes. He went on to play football in college and set an NCAA record for the most receiving yards in a single game (418 to be exact), then he left college early to pursue professional football. But after playing only two games of his first season in the Arena Football League (a step below the NFL), he dove to make a catch and hit a wall. Literally. His wrist snapped. Howes was so determined that he played the rest of the season with a broken wrist. But after the last game, he underwent surgery that ended his football career. "When my dream of playing professional football was over, I was in denial, because I thought that was what I was supposed to be doing," says Howes.
How do you pick up the pieces when your life falls apart?
"When I lost my identify [as a football player], it was a depressing time, but I just said, 'I need to figure out who I am now,'" Howes says. In fact, eight years ago, he was still sleeping on his sister's couch. "After a year and a half of that, my sister said, 'Okay, maybe you should get a job, help pay for food.'" Fair enough, thought Howes. He didn't feel he could stay any longer without supporting his sister.
He started looking for a job on Craigslist. "I got an interview, and I was getting ready. And for whatever reason, I was convinced I was going to get the job," says Howes. "I thought, 'If I go to this interview, I'm going to get this job, and it's going to delay me from actually going after what I want. This is not what I want.' It just wasn't part of my vision." And that was the impetus that spurred Howes into doing something about his vision. He didn't go to the interview that day, and he never applied for another job.
"I just said, 'I need to figure out who I am now. Who am I? Who do I want to be? What do I want to create in the world?'" says the entrepreneur. Howes started out on a journey of self-discovery, reaching out to mentors, finding people who had achieved their dreams, and starting to learn from them. "I started to study them, ask them questions about how they did it. In that process, I started to discover more of what I wanted to do," he adds.
It started with a girl
One day, when Howes was still living on his sister's couch, he was watching the 2008 Olympics on TV when he saw coverage of the handball event. He was hooked. The New York City Team Handball Club had a reputation as the best handball team in the United States. Howes was determined to move there and play on the men's squad. He spent a lot of time on the Internet trying to find a business model with which he could earn enough money to do so, finally deciding to launch a LinkedIn group for sports executives. It was so successful that he was able to make the move.
While Howes was living in New York, he met a girl. "I fell hard for this girl, and it was a bad fall." In fact, he moved to Los Angeles for her — and on the day he arrived, she broke up with him. The actual breakup wasn't quite final yet. "It was up and down for the next six months. It was a stressful relationship, but I learned so much about myself, so I'm grateful to her for that."
One day he was driving in Los Angeles, moving about two miles an hour and missing New York that an idea hit him. "I just said, 'There's got to be a better way.' There are so many people stuck in traffic, stuck in a relationship, stuck in their lives. There has to be a way to inspire or inform people who are commuting all day long, to give them information that can help them move faster in their lives and get there quicker," says Howes.
So he called a few friends who had podcasts. They told him it was a powerful way to connect with people. And right away, Howes knew he would make one. He thought, "I've built up some great relationships over the years from sports and from business; I know some amazing influencers." These people were teaching Howes more than he'd ever learned in school. He also realized, "I wish I could have learned some of these lessons in school when I was growing up, because this would have helped me so much more. That's how I came up with the name, The School of Greatness, and began to do the podcast."
Lean into your curiosities
How does Howes define greatness? "Greatness is discovering and cultivating the unique gifts within you. To pursue your dreams and, in that pursuit, to make the maximum impact that you can on the people around you."
Howes has some smart ideas when it comes to discovering what it is you really want to do on your own road to greatness. He suggests setting aside time to allow yourself to dream. "First, allow yourself to disconnect from your responsibilities and your devices. Go and be in nature, sit by a lake, an ocean, by water. Allow yourself to be calm and peaceful; put yourself in a place of peace. Either be alone while doing this — and then you can be journalling — or you can be with friends and be in a playful state," says Howes. "When we're in a playful state, our minds are calm and relaxed. That's when we allow ourselves to dream the most."
But what if you don't even know what your dreams are? That's Okay; you can start by discovering your curiosities. Just start journalling. Ask yourself what things bring you the most joy, what things you get most excited about, what things keep you up late at night. "Ask yourself: What's the thing that, if I got to do it every day, I would jump out of bed, because I can't believe that I get the chance to do it every day?" says Howes. "Ask yourself: If I had all the money in the world, what would I be doing? If I could travel, where would I go? Who would I be spending time with? What would my activities be? Who would be there? If I could have a perfect day, what would I be doing and why?"
Howes emphasizes that when we lean into our curiosities, we allow ourselves to think, 'What if?' "We can feel a certain reaction around these thoughts, and those reactions that you feel most powerful about — those are the things you should lean into." Then ask yourself what the next step should be, and the next step after that, and so on.
[Building schools] gives so much more meaning and impact to my work, because I know that every interview I do and every book and product I sell is going to something bigger than just me making money
Greatness starts with love and gratitude
First, you have to take care of yourself. "I used to do daily affirmations when I was sad and uncertain about myself, because I used to really beat myself up a lot and think I wasn't good enough and think I wasn't worthy," says Howes. "I had this constant inner suffering that I faced until my early 20s. I started to get better in my late 20s, and now I feel like I've started to improve; I feel like I have a lot of tools and self-love, so I'm not staring in a mirror and telling myself, 'You're awesome' and all these good things. I did that because I didn't have any other solutions on how to get out of it."
Now it's different. "I take care of my health, I put good foods into my body, and I take time to relax," says Howes. "I constantly fill myself up with things that make me feel better, not worse." To that end, Howes meditates every day as a form of self-love and practises forgiveness. "I used to hold onto grudges and be upset at people all the time. But when I don't forgive someone else, it's like I'm poisoning myself and expecting it to hurt someone else, because when we don't forgive, we cause ourselves more stress and anxiety," says Howes. "So I've learned to forgive for myself; it's a daily practice of forgiving myself and forgiving others so I can have freedom and peace."
Years ago, Howes realized the importance of giving back. "I started thinking of education because kids need the opportunity to create their dreams, so I partnered with an organization called Pencils of Promise to build schools around the world," says Howes. So far, Howes has built five schools personally, and more than 40 by bringing in other influences to help build schools, too. "It gives so much more meaning and impact to my work, because I know that every interview I do and every book and product I sell is going to something bigger than just me making money."
Howes says it really gives him perspective to see happy, joyful people that don't have as much as we do in other countries around the world. "I live in one of the richest zip codes in the world, and I see so many people who are miserable," says Howes. "It keeps me grounded, and that's why gratitude is such an important part of my life."
In high school, Howes remembers reading a quote often attributed to Theodore Roosevelt: "Nobody cares how much you know until they know how much you care." That really resonates with Howes, who says that if you're a good person, you show up as connected, loving and present. He claims Maya Angelou said it best: "I've learned that people will forget what you said, people will forget what you did, but people will never forget how you made them feel." That's exactly how he tries to live his life now, as a grateful person.
At the photo shoot for this article, Howes asks an assistant to take some uneaten panini back to the office for his staff to enjoy, ever mindful of others and loath to senselessly waste food. And he has no time for complaining either, despite spending hours with the camera crew in the hot California sun. In fact, Howes is all smiles.
"I'm very blessed and very grateful that I get feedback every day from readers and listeners," says Howes. "For me, knowing that pursuing my dreams and showing people how I'm doing it, that this is a catalyst for some people, giving them permission to go for it — this is what I'm grateful for."
Finding a balance
Howes is always on the go. "I travel a lot; I do speaking events. Last year I was in Iceland for a week and India for two and a half weeks. Since I play with the U.S. national handball team, I was in Brazil and Argentina for that, and I was in Guatemala for Pencils of Promise," says Howes. Still, he manages to find a balance. "I have a great team that supports me and supports the vision to impact the world in a positive way; everyone has a role," he adds.
What's coming down the pipeline for Howes? Right now, he's finishing up a new book and working on a documentary. "I'd like to interview The Rock and Will Smith," says Howes. "I've worked with Ellen [DeGeneres] and her team is amazing — we're going to be doing more work together. In due time I'll be working with more people like The Rock and Oprah," he adds.
Asked to complete the sentence "My life would not be complete without …" he answers simply, "inner peace." Asked for his definition of la dolce vita, the sweet life, Howes replies, "At the end of the day, it's saying you gave your best, and you're fully used up in your in pursuit of every dream imaginable, and you at least went for it," says Howes. "In that process you experience all the love and connection that you possibly could."
This August marks 10 years since the entrepreneur's surgery for his sports injury, and he feels like he's just getting started. "These 10 years in the pursuit of my dreams have been the most beautiful experience of my life, and I've achieved a lot. But I feel like I've just done the legwork and now I can do some amazing things in the world," says Howes. "I don't know how long I'm going to be around, I don't know if I'm going to be around tonight; anything can happen. I'm going to make sure that my life means something."
Don't be afraid to ask for help
It's tough to know where to start, how to make the first move. One thing to keep in mind: People like to help. Howes began by approaching local leaders when he was living in Columbus, Ohio. One such mentor was Chris Hawker, an inventor from Columbus, Ohio, who has marketed many of his ideas. "I really got to study what it meant to come up with ideas," Howes says. "What's a great idea? How do you package an idea into something tangible that's a solution for people? How do you brand it? How do you market it?" He connected with other business leaders as well. "I just found the person who was great at it and then studied how they did it." Or he would simply ask them what they thought he should do, and they would coach him.
When he confided that he was terrified of speaking in public, he was told to join Toastmasters, an organization that helps people become more effective communicators and leaders. "So every week for a year, I took a public speaking class and studied and made a fool of myself and was terrified, but I took action, practised and got better," Howes says. He did the same thing when he wrote his book. "I found a mentor who had written five books previously, and he just said, 'Here's what you need to do,' so I took action."
It's essential, he says, to be open to getting help. "I look at my life as a sport. In order to be a great athlete, you need great coaches, and you need to be coachable. That's the only way I was able to get to where I am today," says Howes. "I apply my sports background to life — with relationships, business, making money, branding, marketing, with my health, whatever it may be." He deliberately sought out people who could help him. "I found them on LinkedIn and other social media, I went to events all the time, I became a sponge and took immediate and massive action to do what I needed to achieve those results."
Be clear with your dreams
Picture this: If we aren't clear in our vision of the amount of money we want to make, the people we want to spend time with, etc., then we're going to be bouncing around in life like pinballs in a machine.
"When we're clear, then we have a compass we can move toward," says Howes. Without vision, it's easy to get stressed, anxious and even depressed, he adds. "I try to keep it simple: What do I want? Why do I want it? When do I want it to happen by?" By answering those questions, Howes says that we can create guidelines for our lives, make easier decisions and, when opportunities come our way, say yes or no very quickly, depending on whether it supports our vision.
That's not all. Howes suggests we need to set expectations for ourselves, but be sure that we are communicating them to others. "The more expectations you have, the more let down you're going to be if someone doesn't meet the expectations," says Howes. "So I think we should have expectations and be sure to communicate them. When you are clear, then there's a mutual understanding in relationships with family, friends and co-workers. It's when we aren't clear that there are letdowns," he adds.
www.lewishowes.com
www.twitter.com/LewisHowes
www.instagram.com/LewisHowes
Interview by Rebecca Alberico | Photography by Robin Gartner
Make-up artist: Sean Conklin | Wardobe stylist: Eva Danielle Wittels | location: 18013 Sea Reef Drive, Pacific Palisades