Natasha Koifman: Philanthropist, Connector & Influencer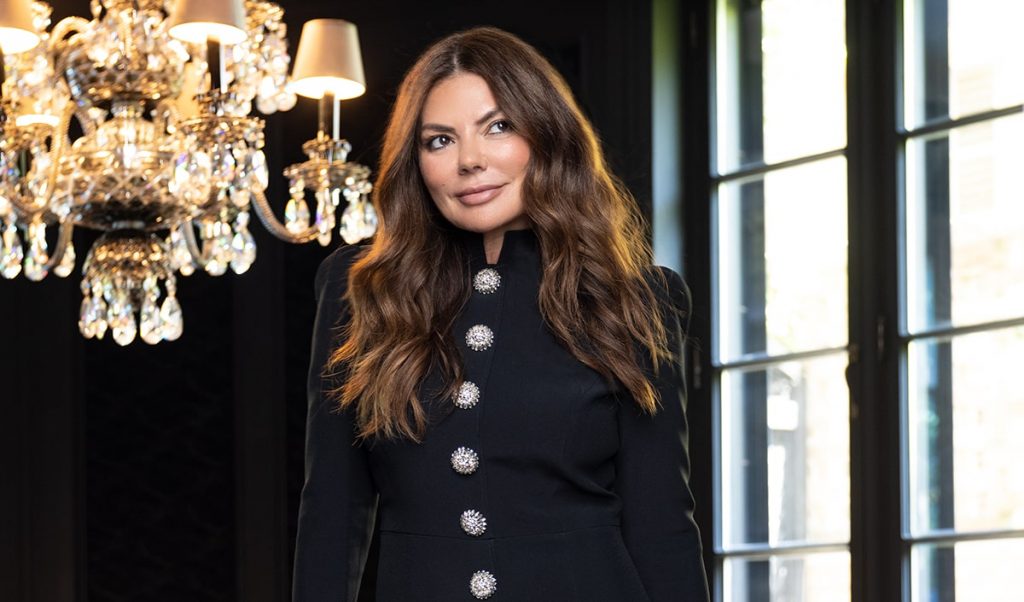 Koifman, one of the most respected names in North American public relations, drops her new collection of hand-picked items on her carefully curated e-commerce platform, ShopNK.
Instrumental in developing some of the most successful publicity campaigns for a wide range of coveted brands ranging from fashion to luxury real estate across North America, Koifman has a sixth sense for the latest trends.
By and large, Koifman's expertise takes brand messaging to a whole new level. It only makes sense, then, that over the past couple of years, Koifman has successfully launched her own e-commerce platform, which displays collections meticulously curated by Koifman herself. Every item is a reflection of Koifman. As she told Dolce, "Intention is everything, and words matter."
With philanthropy always being top of mind for the PR guru, 10 per cent of every purchase made on the site goes to a charity of the purchaser's choice, bringing a humanitarian approach to the consumer experience.
From handcrafted heart-shaped coasters to her favourite cashmere robe, her latest venture goes to show that everything Koifman puts her name on is just an extension of who she is and the values she holds. "I want to leave the world a better place than I came into it."
Q: Can you tell us about ShopNK and the new home line?
A: I started ShopNK a couple of years ago, more so with my favourite items, whether it be clothing, or my favourite candles. This year, what I really wanted to do, because we've been spending so much time at home, was focus on all the elements that truly ground us within the space that we live in. That's why I focused on the home collection, specifically because I am an introvert and so I love my time at home and I wanted to share with others the things that truly give me that sense of comfort and peace.
Q: Tell us about the philanthropic component of ShopNK, and what role philanthropy plays in your life.
A: One of the reasons why I started ShopNK in the first place was because I wanted people to be mindful of the choices and the decisions they make when they make a purchase. Cause and philanthropy are really important to me, so I felt that if you make a conscious decision when you're actually choosing the charity when you're checking out, then you start to learn more about the charity, and therefore you might continue that process of donating or learning more about that cause, or maybe finding your own charity that you want to give back to on a more consistent basis. One of the most rewarding parts about my grownup adult life is being able to give back to others, and so, for me, that was definitely a big aspect of ShopNK.
Q: And you also have the mentorship section. How did you come up with that idea?
A: Mentors to me are so important as you're developing your career. I feel fortunate that I attribute a lot of who I am and why I am who I am to the people who are around me, to my friends, and the people in the various industries. I recognized the value of that, and so what I did was I called a lot of my friends and asked if they could provide insight and help someone in their career, and everybody that I asked so far has said "Yes." So, we have these amazing mentors like Janet Zuccarini and Rajen Ruparell, who's one of the co-founders of Groupon and a founder of Endy. So, you have these brilliant minds that you have access to now for C$250, and 100 per cent of that will go back to a charity of your choice.
Q: Your curated selection of items is meant to elevate your everyday rituals, from morning to night. Could you give an example of one that could elevate your morning and one that could elevate your night?
A: I can give you the same thing that will elevate both, actually. One of my favourite items on the site is the cashmere robe. So, I literally wake up first thing in the morning and I put it on. It's the coziest thing. I actually travel with it as well, because it can also play double duty as a cardigan, but then, as soon as I go upstairs, one of the first things that I do is I put on my robe, and so I just find you want to feel that sense of coziness. The material on it is absolutely amazing. Parts of my daily ritual are: I always light a candle, first thing in the morning or during the day when I'm working at the counter, or even at night. When I used to go into the office every day, I would light a candle as soon as I came home. I love tea, because a lot of people, their daily routine is you come home at five o'clock and you have a cocktail. Five o'clock for me is when I have a cup of tea. That's what kind of calms me and relaxes me, and so those are just some of the things that give me that sense of comfort and peace, and that's really what I wanted to share with others.
Q: Throughout your home, we see how intentional the messaging around the artwork is, and, for example, the coasters in the collection also share a message. Why is it important for you to live intentionally, and how does that correlate with the work that you do every day?
A: I'm in PR, so intention is everything, and words matter. And so, the coasters are a really good example and they play into an exercise that I do with myself, that I've done since my twenties, called "The Five I Am's." And on the coaster, you'll have a coaster that says "I am" and then there are additional coasters that say "I am brave," "I am authentic," and it lists off the things that I've always felt are important to who I am, and I feel like they're important qualities for others as well. I think what's interesting about that exercise, actually, is the fact that as humans, we change, we evolve. Who you are in your twenties will be different than who you are at 25, 30, 35, and so, what I always do is ask myself: What are those words that really help me stay my most authentic self? And so, one of the words that's always consistent for me is "I am philanthropic." That is an important one for me, and so that just goes back to I want to make sure that even when you look at COVID and everything that happened, there was so much need in the world, I remained consistent with where I gave back. And so, with the ShopNK site and Artists for Peace and Justice, that's a charity that's obviously very important to me. It's something that I started 13 years ago, and we've raised over $33 million for the children of Haiti. We built the very first free high school in Portau- Prince, and this year, they lost probably 90 per cent of their funding, and that's because there's so much need in the world right now. And so, even during COVID last year, we still did a charity event and were able to raise just over $300,000. And so, I look at the things that really matter, and that's one of them. Making sure that we give back to others. And also I've always thought that I want to leave the world a better place than I came into it, and I think about that a lot, and that consistency is just important for me.
Q: What are three things that you can't live without?
A: My husband. I just got married. I can't live without love, and that's love in many aspects, love for my son, that's an important word for me, and I can't live without sunshine.
Q: What are you most proud of?
A: I would say one of the things I'm most proud of is the work that we've done in Haiti, because it has been 13 years, and we've been able to see the impact that providing an education for kids that they normally wouldn't have had, because there isn't any free education beyond junior high school. There's a girl that I met two years ago who's now at the University of Montreal. She was one of our graduates. She's in nursing school, and she's going back to Haiti to be able to help her community be better. Knowing that we were able to do that is just important for me.
Q: What is your definition of home?
A: Home is where the heart is. It's peace, it's comfort, it's love.
Q: What's your definition of happiness?
A: My definition of happiness is peace, and truly being surrounded by authentic, genuine love.
Q: What is your idea of la Dolce vita?
A: Being surrounded by love, being surrounded by authenticity, genuine people, but I would also say it's about giving of yourself to others genuinely and really sort of finding something that you can connect with where you're making a meaningful impact on someone else's life. And whether that's large-scale or small-scale, I think that's la Dolce vita.