James Temerty: For Love, Honour and Country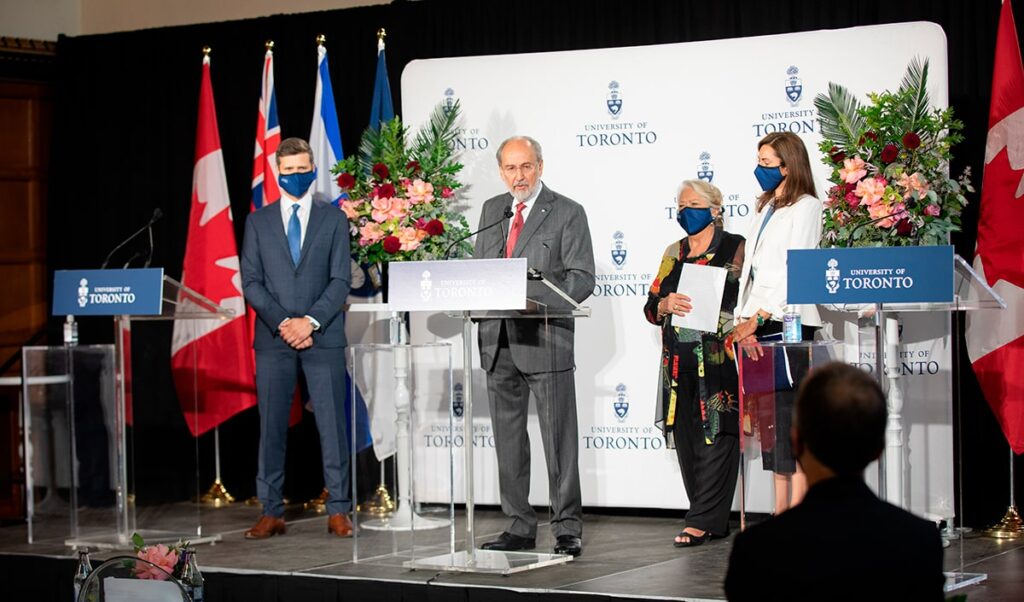 Businessman and philanthropist James Temerty left his homeland of Ukraine as a child and is receiving Canada's Walk of Fame National Hero Honour for giving back in a time of war.
Before February 2022, most of us had never heard of the Donbas region of eastern Ukraine. Most of us couldn't find it on a map. James Temerty could. In fact, he was born there in 1941 and has spent a lifetime giving back in support of his homeland, a task made even more urgent since the Russian fullscale invasion on February 24th.
For this reason, and for his considerable philanthropic work over the decades, James Temerty is being inducted into Canada's Walk of Fame this year as the recipient of its National Hero Honour, a special recognition presented to an individual whose selflessness, dedicated efforts and outstanding contributions have made a significant difference in our society.
"At first I said 'Why me?' and was going to decline," says Temerty in a recent interview with Dolce. "But what got me was that they were building this around Ukraine and the war and my activity in that area, so I really couldn't turn it down because it's a duty and an obligation, because somebody needs to stand up for Ukraine."
Today, James Temerty is an inspiring leader and philanthropist who has dedicated his remarkable life to renewable energy, technological advancements and community engagement as one of the world's most successful businessmen. But back then in the Donbas, he was just a confused three-year-old boy fleeing a horror he didn't understand with his parents and younger sister in a horse-drawn wagon, beginning a year-long exodus to freedom in the West during the Second World War.
"It's a duty and an obligation because somebody needs to stand up for Ukraine."
One of the searing memories he has of that journey in a caravan with 11 other families seeking freedom was of a fighter jet crashing into an open field beside his wagon after a dogfight in the skies above them.
Picture that scene for a moment.
A little boy riding in the front of a wagon with his father and his sister and mother in the back when a fighter jet explodes in a field beside them. For most of the rest of us, the biggest trauma when we were three was if our favourite goldfish went to "goldfish heaven."
The wagon caravan took almost a year to reach safety in Slovakia. At certain times the families hid in the forest for months, foraging for food and other basic necessities. Eventually, the Temerty family reached Munich, then moved on to Belgium and finally they immigrated to Canada in 1950, when James was just nine.
A lifetime of experiences in the first decade of a life.
"Kids, if they have a good family life, kids feel at home anywhere, and I was okay," says Temerty, giving proof to the old adage that home is where the heart is. You can be in a new and foreign country, but the strength and love of family can make it feel like home. "We were a very close, tightly knit group," he recalls of his parents, himself and his sister.
Following his education, Temerty started his business career in sales, working with IBM for 15 years, an affinity for which you either have or you do not. In fact, when asked if you are born with business acumen, or can develop it later, Temerty does not hesitate in his response.
"Born with it," he states confidently. "There is that old saying about nature versus nurture, but I always seem to have the right instincts about getting things done. And to get things done, you need to be able to be persuasive, and if you are persuasive, you're going to do all right in pretty much any walk of life. Nurturing is important, obviously but that instinct to have the confidence that you can get some things done or sell, for instance, and be good at it, I think that's a nature thing."
Those basic instincts have served Temerty well in a business career as a serial entrepreneur for more than four decades, with many successful business ventures to his name. These include ComputerLand franchises, Softchoice Corp. and, most recently, Northland Power Inc., a major Canadian independent power company and market leader in renewable energy with wind, solar and thermal electric power facilities across the globe, in Canada, Europe, Latin America, South America and the Asia-Pacific.
His business successes have allowed him to make significant philanthropic contributions in Canada, Ukraine and globally, supporting education, health care, culture, vulnerable populations and community-building. In September 2020, his Temerty Foundation's gift of $250 million to the University of Toronto, naming the Temerty Faculty of Medicine, was recognized as the single largest one-time philanthropic donation in Canadian history. In March 2022, the Foundation's gift of $10 million to the Juvenile Diabetes Research Foundation was the largest single donation to Type 1 diabetes research in Canada.
"It's nature. I just always needed to do these types of things," says Temerty. "The American industrialist Andrew Carnegie once said, 'If a person dies with all of their wealth, it's a sin.'" A humble and modest man, Temerty received the Order of Canada in 2008 and the Queen Elizabeth II Diamond Jubilee Medal in 2012 for his contributions to his country. In 2015, he received Ukraine's Order of Prince Yaroslav the Wise from the president of Ukraine, the highest tribute Ukraine can confer on a foreign citizen who has not been head of state.
In 2008, Temerty founded and funded the Ukrainian Jewish Encounter, a multinational initiative to deepen Ukrainian-Jewish relations with a view to the future.
Since the war began, the Temerty Foundation has stepped up its humanitarian efforts by supporting the Canada-Ukraine Foundation's Ukraine Humanitarian Appeal Fund; The Ukrainian World Foundation, for medical needs and relief efforts in Ukraine; Help Us Help Ukraine charity, for winterization needs in Ukraine with a focus on children; President Zelensky's Fund, UNITED24; and The Olena Zelenska Foundation, for winterization needs of Ukrainian families living in de-occupied areas of Ukraine such as Kharkiv and Kherson. Temerty also worked closely with the Ukrainian World Congress to start the Unite with Ukraine campaign that focuses on supporting volunteer defenders on Ukraine's front lines with protective equipment.
Temerty has seen first-hand the ravages of war in his homeland and he will continue to fight with all the means at his disposal, as he fully understands the geopolitics at play.
"Leading up to the invasion, Putin was making this point that Ukrainians and Russians are the same people, and that really irked me because we're not," says Temerty. "His whole basis for invading the country is built on a bunch of falsehoods. His motive is just imperialism, just grabbing the land.
He doesn't care what happens to the Ukrainian people. It's the land that he wants, containing some of the richest farmland on the planet. While Ukraine occupies only four per cent of the planet's land mass, it has more than 25 per cent of the planet's blackest and richest topsoil, along with mineral deposits yet to be tapped."
In our quieter moments, we've all privately wondered if we would have the strength and resolve that the Ukrainian people have shown the world since February, and also wondered what it is about them that gives them such resiliency and strength of character, passion and dedication. Perhaps with people such as James Temerty, we are provided with a clue.
Interview by Estelle Zentil