Stuart Weitzman: Bidding For History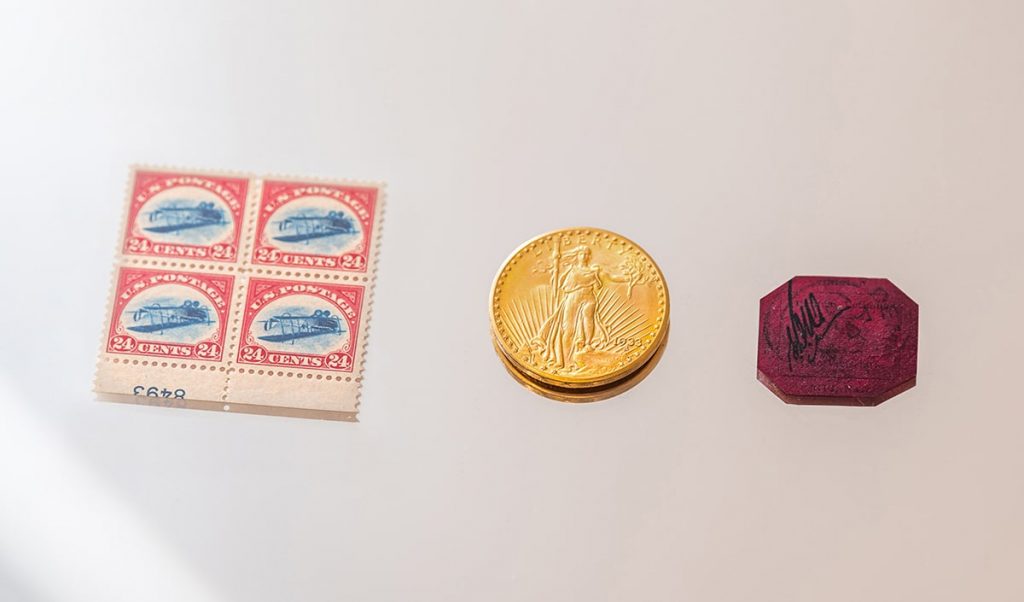 World records fall as three historical treasures are auctioned by Sotheby's New York.
For coin and stamp collectors, June 8, 2021, in New York City was a day as rare as the treasured pieces offered for auction at Sotheby's. Three Treasures – Collected by Stuart Weitzman was a dedicated live auction of specimens of unrivalled rarity, value and history from the personal collection of the renowned fashion designer and collector.
On offer at this historic auction was the fabled and elusive 1933 Double Eagle coin, known as the Holy Grail of Coins, which set a world record when it last sold at auction in 2002; the most famous and valuable stamp in the world, the sole surviving example of the British Guiana One-Cent Magenta; and The Inverted Jenny Plate Block, the most well-known and sought-after American stamp rarity.
These three treasures are as iconic as they are rare and valued by collectors the world over. The 1933 Double Eagle gold coin, with a face value of $20 and a distinctive design of an American eagle in flight on one side and Liberty striding forward on the other, was the last gold coin struck for circulation in the United States and is the only example that is legally sanctioned by the United States government for private ownership.
When Weitzman anonymously purchased the coin at Sotheby's New York in 2002 for $7.59 million, it established a new world auction record for any coin at the time. This time, an anonymous buyer bought the coin for a record-setting $18.9 million, well above its expected price of between $10 million and $15 million.
The British Guiana One-Cent Magenta sold for $8.3 million to an anonymous buyer, confirming its place as the most valuable stamp in the world. This unassuming penny issue was printed black on magenta paper in British Guiana in 1856. The stamp was rediscovered by a 12-year-old schoolboy amongst some family papers bearing many British Guiana issues in 1873 and has passed through many private collections since.
The Inverted Jenny Plate Block was first issued in 1918 for the first United States airmail letters. It is the most famous and valuable item in the United States stamp-collecting realm. It has been a collector's item because of a printing error in which its biplane design appears upside down. It was purchased at the auction for $4.9 million by David Rubenstein, a co-founder of private equity company The Carlyle Group.
"I had a lifelong dream of collecting the single greatest rarities and placing them on public view," says Weitzman. "I did that, and today my dream is to leave a legacy of charitable works to which the proceeds from the sales of these treasures will go."
All of the seller's proceeds will benefit charitable ventures, including The Weitzman Family Foundation, which supports medical research and higher education, such as the Stuart Weitzman School of Design at the University of Pennsylvania, and a museum in Madrid, the first of its kind, devoted to Spanish Judaica.