Spanish Fashion Designer Alma Aguilar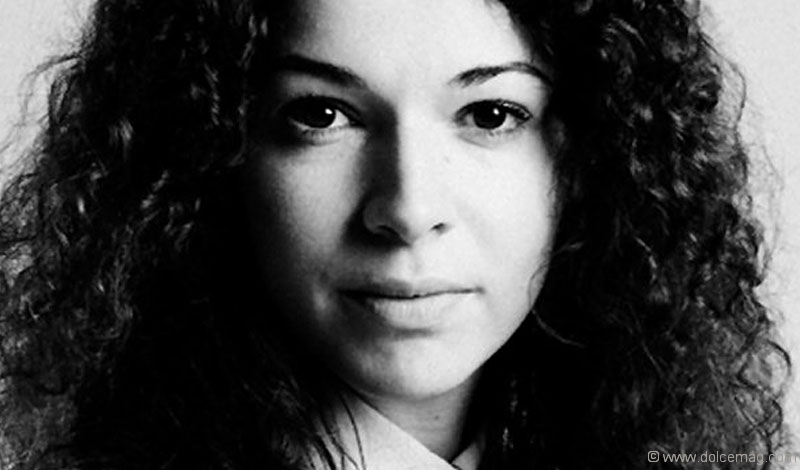 Since first manifesting her innovative visions from a small workshop in Madrid, Spain, designer Alma Aguilar has established herself in the fashion world, both at home and abroad.
At 33, the Madrid native has brought 23 of her own original collections to life, including spring, summer and fall wear, bridal wear and even couture handbags. In 2001, Aguilar became the youngest designer to participate in Madrid's Fashion Week and has since had her collections showcased in other Fashion Weeks held in Barcelona, Russia, New York and Paris.
Her designs have been worn by actress Salma Hayek and displayed in the Dress Museum in Madrid, the Reina Sofia Art Museum in Madrid, the Ethnological Artistic Heritage's national collection in Madrid and the Trump Soho Hotel Condominium in New York.
As the youngest of the 30 members of the Association of Spanish Fashion Designers (ACME), which honours esteemed and influential designers such as Givenchy, Oscar de la Renta and the Balenciaga Foundation, Aguilar remains a noticeably inventive and prominent contemporary Spanish designer.
Aguilar says fashion is an integral part of her life, especially because of the time she dedicates to it. "I consider my life lucky because my work is my true passion. It is a way for me to channel my feelings and it is a path that once started, cannot be finished," she says.
Having grown up with a father who was a jazz musician, a mother who was a painter and poet and a grandmother who was a dressmaker, Aguilar's upbringing was very rich in the arts. She continues to give art, design and fashion a special spot in her life. "In my opinion, dolce vita is the ability to enjoy free time with family and friends and if I can combine this with something that I enjoy, such as being by seaside, even better," says Aguilar.
She studied design, illustration and pattern designing at the Industrial Design College in Madrid and worked as a freelance illustration and pattern designer for two years. Then, in 1998, the 23-year-old Aguilar launched her own eponymous company and her first ready-to-wear spring collection. She has since experienced nothing but success and growth in her career. "I knew that I had to work for some time in another designer's studio, but from the beginning I wanted to start my own company. Just when I started to feel comfortable at the design company I was working for, I thought, either I leave now while I have nothing to lose, or I will never do so," says Aguilar. "I gave it all up to start my first collection -– either way it turned out, I believed that the experience was worth it."
Aguilar's work has evolved and attracted a lot of buzz over her 10 years as a designer. Having been chosen as one of the 50 best international designers for the Harper Collins Book, Young Fashion Designers, in 2007, it is clear that Aguilar's pieces aren't waiting to be pulled off the racks just by women in Spain.
With her new Spring Summer 2010 collection, Aguilar will have women strutting around in dazzling colours, patterns and fashionable folds as the seasons roll around. She says the inspiration for the collection came to her after a trip to India that she said impacted her more than she initially thought it would. "The people, the aromas, the colours and sounds – aside from that, it is a natural evolution of my previous works," says Aguilar.
The collection features cantaloupe orange and popping pink ensembles as well as pieces in intense sea greens, bold blues and sparkling whites that give off a very feminine, fresh summer's day look. A few long, flowing floral dresses provide an elegant version of the classic wardrobe staple that every woman takes off the hanger and puts on in spring and summer. A reappearing trend in the line seems to be a new twist on the use of pleats. They are no longer just formally placed straight along skirts. Pleats appear cascading from shoulder to shoulder, in stacked layers, lining collars and molded into flower embellishments on dresses. Aguilar also eliminates the use of the standard buckled belt and introduces a new type of waist encircling accessory – rope with tassels hanging at the ends – which are tied around the waists of pants and dresses in the collection.
The company, Alma Aguilar, is now located in a new 350 square metre space in which Alma presents her bridal collections, haute couture, Alma Aguilar and Allegra by Alma Aguilar. The latter was named after her daughter, who was also Aguilar's inspiration for a future low-cost children's clothing line called Mini Alma Aguilar. The entire 2010 spring summer collection can only be found in Madrid in Aguilar's store. Some items can be found in the rest of Spain, the UK, Japan, Russia and the U.S. Aguilar says she hopes her pieces will shortly become available in more locations, including Canada.
To get a sneak peak at Aguilar's spring summer 2010 collection as well as other collections, visit www.almaaguilar.com