The Next Evolution In 4K: Immersive Entertainment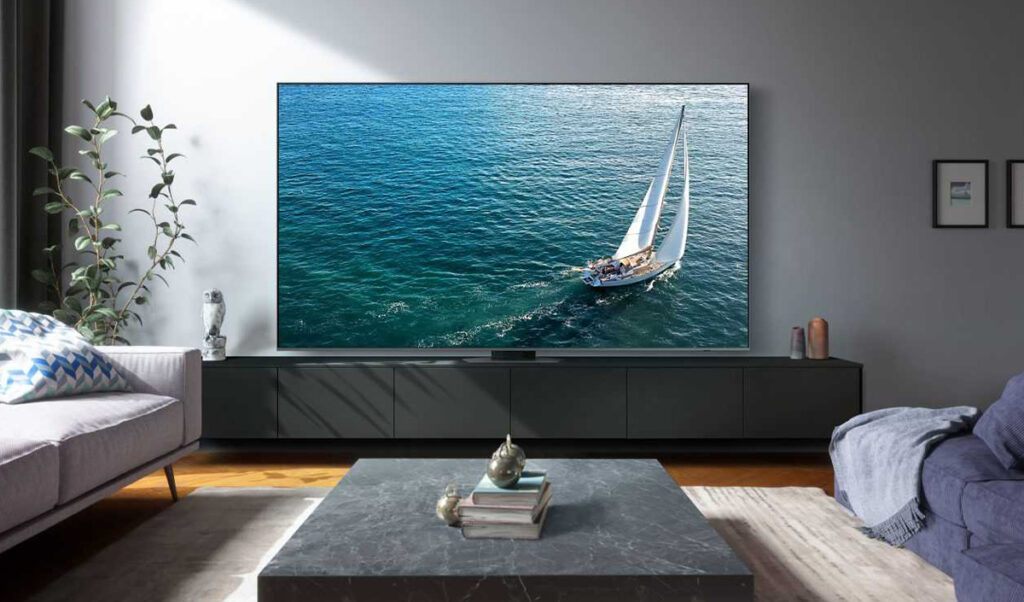 Samsung Canada showcases its 2023 98-inch QLED 4K Q80C TV that captures mesmerizing visuals for a show-stopping experience.
Everyone knows that the television in any home is the place to come together and enjoy the latest in movie and TV magic. Those who value sociability, hosting events, trending technology and an immersive entertainment-viewing experience understand that the living room is more than just a room. It is where you experience playoff history, cinema's classic moments and home-movie nostalgia. With the unveiling of the 98-inch QLED 4K Q80C TV by Samsung, a standard for supersized TVs has been established.
Engineered to offer you bright colours and ultra-vivid details on a dazzlingly super-slim screen, the 98-inch QLED 4K TV will have you captivated at every moment. Sit back a comfortable viewing distance away — as close as four metres — and embrace a visual spectacle as your content is transformed into sharp 4K resolution. With its high-performance AI-powered Neural Quantum Processor, the 98-inch Q80C will upgrade your content scene by scene to near-4K quality with sharp details that you never even knew existed.
However, it is the Supersize Enhancer feature that distinguishes this TV from others in the market. The AI-powered image enhancer is tailored to the ultra-large screen and dedicated to optimizing upscaling, implementing noise reduction and boosting sharpness for superior picture quality. The three-dimensional Depth Enhancer is designed to mirror how human eyes process depth by increasing foreground contrast. Now, when you are watching a nature documentary, the 98-inch QLED 4K TV enhances a tiger's whiskers while leaving the background as is — just as a person's eyes would.
More importantly, as technology evolves, so should its accessibility. The 98-inch Q80C offers a built-in Smart Hub, accessed through your Samsung account, which will allow you to discover all your favourite content and access all your TV capabilities with ease. From streaming apps for all the latest shows to console games in the Samsung Gaming Hub, you can access everything in this one place. You can also access Samsung's SmartThings portal from your TV, which gives you access to a host of benefits for your home including the ability to monitor the energy your Samsung devices are using. Through SmartThings Energy on your TV, you can identify which devices are using more energy than others and create automations to reduce your energy usage, allowing you to enjoy your favourite shows and reduce your carbon footprint at the same time.
The super-slim design of the 98-inch QLED 4K TV blends beautifully with any environment. It is a breathtakingly aesthetic piece that offers an extraordinarily immersive entertainment experience. From the moment you turn it on, everything else around you may seem to fade into the background as you get lost in the larger-than- life, stunningly detailed images this TV delivers. More importantly, it makes a statement — it tells others that that you settle for nothing but high-end products, because that is exactly what you deserve.