Hakeem Kae-Kazim: Action Man – The Actor Extraordinaire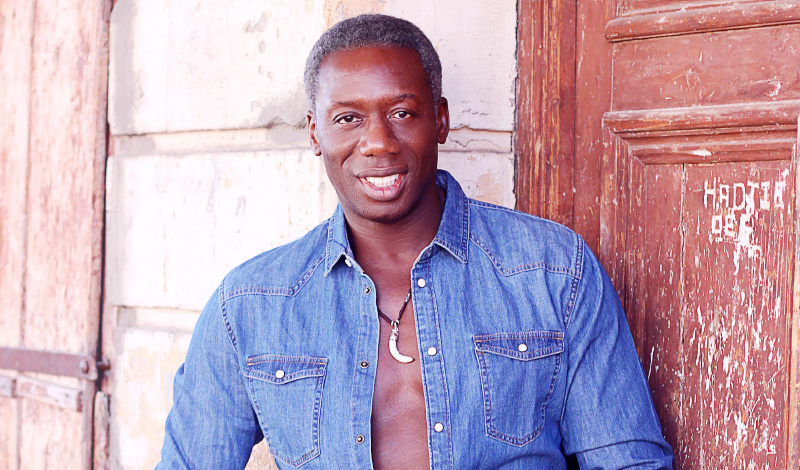 Dolce spoke to the actor extraordinaire about the projects that inspire him, what he's learned about the business and the stories he'd love to tell someday.
His celebrity status may not be on par with fellow actors Brad Pitt and Denzel Washington, but his presence on screen is just as commanding, memorable, and worthy of the accolades Hollywood has to offer. Although his is not yet a household name, his body of work is proof that it will only be a matter of time.
Hakeem Kae-Kazim, the Nigerian-British actor, has conquered all acting media: stage, television and film. His acting career began when he attended the National Youth Theatre in London. During the theatre's summer programs, students learn all about the theatre environment and at the end of the term, perform on stage. Kae-Kazim says that it was during those summers, aged 14 to 18, that his passion for acting really grew and he knew this was going to be his life-long career.
Early in his career, Kae-Kazim acted in a number of limited TV series, but it wasn't until his breakthrough performance as George Rutaganda in the Oscar-nominated film Hotel Rwanda that his international reputation grew. Based on a true story, the film depicts the brave actions of hotel manager Paul Rusesabagina, played by Don Cheadle, as he strives to save Tutsi refugees from Hutu militia.
"Doing the research and looking at the film, understanding what happened gave me a deep resonance of my surroundings," says Kae-Kazim. In fact, his greatest understanding of the tragedies that took place came from talking to refugees while on set for the film.
"It was very interesting being able to speak to them about it and gain a new understanding of the history of the making of this genocide," he says.
After Hotel Rwanda, Kae-Kazim's career really took off in both television and film. His guest spots on shows like Lost, 24 and Law & Order: Special Victims Unit prepared him for supporting roles in films such as X-Men Origins: Wolverine and Pirates of the Caribbean: At World's End. The experience of working alongside acting legends like Johnny Depp, Hugh Jackman and Kim Basinger was more about admiration than intimidation. Kae-Kazim vows that, believe it or not, many of the big names he's worked with are lovely, down-to-earth people who have offered some great advice over the years.
"I've been very lucky to have worked with some of the best," he says. "I'm always inspired by watching their work, and I hope that I can achieve their level some day. It's an ongoing thing to become better and better in this business."
In addition to acting, Kae-Kazim has several credits as a producer. A lot of the work he's produced has had political or societal themes, and it's clear from talking to Kae-Kazim that he is a master of his craft. He understands the process and what great storytelling entails.
"Sometimes it is subject matter and sometimes it's the script and sometimes it's the character, so it's a mixture of all of the above," says Kae-Kazim. "Sometimes one is more resonant than the other, but I like to feel that the script or the character has a place, has a truth in it, or a truth that I can access in it, before I take the part on."
From period dramas to modern-day thrillers and everything in between, Kae-Kazim loves the variety that comes with being an actor. And one need not go far to see what he means. Currently, Kae-Kazim can be seen in two hit series on Netflix: Troy: Fall of a City and the reboot of Dynasty.
"I've been very lucky to have worked with some of the best. I'm always inspired by watching their work, and I hope that I can achieve their level someday"
In Troy: Fall of a City, Kae-Kazim plays the infamous Zeus, king of the gods. The series depicts Paris and Helen of Sparta's love story, and the events that would ignite the Trojan War. In the early stages of the project, Kae-Kazim was intrigued to learn of the direction his character takes.
"Trying to keep Zeus as grounded and real, as human as possible, without sort of playing the god, was a really interesting way to treat him in that historical context," he says.
It's evident that Kae-Kazim has a passion for telling these untold stories. As an actor and a producer, he strives to find a way to shed light on those people and events that have stayed under the mainstream radar.
"I'd love to do a film about Ira Aldridge (one of the most decorated actors of his era), or Black Caesar (a pirate who joined Blackbeard on the Queen Anne's Revenge), or Thomas Sankara (a powerful military officer of Pan-Africanism)," he says. "Those people aren't necessarily noted, but those are the kinds of things I'd like to do someday."
When he isn't travelling around the world, inspiring the next generation of actors and filmmakers, or making movies and binge-worthy TV, this family man loves nothing more than spending time with his wife and kids. As a father of three, Kae-Kazim is thankful for the technology that helps him stay in touch while he's away from home.
"My five-year-old is just learning to ride a bike, and I wasn't there, so being able to see those life moments in some way really helps," he says.
With such memorable performances under his belt and a unique insight into the world of acting, Kae-Kazim would make for one motivational mentor. His advice for young, up-and-coming actors: "Work, work, work as hard as you can, and commit yourself to your work in every way, shape and form. Always strive to get better and better."