AUDI S8: Speed, Style & Sumptuous Luxury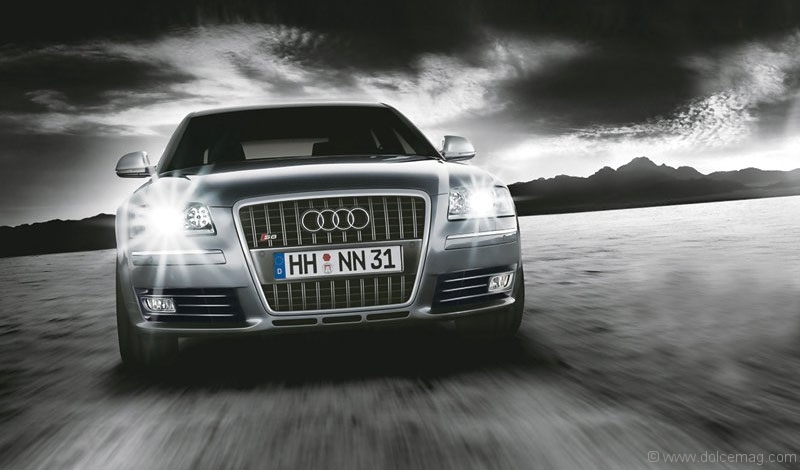 You're sitting at a stoplight, and you hear what sounds like the rumble of a Lamborghini Gallardo engine to your right. You glance out the passenger window and see an Audi sedan. You think to yourself – I must have been imagining it. But as the light changes to green, and the car beside you comes to life, it all begins to make sense.
The Audi S8 is the direct descendent of Audi's full-size A8.  Similar to the BMW M series and the Mercedes Benz AMG class, the "S" designation represents Audi's performance division. One might expect to see small differences here and there between the A8 (which, by the way, is a very nice automobile in its own right) and the S8, but the differences are a little less than subtle. Put bluntly, the S8 is astonishingly fast. Very fast!
Audi's S8 is powered by a slightly tweaked version of the Lamborghini Gallardo's V-10 engine, with an automatic transmission and paddle shifters mounted on the steering wheel.  Capable of producing 450 horsepower and 398 pound-feet of torque, this luxury sport sedan is capable of reaching 0 – 100 kilometres an hour in just over 5 seconds. For comparison's sake –  that's only about a second and change slower than the Gallardo itself. To increase performance and give the vehicle more control through turns, the S8 is equipped with an adaptive air suspension-sport system that electronically controls an air suspension system at all four wheels. In addition, the S8 is built on an all-aluminum frame that Audi believes makes the vehicle lighter and stronger.  The quattro all-wheel-drive system is also standard equipment on the vehicle, making the S8 a perfect all-year performance vehicle.
Step inside the S8's spacious cabin and luxury is all around you. From its plush leather seating to its 16-way power adjustable seats, its rear-view camera with distance calculator, its navigation system, and its BOSE surround sound entertainment system with a 6-disc changer, the S8 is fit for a king – and his friends and family, too.  A voice control system is also standard on the S8; providing its owner with the option of giving voice commands to control their cellular telephone, the radio, or the navigation system.  Factory options include a driver assistance system that alerts the driver (through a vibration of the steering wheel) when they are drifting out of their chosen lane, and a premium Bang & Olufsen sound system.
The Audi S8 encompasses the best of both worlds – a ferocious sports car, capable of revving its way past most other vehicles on the road and, at the same time, a large and luxurious sedan that can take you and your passengers anywhere you need to go. The Audi S8 has it all.
www.audi.com