Baghai the Builder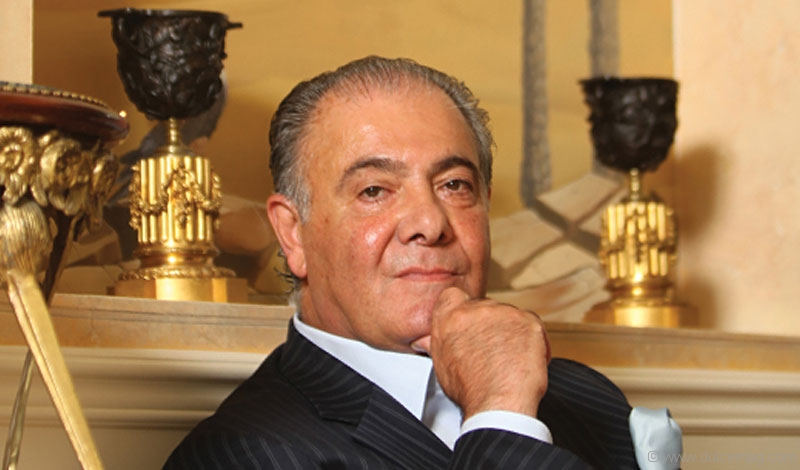 Poignant in conversation and prominent for his works, Shane Baghai is an old soul with a modern spirit. At a tender age he would buy tickets to the London Symphony and the Royal Philharmonic Orchestra or read deep into the night the words of Lord Byron, Ernest Hemingway and Oscar Wilde. "As a boy, I was always interested in grown-up subjects; I looked at life in a more profound way than other kids did," explains Baghai, 60. "By the age of four, I was fluent in Farsi, French and picked up Turkish from my nannies," says the linguist, whose appreciation for great works provided the framework for his own architectural poems.
Baghai is the visionary behind Toronto's most luxurious and expensive addresses, where socialites and celebrities such as singer-songwriters Gordon Lightfoot and Prince retreat. Since founding The Shane Baghai Group of Companies more than three decades ago, he has flawlessly delivered his luxury brand to the heart of Bayview-Sheppard avenues and beyond, growing into the man who has custom-built Toronto.
Leading the way in the luxury home and condominium market in North America, Baghai is encouraging Ontario's capital into a world-class city, by infusing its cityscape with upscale manors and ultra-exclusive residences that ooze European grandeur and fine distinction. "You build something beautiful and then stand back and look at it. It's like poetry written all over," says Baghai.
Just as rhythm, pattern and intonation form a poem's peak, Baghai reached the pinnacle of his career in 1990, when he built Canada's largest home – his former personal residence that stood impressively at 36,000 sq.ft. – on High Point in the upscale Bridle Path neighbourhood in Toronto. "I think that passion is the most important part of a good leader. And what I have is passion and drive beyond belief," explains Baghai. "You have to be passionate, innately passionate. And to be intense, you really have to have strong heredity, but intensity in your character," says Baghai, whose mother was a land developer, farmer and self-taught archaeologist. His father, a Winston Churchill admirer, was a transportation tycoon whose services played an important role for the Allied Forces of World War II, then engaged in Iran. "I inherited this kind of passionate approach towards business – and towards anything – from my parents."
His portfolio includes but isn't limited to the Mansions of Avondale, Watergarden Condominiums, Ascott Mansions, The Edwardian and The St. Gabriel development, centred at the core of Bayview Village. St. Gabriel Lane is a collection of multi-million dollar luxury townhouses spilling with modern touches, while St. Gabriel Terraces impresses with European-inspired units boasting upscale amenities. "I think the most extravagant of my projects is St. Gabriel Village," says Baghai of the Bayview and Sheppard venture. As an elegant cache of 259 condo suites enrobed in two 19-storey connected towers, this property is cultured with sumptuousness, complete with boutique style suites that are fully customized. "This was my idea, to let people choose what they wanted. I let them move walls and choose every single piece of material that went into their suites. No one has ever done this before, not in the history of this country," beams Baghai, an award-winning entrepreneur who was presented with the Central Ontario Builder of the Year award in 2001 and in 2002, inducted into the Builders Hall of Fame. The St. Gabriel Village endeavour is also equipped with windmills and solar panels, a testament to his commitment of going green. His environmental studies also earned him a PhD from the University of Windsor.
When Baghai isn't climbing the luxury-home ladder to the top, he takes time to give. He often donates to the University of Toronto and Sunnybrook Hospital, holding lavish fundraisers at his Bridle Path mansion – romantic with antiques and vintage art. Recent guests include former Prime Minister Paul Martin, politician John Tory, Toronto Mayor David Miller, Premier Dalton McGuinty and environmentalist David Suzuki. "Philanthropy isn't for sale," says a humble Baghai. "My financial assistance does not qualify me as a philanthropist. I know people who risk their lives, work physically and travel great distances to help."
It was in 1973 when he arrived in Toronto, settling into the city as an engineer designing heating and cooling systems for homes with a mechanical engineering and management background from London. He quickly familiarized himself with the construction industry in Canada, and built his first home in the Bayview and York Mills area in 1976. Baghai was first noticed when he built 100 homes with an average price tag of $1.5 million in just two years. "I managed to do this on my own, as I did not have a large company and did not have many people on staff," says Baghai, who continues to subcontract his workers because "when you outsource you have the ability to reach many different talents and have the flexibility to change directions." With so many projects underway, The Shane Baghai Group of Communities continues to hold an executive staff of three, one of which includes Baghai's daughter, Sharon Baghai. "Since we are in the development business, we must adapt to change quickly in order to remain cutting edge, and to provide our customers with uniqueness every time," says Sharon, the company's managing director. "My father has taught me many things in my lifetime, but at work, he is 100 per cent my boss, and 100 per cent my father during family time," she shares.
Baghai was just 12 when he attended a posh language school in England after leaving the Iranian province of his homeland Hamadan, where history recalls the location of a centuries-old castle as grand as the Babylon Tower. "Growing up in England, I had seen different countries in Europe, so I did have certain images that I have brought with me in my mind," says the design extraordinaire. "I was very much interested in reproducing 18th century design with modern features, with exteriors dressed in traditional and French chateâu themes. I did Georgian designs as well, so I became a bit of an eclectic designer and builder." www.shanebaghai.ca