Magnus Walker – What's Driving the Urban Outlaw?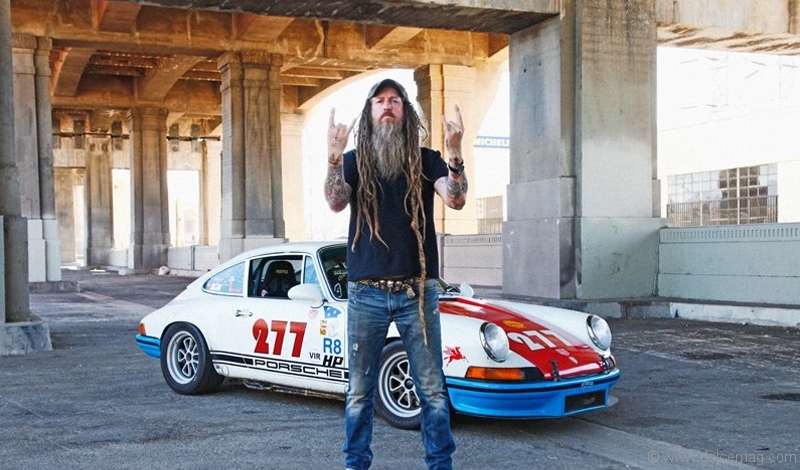 How the turbo-charged passion of auto restorer Magnus Walker fuels his uncompromising Porsche-collecting quest.
Magnus Walker wants to own one of every sports car Porsche has ever made. This may seem like one crazy, and costly, ambition. But this eccentric English expat isn't one to be swayed by negativity. This is a man who drives to the hum of his own engine.
"I never want to be told, 'No, you can't do it,'" he says from the 26,000-square-foot remodelled warehouse that functions as his home, office for his clothing company, Serious Clothing, film location business and restoration garage in L.A.'s arts district. When people tell him that? He tunes it out. "Luck will only take you so far, but passion, motivation, dedication and ultimately hard work and respect for others — these are simple philosophies, but philosophies that have always worked well for me, because I've always trusted my gut feeling."
Walker is one of the world's most prolific Porsche collectors, and also one of its most interesting. Visually, he doesn't strike the tone of Typical Porsche Buyer. A Gandalf-like beard bursts from his face, wayward and untamed. Spidery dreadlocks: equally as long and unruly. He looks like one of the Duck Dynasty clan learned about fashion and joined a Heavy Metal band. He's an outlier, a mould-breaker, a man who refuses to compromise his values for economic gain. Even his accent, south Yorkshire English modified by Californian nuances, is unique.
"For me, there is no normal," Walker explains. "I don't seek to fit into anyone else's stereotype of what something should be. And that allows me the creative freedom to do whatever I want, because ultimately my goal is to not please someone else but to please myself first. If other people like what I'm doing, well, that's a bonus."
Today, Walker owns about 25 vintage Porsches, but over the past 20-plus years, this uncompromising motor head's possessed pinks for over 50, many of them vintage 911s. But it's his personalized restorations that have earned him the respect and admiration of the automotive community. Like his personal style, Walker's builds stray from the conventional. This self-taught restorer adds his own "stylistic DNA" through subtle, untraditional details, such as drilled door handles, integrated turn signals and louvered deck lids. The final products are as unique as they are beautiful.
There was the highly rare, silver 1968 911R that put Walker on the restoration map. His personal favourite: the 1971 911T, the red-white-and-blue Porsche, dubbed Car 277, that caught the attention of club racers as it whipped around turns on track days throughout the 2000s. His latest masterpiece, a pristine black 964 with polished metal detailing, was even made in collaboration with Pirelli. The legend of Magnus Walker grew with each restored car that emerged from his garage, as did his cult following online.
It also caught the eye of Canadian filmmaker Tamir Moscovici. The pair created the short documentary Urban Outlaw, which captures Walker's Porsche obsession and his creative process. The film, which was released in 2012 and aired at a number of film festivals, rocketed Walker into the spotlight. Hot Wheels approached him to develop a die-cast toy Porsche, he become a character in the recent Need for Speed video game and he even took Jay Leno for a spin on Jay Leno's Garage. Francesco Policaro, general manager of Porsche Centre Oakville, even brought him to the Great White North for the grand opening of the dealership. "We had seen Magnus' documentary and thought it would be great to have him represent our Classic Porsche display at the event," says Policaro. "Magnus is a true gentleman, who is insanely passionate about the Porsche brand." But when you ask Walker about his rise to stardom, he says it's never been about the limelight.
"You do things that you enjoy doing and then success generally comes later," he explains. "You're not necessarily planning success — I've never been that way. I just find something that I'm interested in doing and then get obsessed about it, it becomes all-consuming and generally good things come from that."
Walker's Porsche affliction, as he calls it, started in 1977. His dad took him to the Earls Court Motor Show, where a "Martini" 911 Turbo mesmerized 10-year-old Magnus. "It was just something I was attracted to about the shape of the car, the look of the car," he says. The excitement that coursed through his veins would be the fuel for his lifelong obsession. "My story is no different to anyone else's. A lot of people fell in love with Porsche as a kid, and I'm still in love with Porsche 40 years later."
Possessing the bold motto of "he who dares wins," Walker, at 19, moved to America in 1986. He landed in New York and headed to Detroit before taking a 3,200-kilometre bus ride to Los Angeles. There, a serendipitous offer to buy a pair of pants he'd refurbished led Walker to launch Serious Clothing. With his grassroots business growing, he purchased his first 911, a 1974, in '92.
For Walker, driving vintage sports cars is like stepping into a time machine. They're far more primitive than today's computerized stallions — no electronic stability control prevents spinouts, no computer chips shift gears at the precise moment. It's just you and the car, and what you get out is what you put in. "No two ever drive the same. So it's always a challenge, it's always a rewarding, stimulating emotional rush of covering all the senses — the sight, the sound, the smell, the feel," Walker says about driving his decades-old 911s. "It's an adventure every time you get behind the wheel."
Walker's newfound fame has also drawn buyers, with his coveted restorations attracting top dollar. In 2013, his 1972 Porsche 911 STR II sold at the annual Concours d'Elegance in Pebble Beach for US$302,500. With his vehicles fetching such premium prices you'd think Walker would consider turning this "out-of-control hobby" into a viable business. You'd be wrong.
"People approach me all the time to get involved building their cars. I've got no interest in that," Walker explains. Sure, he's sold cars when cash was needed, sometimes to acquire another classic 911. But: "It's about the journey, the path, and basically adding my own character to the cars and enjoying the collection. That's really what it's about."
So far, Walker's covered every Porsche from 1964 up to 1994 — the first 30 years of Porsche production — and he has no plans of slowing. He and Moscovici also have a new automotive TV show on the way. But those ventures aside, the future isn't on his mind.
"Things happen organically for me," he says. "Urban Outlaw was the beginning. We're now continuing down that perfect road of enjoying life and making the most out of every day and every opportunity."
Which is at the heart of Walker's la dolce vita: "The good life is being able to do what I want to do when I want to do it, the way I want to do it."
And why not? It hasn't steered him wrong yet.