Manu Campa: The Artist Connecting With Car Collectors Around The World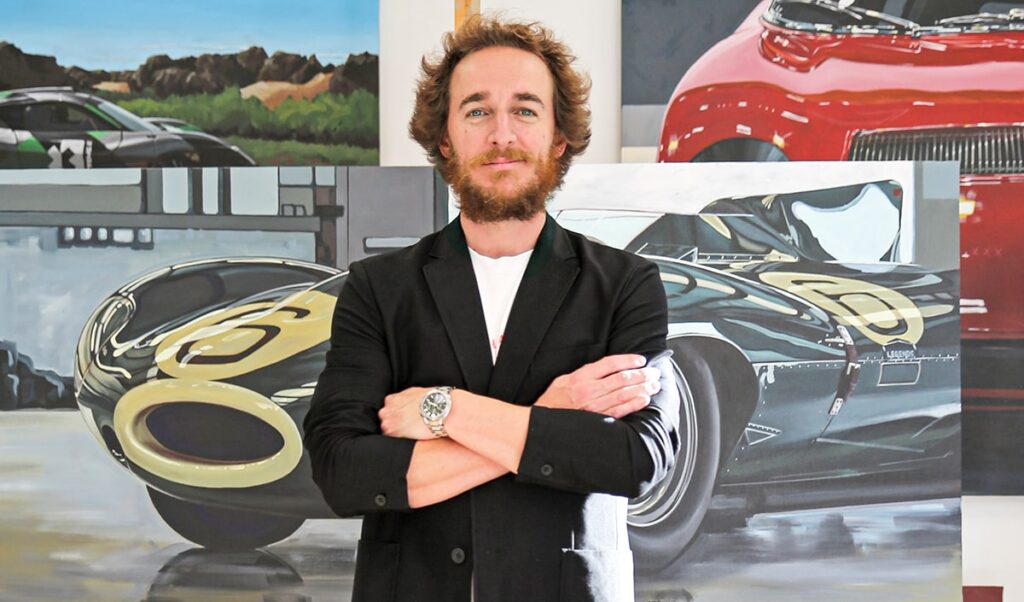 As both a car lover and painter, Manu Campa never thought he'd be able to bring the two worlds together. His success proves otherwise.
Born and based in Madrid, Manu Campa brands himself as an automotive artist. His portfolio includes paintings of everything from professional racing Porsches to classic Jaguars, as well as urban landscapes and bikes. He's engaged in collaborations with brands among the likes of Coca-Cola and Huawei and he's a brand ambassador for MINI and TAG Heuer.
His work is detailed, intricate, highlighting moments captured in a vehicle's window as much as the glint of sun bouncing off a vehicle's paint. His work has been described as hyperrealistic, photorealistic and some have even called it pop art. But, for Campa, there are no mentors or individual inspirations. When he's asked how he'd describe his style, Campa admits he never knows what to say.
"I've always been inspired by pictures and things I see around me, but I don't follow style or get inspired by other artists," he says. "I try to do everything my way and be honest with myself. If you follow a trend, or what artists do today, that forces you to be fake to who you really are and, in the long term, it forces you to follow a path that might not be honest in the future."
Campa always knew he wanted to make a career out of art. He graduated in Fine Arts from the Complutense University of Madrid in 2008 and, soon after, started focusing on subjects he was passionate about. He started out by painting animals, then bicycles, and moved onto working with urban landscapes, giving particular emphasis to the way light worked.
It's his focus on cars that got notable attention, appealing to collectors, art specialists and even those living in cities with a big car culture, like Los Angeles. As a car lover himself, one of the best things about his work is travelling the world and meeting all these like-minded people.
"All of a sudden you go to Miami or Tokyo, and you have people who've followed your work for five years who want to invite you to their homes, let you drive their cars and want you to become part of their lives," he shares. "You build up very good, real, long-term relationships."
His work has become so popular that he currently has a one-year wait for a commission. He spends 12 hours a day in the studio (though admits that's the only way to improve his craft) and is typically working on a number of pieces at the same time, which proves useful when inspiration fails to strike.
"I have up to 10 paintings at a time that are halfway done around me," he says. "It's a good way to keep inspiration coming. When you're working on something you're not happy about, you look around and say, 'I know what that's missing.' So grab that and finish it."
Another way Campa keeps things fresh is by working on his own projects when he has time. Currently, he's working on a show dedicated to historic Formula One cars, having visited the Monaco Grand Prix earlier this year. It looks at cars from the 1950s to the 1980s and Campa's using it as a chance to move away from his signature realism style.
Of course, Campa's success didn't come without hard work, dedication and feelings of insecurity. "At the beginning, I always had work to do, but it was rough and I wasn't sure whether I was taking the right path," he shares. "To be a believer in yourself is important. I am today and know I'll sell my paintings in 10 years, but back then I wasn't certain."
It's clear Campa is a family man. During the call his son and daughter jump on and off camera, showing drawings and joining the conversation. He tells us if he could share any wisdom and experience with them, it would be "to believe in yourself and follow your passions. If they do that and have fun, that's, for me, what's most important."