Brett Wilson, the Prairie Gentleman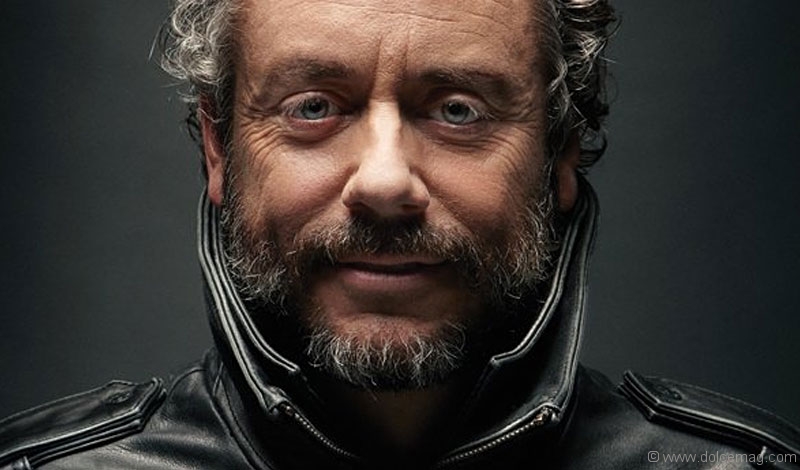 They say that heat rises, but as we scale up a steep set of metal stairs to a Toronto photography studio's searing second floor, the phrase personifies with blazing intensity. In a few swift flicks, W. Brett Wilson unfastens the top two buttons of his dress shirt. Rather than age him, the subtle wrinkles that cascade across his forehead and tickle his temples manifest years of mirth and worldliness. After all, this is a man who's climbed Mount Kilimanjaro twice. Before apologizing for taking him to purgatory for the sake of a little privacy, I remind myself that the financier spent three seasons breathing fire on Canada's currently highest rated entertainment show, Dragons' Den (CBC).
Lassoing the air with informal banter, Wilson makes it known from the get-go that this is going to be an elbows-on-the-table interview. The 53-year-old's cerulean gaze narrows in on a massive hardcover on the table's periphery. "Hey, I've seen this book before, it's on my shelf," he says of Mythologica: A Treasury of World Myths and Legends. Interestingly enough, Wilson has become a bit of a legend himself, mostly because he belongs to the world's elite few who work only to hand away all of their treasures. And that's no myth.
"My goal is to give away the bulk of my wealth over some threshold in my life. I'm assuming I'm going to live to 90, so I've got some time," says Wilson, who thinks of corporate social responsibility as corporate social opportunity. "I have great disdain when I listen to people talking about passing on all their wealth to their children. For what purpose? Pass what you need to live on, why wouldn't you invest the excess as you live in the world? In other words: give it away."
Wilson's financial claim-to-fame came from co-founding a Calgary oil company called FirstEnergy Capital in 1993, which he's since stepped down from. His dedication to economic gain ultimately led to a divorce, but a harsh reality arrived in time to rescue the relationship with his three kids, whom he travels with regularly. As chairman of private investment company Prairie Merchant Corporation; chairman of Canoe Financial ($1.5 billion in assets), reality TV veteran and full-time philanthropist, his first decision of the day is which hat to wear – though he leans towards cowboy. "My values, as a Prairie boy, are based on what my parents did as community citizens – the honest and integrity issues, the value of a handshake. I can remember my dad selling all sorts of cars on a handshake," says Wilson. It's not surprising that he's shaken more hands than any other panelist on Dragons' Den, a show that sees ambitious entrepreneurs pitch products and business models to five thriving venture capitalists. "It resonated with me that a deal was done when you said it was done, not when it was signed," says Wilson, whose held onto a total of 30 deals throughout the show's due diligence process.
One crucial contract that Wilson didn't shake on made headlines across Canada this past February. Dragons' Den's loyal followers of more than two million were shocked when CBC unexpectedly announced that the fifth season would be Wilson's final. The show's reputed friendly dragon and Canada's major public broadcaster could not agree on contract terms, initially stemming from a scheduling conflict and ultimately surrounding a lack of time and a more complicated branding matter relating to the promotion of Dragons' Den deals. "For the first time in two years, I've got all three of my kids together at the end of April, and the other Dragons' schedules were such that they needed to shoot then. So initially I had to walk from the show over [scheduling conflicts] but CBC was gracious enough to figure out a way to let me shoot two of the three weeks, so they made a great accommodation to let me still stay on the show," says Wilson, adding that other obstacles are what eventually led to the dust-up. "CBC had an internal schedule that they had to meet and I respect that, there's no issue there … While I am no longer an active dragon, I am still very much a dragon with all my connections to the shows fans and my investments."
In terms of investment dollars alone, Wilson's departure is a big loss for a show that's seen him commit over $5.4 million in final deals throughout the last three seasons, a staggering figure in comparison to the other four panelists. "We thank Brett for his many contributions and wish him success in his future endeavours," Jeff Keay, head of CBC's media relations wrote in an e-mail. Whether or not his future endeavours include a return to the Den is presently unknown. "No one's asked me that and I haven't even thought about it, I mean I would never say never," says Wilson, who will be succeeded in the sixth season by Bruce Croxon, co-founder of the online dating site Lavalife.
When Wilson was selected to be a dragon in 2008, he says he was initially told that he wasn't "mean enough." His philanthropic approach to entrepreneurship and everday life is irresistibly evident in the many actions he's taken both professionally and personally. A few months ago, Wilson was in Afghanistan embracing Canadian troops at Kandahar Airfield with Defence Minister Peter McKay. "I just stood there and said 'thank you.' You are out of sight but you're not out of mind, and that's the important message. We understand that freedom isn't free, you are here on the front lines," he says. Wilson proceeds to pull out his iPhone, adding colour to his story with pixilated imagery. Though his trip ended after seven days, Wilson's mission in Afghanistan continues.
In season five of Dragons' Den, the do-gooder makes a deal with Barb Stegemann, whose east coast company, The 7 Virtues, sources organic oils from Afghanistan and Haiti to produce empowering fragrances. Embedded in the business model is a goal of promoting trade and building peace by bringing new opportunities to war-torn, poverty stricken countries. Not only is his partnership with Stegemann enriching on a global front, it's turning out to be a highly lucrative investment. Available for purchase at Hudson's Bay Co. across Canada, sales of The 7 Virtues perfume line have sprung from $75,000 in 2010 to well over $200,000 in just the first quarter of 2011. Stegemann joined Wilson in Vancouver recently at his charity event called Operation: Western Front that he 100 per cent financed, co-chaired and co-hosted. The sold-out fundraiser featured notable politicians and celebrities that included Gene Simmons, and raised $1.5 million for members of the Canadian military and their families.
Aware that Wilson has only an hour for the interview and photo shoot, I hustle to wrap things up. It's here that he flashes his varying colour palate of generosity: "Don't worry about the time. I'm in no rush, no rush," he says, excusing himself from the room momentarily. When he marches back upstairs, he's no longer solo. Canadian actress Lisa Ray is following behind. Wearing flat riding boots, jeans and minimal makeup, Ray is beaming with an echelon of natural beauty that could keep an insecure woman in bed for days. Her chemistry with Wilson is emphatic. What do you do when you have a dragon and an elephant in the room? "This is my dear friend," says Wilson, truncating the grey enigma. Both "cancer graduates" (as Wilson calls it), the two were introduced by a mutual friend who thought they would jive. "Cancer gives you an opportunity to re-evaluate your time, your commitment to your physical health, your emotional health, your intellectual health … I think the concept of a cancer graduate is more empowering. Cancer survivor implies it was a fight, a struggle, and you just made it. No, most of us who've come through cancer have done more than just made it. We're a lot better for it," says Wilson, who was diagnosed with an advanced stage of prostate cancer in his early 40s. Along with experimental treatments, Wilson turned to sports psychology, "mental toughness" and movies like Rudy and Saving Grace.
Two hours past his initial timeline and Wilson is waving goodbye – a lunch meeting and pitch party are on the horizon. The year ahead holds endless possibilities of books, investments and travels with his kids. What lingers after he leaves is the entrepreneur's response to whether he ever feels like the beneficiary of his own philanthropy. "There's no such thing as pure altruism … I get a feel-good out of all that, there's no question, because it really strikes me that there's an opportunity to change the world if we each do something." www.wbrettwilson.ca