Julie Benz – Knock On Wood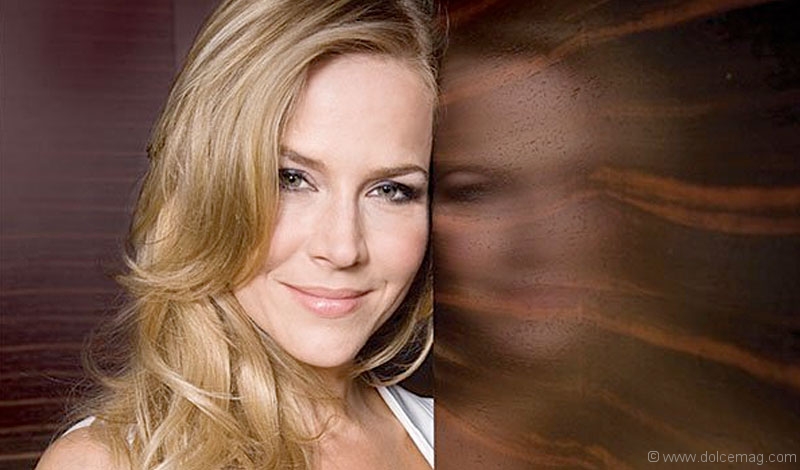 It's Monday afternoon in Toronto and Julie Benz is in town as part of the promotional tour for her latest television series Defiance. The most pressing issue right now, however, is what to do with her hands. "Feel free to tell me where to put them," she says to the photographer as the camera clicks away. "I don't always know."
Only moments before she stepped through the door of the Bellair Suite at the Hazelton Hotel to an all-consenting "wow." Her dirty blond waves cascade over her shoulders, washing down to a curve-hugging number from Alexander McQueen. It's a strong feminine look, professional with a dab of sexy, made all the more brilliant against the suite's baritone zebrawood. The room is instantly won.
But as the shoot rolls on, Benz ropes us in further. "I feel like a dork," she exclaims as she tries different poses and expressions, laughing as she goes. Others insist that she looks stunning. But she bats away compliments with a playful "Anyone can look gorgeous with a glam squad." Perhaps. But few pull it off with such charm.
It's certainly not hard to see why audiences fell for her as Rita, the girlfriend-turned-wife of the murderer-of-murderers on Showtime's bloody-successful series Dexter. A smile forms effortlessly across her demure lips, her piercing grey eyes inducing self-consciousness in others. And yet she's personable and modest, confident enough to bear glints of vulnerability through light self-deprecation. She's clearly comfortable in her peaches-and-cream skin, but she balances it with humility and by downplaying her beauty. There's genuine warmth to it, like a good friend saying, "It's all thanks to you." She keeps the mood light and easy, maintaining a calm before the storm. Tomorrow her schedule is jam-packed with dawn-to-dusk on-air interviews and sit-downs with local media. She'll be heading to New York for more of the same the following day, too.
Oh, the downside of fame.
"It's the icing on the cake of a show launch," she corrects.
The shoot's wrapped up and Benz looks right at home snuggled on the suite's couch in a plush ivory bathrobe and a pair of skin-toned heels. "I love travelling," she adds. "As an actor, we get to live out of hotels the majority of our lives — it's kind of fun." We're fortunate enough to snag early access with the television/film actress before the publicity tempest, and she's clearly already in Pro Mode, quick to keep things upbeat. And with so much riding on the line, she has to.
Defiance is a transmedia gamble of galactic proportions. NBCUniversal — which owns Syfy, the channel running the series (Defiance airs exclusively on Showcase in Canada) — has invested a whopping $100 million into the Defiance experiment, launching the show, a post-apocalyptic Western, alongside a massive multiplayer online video game. The idea is that the two mediums will shape each other — plot will alter the game world and players' decisions will impact the show's direction. The hope is that the dialogue between the two, and the audiences' role in affecting both products, will pull fans from one medium to the other, buttressing the overall Defiance brand. It's an ambitious move into uncharted territory, one that entails precision and finesse. The video game industry has ballooned into a near $80-billion goliath, and a successful product could become a sizable cash cow. But gamers are a fickle bunch; sci-fi fans even more so. Any missteps — a buggy online experience, mundane gameplay, a show too safe or careless — could see audiences jump ship faster than the Millennium Falcon can make the Kessel Run.
Benz is aware of the gravity. "There's a lot of money and time that's been invested in Defiance. A lot more than other shows," she acknowledges. The massive show launch is the largest she's ever been part of. Several weeks prior she was cranking up the hype machine in Paris, and her face, alongside other cast members, has popped up on buses and billboards in major cities, even making its way to Times Square. "It's so embarrassing," she says of the conspicuousness of it all. But it's that same face that could be a key piece to the show's success.
With a career spanning over 20 years, Benz has made waves on several wildcard projects. From a sultry and eccentric FBI agent in The Boondock Saints II: All Saints Day to a seductive lesbian stripper on Desperate Housewives to her breakout role as Darla, a bloodsucker with a vendetta, on Buffy the Vampire Slayer, Benz has walked in several pairs of atypical shoes. Even her role as Rita, the wife of a serial killer on Dexter, provided an interesting dynamic for the dark protagonist. "It's a weird attraction that happens between an actor and the roles that come into their life," she explains. "I believe you get the part you were meant to play. Even on your worst day, when you feel awful and can't act, you're still brilliant in it — that's the part you get."
Her immediate affinity with Defiance's script grew from its strong, complex women. There are no "mother-wife victim roles," she explains. Each character is "dynamic and complicated," many with hidden agendas and heart-less sleeves. Her own character, Amanda Rosewater, is the new mayor of Defiance, the town for which the show is named. She wears a brave face and rises to meet demanding situations, but is introduced as inexperienced and untested with a sense that she's in over her head. Benz describes her acting style as "organic," and like with past roles, wrestled with how to make this character blossom. "For me the challenge with Amanda was trying to find her strength, but still allow her to be a woman, to have vulnerability without taking away her power," she explains. It's a tightrope many women walk. "Any woman can relate to that: 'How can I be strong in the workforce but still maintain a level of femininity?'"
While Defiance, which was shot in Scarborough, has been in development for five years, the show's creators encouraged creativity from their stars, providing room for actors to add their own spin to their characters. Benz's twist was scotch. "I kept trying to figure out what Amanda does at night. She goes home by herself, and in her deepest, darkest hours, what are her fears?" she says with a flash of intensity. "I imagined her at night having a glass of scotch, sitting on her bed and just bursting into tears because of the pressure."
She laughs, adding, "I don't drink scotch at all." It's hard not to laugh along, too.
Michael C. Hall agrees there's a certain allure to Benz that's tough to ignore. "It was so easy to be seduced by Julie's inherent sweetness," says the star of Dexter. He's on break during a day of shooting for the series' eighth and final season, and even though this year marks the end of Dexter, Hall still recalls Benz's impact on the show. "We found this sort of rhythm and a chemistry and a dynamic between those two characters that was really sad to say goodbye to," he says. "Doing scenes with Julie felt like coming home, in a way."
Benz's character Rita, of course, was (spoiler alert!) killed off at the conclusion of season four — a difficult pill to swallow. "It was extremely hard to leave Dexter and it was very unexpected," Benz says, "but actors have no ownership over a character — it's our job to bring the story that the writers choose to tell to life."
For Hall, Benz had played such a pivotal role in the series', and Dexter's, development. To see her go was also heartbreaking. "She's still such a part of the fundamental DNA of what the show is and what Dexter's experience of his own humanity is," he says, adding Benz handled the departure with a level of grace and professionalism that a lesser actor may not have managed.
Interestingly enough, this skill and professionalism may never have made it to the screen. When she was 16, Benz was instructed by an acting coach to quit. The reason? She had a "terrible" voice. "I still do, I guess," she laughs. Of course it's just absurd — that soft, slightly raspy voice is the thing of fanboy fantasies. But as she reminisces about the dismissal, a fire builds in her eyes and a rare edge sneaks into the undertone. "What right does anyone have to tell a teenager that they should not pursue their dreams," she says firmly. "Teachers are supposed to nurture and encourage growth. They're not supposed to crush dreams." But, she remains composed, waving it off with a smile. "I still have the little review. It's just in my garage in a box of memorabilia. It's one of those things that I laugh at."
The momentary fervour passes as quickly as it swelled, but its presence suggests a controlled fierceness not to be trifled with. There's a lioness she could summon if needed, no question. This trait, she explains, developed from her upbringing on the rink. She began figure skating at three, and as any former athlete knows, "When you're that young and in such a competitive sport you're raised to be competitive." An injury cut her career short, but she carried that spirit into acting. She explains how she would walk into auditions and feel with all assurance that the part was hers. "Nothing could shake my confidence," she says. It's taken her years to reel in that ego, to cool the fire enough to keep it south of arrogance. "I have to slow down sometimes," she adds, sarcastically reminding herself, "'You don't have to be the best in spin class. You're not going to the Spin Olympics.'"
But it's this drive that also fuels her progress today. She takes almost every job offer, no matter the size of the cheque. "I would rather work as an actor that day than sit on my couch and tell people I'm an actor," she says. She's seen the ups and downs of Hollywood life, feels blessed to be part of the "one per cent" that makes a living as an actor, and is more than happy to keep working. As long as she can "keep the train moving forward" things are going to go right.
Jamie Murray, Benz's friend and a supporting actress on Defiance, notes not only is Benz a "consummate professional," a loyal friend and a caregiver, but she's also a phenomenal cook. "She's always cooking for me," says Murray. "I love that about her." The pair became friends after their nemesis roles on Dexter and they have remained close ever since; Murray was even a bridesmaid at Benz's wedding last May. "For a period of time, she actually tried to teach me to cook. But what very quickly ended up happening was I would come over and watch her cook and then we'd eat. It just ended up being quicker and easier," Murray laughs.
For Benz, the kitchen is easily her favourite room in the house. She loves experimenting with food and explains that she makes a mean chicken posole, salmon with honey and mustard and chicken tikka masala. But it's her chicken wings that are the real winners. They were the catalyst that locked up her second husband, marketing executive Rich Orosco. "He calls them 'Marry Me' chicken wings," she says. But Benz is hush-hush on her version of the mythical Engagement Chicken formula — she won't share the recipe with anyone unless they're serious about taking the plunge.
The couple's shared love of gastronomy led them through a citywide exploration of Toronto's dining scene last year while Benz was in Toronto filming Defiance. "We made it our mission to eat our way through the city," she says, noting her particular taste for Ossington Avenue dining, particularly at Pizza Libretto, Boehmer and Union.
Besides the kitchen, her husband and her dogs, Bamboo and Sugar, Benz notes fashion as a big part of her life. Shoes especially (as if the bathrobe and high heels weren't any indication). Christian Louboutin, Brian Atwood and Giuseppe Zanotti are just a handful of her favourite designers. But Benz isn't the type to fuss over labels. She exemplifies by pointing to the $60 Nine West pumps she's currently rocking. "They're perfect, and I'm not ashamed," she says.
When it comes to la dolce vita, Benz, who turns 41 in May, feels she's living it. She drifts back to last year to the moment when that feeling actualized. The weeks of filming for Defiance's pilot fell around her wedding and Benz and Murray flew home to Los Angeles for the big day. The Monday after, their plane back to Toronto ran into rough turbulence. "I remember thinking to myself, 'It's OK. It makes sense that it would go down in this moment because everything in my life is right where I want it to be,'" she says. But she remembered Murray was her travel companion. "I thought, 'Wait a second. It can't go down yet. She's not ready!'" She laughs one more time before noting that's what the sweet life is: "When you realize that what you have is enough. It's perfect."
Now there's only one last thing to do with her hands: knock on wood.
"I don't want to jinx it."