Rocco DiSpirito: New York's Celebrity Chef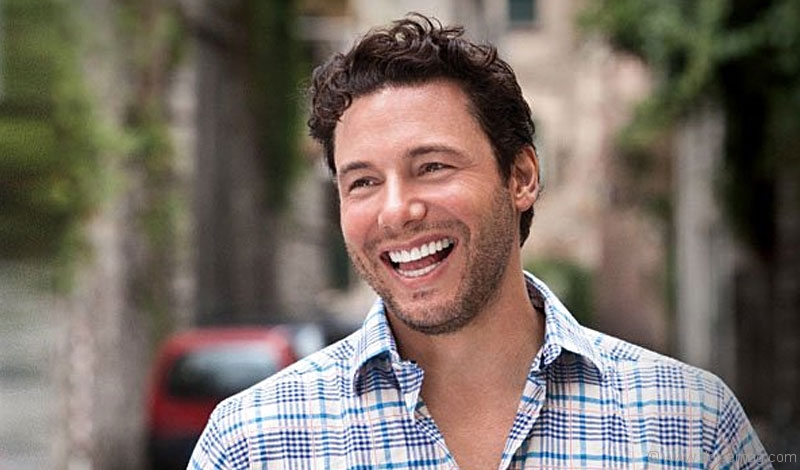 It's 10 a.m. and Rocco DiSpirito is already thinking about what he wants for dinner. He's sieving through the options streaming in from friends on his smartphone, and the consensus seems to be pointing to Asian or Italian. The American celebrity chef and best-selling author from New York City is in Toronto to promote his latest book, and while endless dining possibilities are within reach he presumably is itching to do what he knows best. "I cook at home almost every day," says DiSpirito, sitting at a glass table sipping espresso at the rustic Alimento Fine Food Emporium on King West. Leaving the pressure-cooked restaurant business in 2005, he slipped past a rock and a hard place when he left behind the hectic sights and sleepless nights of a lifestyle stifled with self-neglect. "It's sad irony — if you're very good and become successful … you end up never cooking," he says, highlighting the common trajectory of entrepreneurs that lose themselves for the sake of finding fame. At 46, his charm now braises in a drum of alacrity.
No longer a restaurateur contending with rave reviews or critical backhands, an abundance of time, coupled with medical issues, shaped a turning point in his life. "I could see where I was headed," says a pragmatic DiSpirito, whose Now Eat This! crusade reflects his personal search for better health. Swallowing the valuable lesson that diet and exercise really work, DiSpirito has since shed 30 pounds, eating the food he loves and training for rigorous triathlons, Iron Man competitions and hopping on his bike for morning rides up the Upper West Side of New York City. "I had to figure out what I was going to eat. Athletes drink a lot of shakes, eat whole wheat bread with peanut butter on it and lots of bars. And I thought, 'I'm not going to eat this crap for the rest of my life! I'm going to figure out how to make my food taste good.'"
His newest cookbook, Now Eat This! Italian: Favourite Dishes From the Real Mamas of Italy, reflects his palpable passion for food reignited on a journey to southern Italy.
The first-generation Italian-American, who admits to taking three decades to embrace his roots, recalls the first time he hit No. 1 on the New York Times' best-selling list with his inaugural instalment of Now Eat This! as one of his proudest moments. "I grew up in a neighbourhood where people didn't really graduate from high school; I didn't even know if I was going to have an education," says DiSpirito, alumnus of the Culinary Institute of America. "I felt like I overcame the adversity of the cards I was dealt." The Boston University graduate, who received a degree in business, launched the Now Eat This! Food Truck last year, providing on-the-go New Yorkers with regret-free meals.
From mozzarella en carozza to chocolate and hazelnut dessert, DiSpirito's recipes in Now Eat This! Italian transform calorie-crazy dishes into low-fat meals without the guilt and all the glory. "Last year I cooked healthy Italian at Christmas and I didn't even tell my family — they didn't even know," says DiSpirito, who commends his mother for teaching him how to cook with love. "For a long time I was like, 'well, what does that mean?' But now I understand it. Cooking with love means you pay attention to the details, you taste the food, you do all the things a higher level chef will do to make sure it tastes, feels, looks really good," says DiSpirito, listing Wolfgang Puck, Daniel Boulud and Jean-Georges as inspirational icons of the industry.
For those hesitant towards healthy alternatives on the dinner table, the humorous chef — whose pantry is religiously stocked with fat-free Greek yogurt, agave nectar, pepperoncino, whole grain pasta and Parmigiano Reggiano cheese — gets serious. "I'm totally down with lying and deceiving, especially when it comes to making people healthy," he says mischievously. The multiple judge and host of food shows currently stars on Now Eat This! With Rocco DiSpirito, where he challenges families to eat healthy.
As for how to cook successfully, DiSpirito lets in on a dish-changing ingredient you won't find listed in a recipe, one that gives cooking its art form: raw, real emotion.
"We are talking about people who are in touch with their passion place — your centre, your core, the place that aches," he says, his fingers tapping the middle of his chest. "They believe in the possibility of the moment all the time, and they live in that moment — not the one before, not the one coming up. You can taste it. Food absorbs and collects your feelings and your emotions and your energy and it's reflected in the flavour." DiSpirito deems his Taylor Bay Scallops dish — scallop, sea urchin, mustard oil and tomato water — as his favourite because of its balance of sour, sweet, salt and bitter on the palate. "Cooking for me is about finding flavours and putting them together in such a way that they create a new taste, a new experience that has a beginning, middle and end."
Photography by Jonathan Pushnik