Hennessy: Cognactive Thinking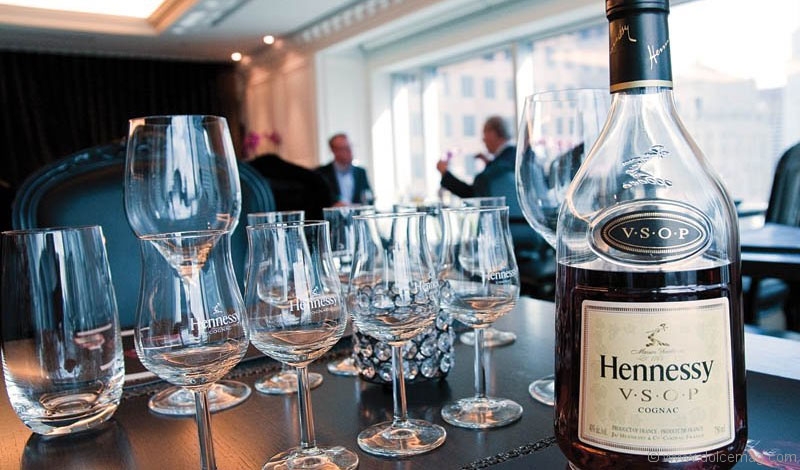 Cyrille Gautier-Auriol swirls his tulip-shaped glass, tossing the amber cognac it holds round its bulbous surface, releasing the bouquet into the air. He examines the spirit before raising the glass to his nose, sniffing first with his left nostril, then his right — "with a little bit of distance," he explains in his dignified French cadence. Bringing the flowery stemware ever closer, he savours the spirit's distinct aroma before touching glass to lip.
This ritual, casually executed with practised elegance, honours the legendary Hennessy cognac that rests on the table between us. "Legendary" isn't used frivolously, either: founded in 1765, Hennessy has graced the snifters of royalty, dignitaries and connoisseurs alike for nearly 250 years. No company produces more cognac. No cognac's breadth is as extensive. Its legacy is unquestioned.
Developing this "super premium" spirit is no easy task, says Gautier-Auriol, Hennessy's ambassadeur de la maison, who was also born and raised in Cognac, France, where the eponymous brandy originates. He details the process of growing and harvesting the grapes, and the meticulous care taken in aging, testing and blending the varieties of "eaux-de-vie," a clear liquid that results from double distilling those grapes. The entire process takes years to finalize — the sacrifice of producing a world-class cognac.
Take Hennessy V.S for example — the "champion of the world," as Gautier-Auriol describes it. Born in 1865, V.S, Hennessy's first three-star cognac, is blended with 40 different eaux-de-vie and aged in French oak barrels for upwards of eight years — a relatively short time by cognac standards — before it's deemed ready.
"Take a sip," Gautier-Auriol encourages. So I do. A mélange of bold, complex flavours washes over my palate, familiarizing itself with my unaccustomed tongue. "The wood is very much there," he says, helping me through its subtle nuances, which include hazelnut and vanilla notes. "You can enjoy it neat — after a meal," and it also pairs beautifully with traditional crème brûlée.
Picking up a second glass, Gautier-Auriol dives into the North American love affair with cocktails, noting our experimental tendencies and popular cognac concoctions like sidecars, mint juleps and sazerac. For mixed drinks, "this is the perfect product," he says of the Hennessy Black in his hand. It's Hennessy's newest brand, a contemporary cognac, lighter and less complex with more floral and fruity notes, designed to win over vodka and tequila drinkers. "The sweetness is there," he says as we sip. "With cranberry it's absolutely gorgeous."
I grapple with which I prefer so far, but Gautier-Auriol puts the debate to rest: "Your favourite will be the X.O, of course." Blended with 100 different eaux-de-vie and aged for about 30 years, it was originally created for the personal use of friends and relations of the Hennessy family in 1870. While rich and strong in flavour, it's balanced and noticeably smooth. It coats the palate, ending with lasting cinnamon and vanilla notes. And he's right. It is my favourite.
"When you go to a Hennessy cognac, this is because you enjoy yourself," concludes Gautier-Auriol. "You are happy with yourself, of your day, of the people which are around you. This is what I would like to relate to how Hennessy blends with life. We are part of a dream, you know? And we like very much to give this dream to our millions and millions of fans around the world."
Photography by Sean Decory